We LOVE to hear some good news (and deals) and this Happy Beds announcement is no exception. As soon as we heard about it we couldn't wait to share it with you because it's a piece of 'feel good' which is something, I'm sure, we could all do with right now.
On Monday we heard that Happy Beds' have entered their first official partnership, naming Born Free as their official charity partner. The Born Free Foundation is an international wildlife charity that campaigns to 'Keep Wildlife in the Wild'. It protects wild animals in their natural habitat, campaigns against the keeping of wild animals in captivity and rescues wild animals in need.
To help the charity, Happy Beds will be donating £50 from every Mento Treehouse bed in October to the charity – which is currently discounted from £719.99 to £399.99 –, as well as adding a 'round-up' donations box at the checkout which will give YOU the chance to round their basket up to the nearest pound, donating the difference to Born Free. The bed and mattress retailer have also released a downloadable bedtime story and children's activity pack which teaches and raises awareness for endangered leopards. How incredibly lovely is this?!
Below you'll see some more information on the Mento White Wooden Treehouse Bed Frame which is your key to help rescue leopards from lives of misery in African and European zoos, circuses and other captive environments and keep other wildlife in the wild.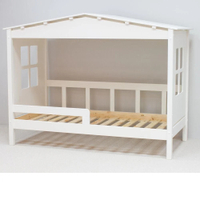 Mento White Wooden Treehouse Bed Frame | £719.99 £399.99 at Happy Beds
This children's bed resembles a treehouse which serves as not only a charming sleeping area for the younger members of the family but a secure one, too. Crafted from solid pine and complete with ample amounts of safety rails, it's a safe haven for sweet dreams.
For the month of October, £50 from every sale of the Mento Treehouse Bed will be going to our new charity partner, Born Free!
More bedding advice