In lockdown, our straighteners probably aren't getting the daily use they once had, but when was the last time you cleaned them? (We couldn't remember the last time we cleaned ours, to be honest). If you're in the same boat, keep reading. An Instagram cleaning fanatic recently shared her top tip on how to do it - because if a job's worth doing it's worth doing properly...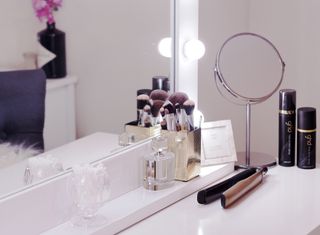 Mum and cleaning enthusiast Mrs D recently shared a clip on her Instagram account explaining how she cleans her own hair straighteners. Captioning the clip, she writes, 'Have you noticed residue building up on your hair straighteners or curling tongs? Well, if you have, all you need to clean them is surgical spirit or rubbing alcohol.'

Of course, when cleaning any electrical appliance, it's important to do so safely. 'Make sure you have turned and unplugged your hair straighteners or curling tongs, dab a little of either surgical spirit or rubbing alcohol onto them and wipe over them' Mrs D says.
'Make sure you get into all the nooks and crannies and wipe over the ceramic plate too.'
See also: How to clean your home without using commercial products
As we know, giving our belongings a bit of TLC every now and then will help to keep them working for longer, whether it's our makeup brushes or our coffee machine. 'My GHD straighteners are now 10 years old, I've always cleaned them this way every few months and they look and work like new.'

The cleaning expert uses a cotton wool pad and the surgical spirit to clean her straighteners, remembering to clean the crease between the ceramic plate and the plastic to remove any grime. She also advises using a microfibre cloth.
Mrs D's method will get rid of any residue that your hair products may have left behind and it will also disinfect them. Always make sure your freshly cleaned straighteners are totally dry before using them.
See also: 9 times the IKEA Malm dresser was used to perfection
Will you be giving it a whirl?