They say that when your life is feeling a bit out of control, that you should organize a drawer or closet. Most everyone I know has felt this way at one time or another, and I think most everyone also likely has a closet or drawer in their home that could use some organizing.
I certainly fall into both categories after moving into a new home with two small children just a few months ago. so I set my anxious energy on the dated, less-than-functional linen closet at our new house. An organized and styled closet makes me just as happy as a beautifully decorated room, and so I took the opportunity to not only organize our linen closet when we moved in, but to style it as well. Every time I open that door, I get a wonderful little feeling of satisfaction from seeing the cute space, and an even bigger feeling of satisfaction knowing that I didn't spend a fortune doing it.
If you are reading this and wishing that you had a closet that gave you that same feeling, then read on! I'm here to give you all the details on this space, including a breakdown of the costs of my styled and organized closet.
Here's the closet 'before'.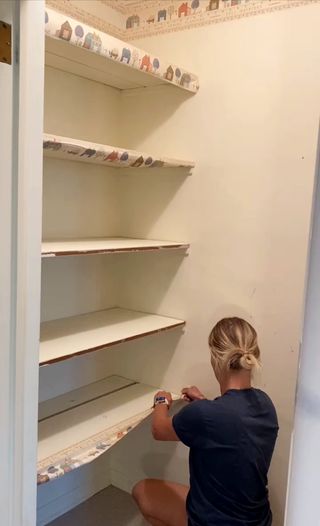 And here's the 'after.'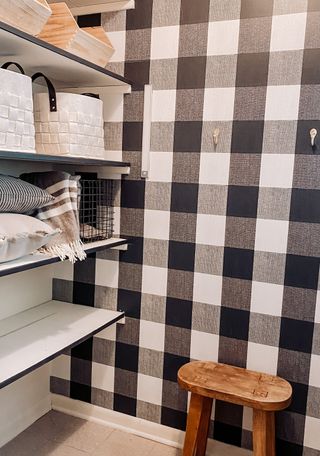 Budget closet makeover: How I did it
The first step in this space was the wallpaper. I have often seen adorable patterns of wallpaper but can't seem to find a space for them in my home or feel that they are too bold for my living spaces. Enter, closets! A closet is a great space to try something bold and have a little fun. I opted for a peel and stick wallpaper that cost me $40. I stuck it to the back wall, and I think it makes just the right statement when I open that door. Who says that cute décor only has to be in the main areas of your home anyways?
Once the wallpaper was placed, I used some old paint that I already had to paint the outside ledges of the shelves, and so that was a zero-dollar update. It really makes a statement in the space, and gives the shelves, which are a bit old, a more modern look that I love.
Finally, and maybe my favorite part of the update was to "accessorize." Now, when one accessorizes in a closet, there is only so much that you can do, but I still really wanted the space to be cute, so I found a cute variety of bins at Target and placed them on the shelves.
For this closet, I used bins that I already had, and also purchased a few new bins. I absolutely love the selection of baskets and bins at our local Target, because I feel that their selection all coordinates well together, and I also find them reasonable in price. (they typically cost anywhere from $10-$30 depending on size and style).
I do firmly believe that there is a correct way to make bins look "styled," so to speak, and so I have a method to my madness when I style shelves and closets. I like to keep bins of the same type together on shelves, but that isn't to say that I necessarily need to keep all the same type of bin in the closet. In fact, I prefer to mix and match, but to also have them coordinate. So, whether they coordinate by way of color or texture, it is nice to have them play off each other. I will rotate shelves with different types of bins, and I always play around with different options until I find a combination I like.
I tend to lean towards a more neutral color scheme. I find that the light and bright creams and wood tones tend to make the space seem larger and less cluttered, and speaking of cluttered, the beauty of a bin is that you can hide all your clutter! And let's just be honest here, what is the point of having a closet if you can't hide your clutter away in it, but with these simple tips, you can do that, and have it look cute at the same time, and all on a budget.