Primark Home has got a name for itself on the interior inspo front – serving us homeware looks that are so easy to mimic. This week they've brought us a whole load of fab buys for under £20 that could easily pass as designer. Yes, that's right - it's time to give your interiors some TLC without breaking the bank. We were SO excited to discover the range, covering all bases from boho chic textures to Scandi style prints... basically, whatever your vibe is, Primark has got you covered!
Keep scrolling to browse our pick of the best buys on offer then check out our deals hub for more bargain buys you'll love. We're sure you'll be just as obsessed as us. Scented candles, scatter cushions and faux indoor foliage all made the cut. Oh, and we've also included some similar home accessories from our other favourite retailers incase you can't get to a Primark store.
1. Candles galore for under £5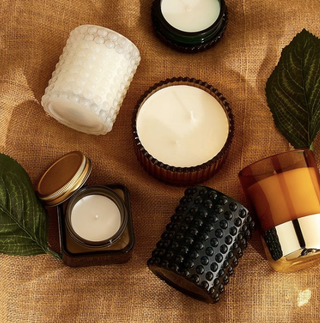 This shot, showcasing a few of the candles from Primark's range, is so gorgeous that we couldn't pick our fave. We're big fans of the Bubble Texture Glass Candle, £4.50 for its unique style and the way it would be a great accessory in any home. We were also impressed by the bargain buy that is the Spiced Amber Scented Candle, £1.50. Oh and of course we're always advocates of citrus notes when it comes to home fragrances, so we will deffo be trying out the Orange Candle, £4.50
2. A cream and grey tufted cushion that goes with EVERYTHING, £8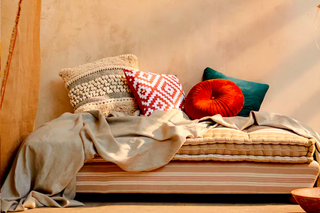 How can you not be in love with this cushion!? Firstly, it looks far more expensive than it is whilst also ticking every box in our boho interiors fantasy. Secondly, all the detail from the plaiting to the pom poms makes this the perfect feature cushion without being too in your face – it would pair beautifully in neutral spaces with a few pops of colour, as seen here. The Cream And Grey Tufted Cushions, are £8 and you can also see the Brown And White Diamond Cushion Cover, £3.50. The brick colour goes so well with the cream and grey tufted cushion
3. Maxing out details with this oblong tassel cushion, £9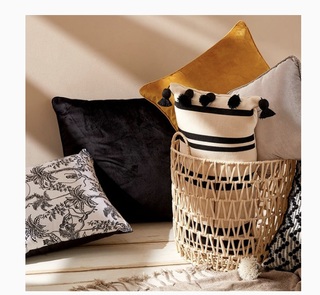 You really can't go wrong with monochrome decorations in your home and this tassel cushion has just the right balance between low-key and fancy. The tassel detail is super cute and the shape makes it the perfect scatter cushion to accessorise your bed! Get the Grey And Black Stripes Oblong Tassel Cushion, for £9.
4. Mimic a monstera with this faux cheese plant, £10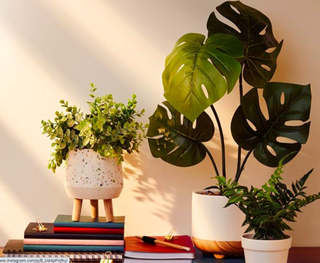 Cheese plants are among the trendiest plants to have in your home right now so Primark adding this gorgeous bit of faux foliage to their arsenal wasn't a bad idea at all – especially for those of us who are not great at looking after real plants. We love the white pot with a natural base that it comes in. Low maintenance and a fab way to give some life to the aesthetic of your interiors, we really rate this Cheese Plant In White Pot, at just £10.
5. Try a Bargain bedroom refresh with this double duvet cover set, £20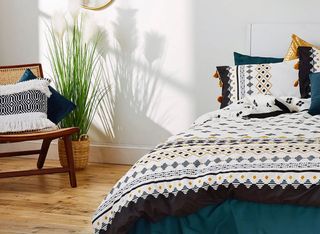 Get yourself a printed double duvet cover set for just £20. This Yellow Double Duvet Cover Set is so fun and bohemian, adding a pop of colour to your bedroom with a palette that is in demand this season. We love the mustard tassels... cute!
Read more: