Purchasing your own champagne glasses is equivalent to entering a whole new level of adulthood. But once you've got the flutes, you don't want to fall at the first hurdle of washing them correctly.
There's some debate about whether you should use dish soap, as it creates a residue that can make your champagne less fizzy - as well as clouding the surface of the glass.
For optimal champagne quaffing conditions, many say you shouldn't use any dish soap whatsoever.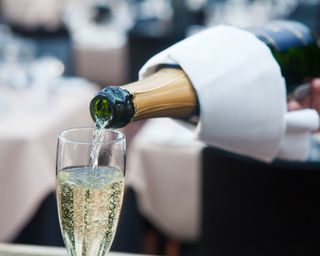 This is because of the thin film it leaves behind, which you might not always be able to see. If you have a dishwasher, you might have been carefully positioning your best champagne glasses on the top shelf and hoping for the best. However, this can also result in a cloudy residue and scratches on the surface of the glass.
We asked professional food photographer Jessica Formicola from Savory Experiments, who said photographing glass is one of the hardest tasks she does.
'I totally agree that most soaps and detergents leave behind a residue that can be seen especially when light is shining through. I use a foam baby bottle cleaner and HOT water unless there is something like extra stubborn lip gloss, and then I will use some soap.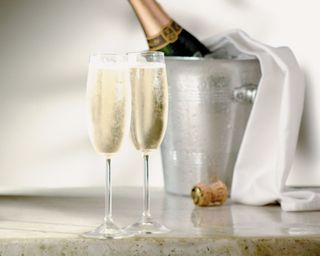 'I also finish with a microfiber cloth. It helps prevent streaking with no fuzzies or lint left behind. I also use a baby bottle drying rack to air dry,' Jessica says.
If you've got a stain that won't budge, Parvathy Pothan from Smart Home Guide suggests using a damp cotton cloth and some inexpensive champagne or wine to wipe the glass. 'The alcohol content will cut through the grease and help to clean it up,' Parvathy says.
Vera Peterson, President of cleaning company Molly Maid, shared her method of cleaning champagne glasses. She says all you need is white vinegar and a plastic scrubber or nylon net.
Vera recommends you warm the vinegar by dunking the bottle in a sink of hot water for one minute. Then, drain the sink and refill with warm vinegar. Use a bowl if you're just cleaning a couple of glasses.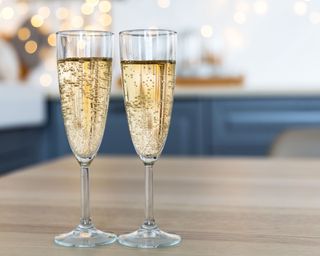 Place the champagne glasses in the vinegar for one hour. Use the nylon net or plastic scrubber to remove the film. Finally, thoroughly rinse the champagne glasses in hot water.
Devan Cameron, chef and owner of Braised & Deglazed points out that it's common in the hospitality industry to use dish soap as warm water doesn't kill all germs. 'If rinsed properly, there's no reason to worry about soap residue, he argues.
We'll be using hot water and a few drops of white vinegar from now on.
If your dishwasher isn't smelling too fresh, our guide on how to clean a dishwasher explains what to do. And if this talk of shining glasses has left you in the cleaning mood, our guide to how to clean a kitchen in under an hour is a great place to start.
You'll need the very best cleaning products, of course.
Cheers!