Let's start with some jargon-busting: what is a Nuki Smart Lock – or any smart lock, for that matter – and why do you need one? And what do/can smart locks do?
When we're talking about smart locks, home security and the replacement of a physical key are probably what springs to mind for most people. And they'd be right. But, when you start to look a little closer you'll soon realise that they have much more to offer. (We were amazed the first time we learnt about some of their functions which is why we want to share them with you, too.)
Below, you'll find five ways in which the Nuki Smart Lock is designed to make protecting your home easier and more efficient. If you'd like to know more, check out our pick of the best smart locks.
What is a smart lock?
A smart lock is designed to replace a conventional lock and key system and will allow you to access your home using your smart phone, as well as monitoring access to your home from any location. Nuki Smart Locks can be fitted retrospectively and are designed to suit a range of door styles and living situations.
When you're done reading, head over to The Hub for the latest smart home news, advice and information.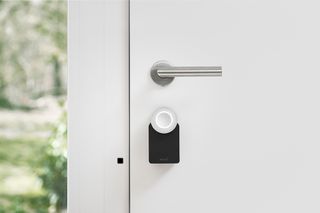 1. Enhance your home security
As we've already said, this one is kind of obvious. Smart locks, such as this model from Nuki, will instantly enhance your home security set-up by monitoring who comes in and out of your home and notifying you accordingly.
There's also the option to receive notifications if anyone tampers with your locks. Plus, it's easy to connect your smart lock to a wider smart home security system, which will spring into action should it detect anything unexpected.
2. Make physical keys redundant
If you – or your teenage child – are particularly gifted in the art of forgetting keys, you definitely need a smart lock. Simply use your smart phone to gain access to your home and relinquish the need for a physical set of keys entirely.
Plus, you'll never have to worry about the risks of leaving a set of keys under a door mat or strategically placed plant pot, again (both of which, by the way is the number one reason why people get burgled, along with leaving windows open).
3. Make hosting Airbnb guests super easy
Celebrating National Smart Home Month
It's National Smart Home Month and we're doing everything we can to cut through the jargon and leave our readers feeling excited and informed when it comes to all things smart home tech.
Dreamt of becoming an Airbnb host? Or perhaps you're doing it already. Well, a smart lock will make the whole process significantly easier by removing the – often inconvenient – exchange of keys between guest and host.
Grant your guest access to your home from the duration of their stay. And once they've left? Remove their access rights straight from your smart phone.
4. Give cleaners, babysitters and dog walkers limited access to your home
Got a dog walker, babysitter or cleaner who needs regular access to your home? Rather than waiting around to let them in, or providing them with a set of their own keys, a Nuki Smart Locks will allow you to provide guests with temporary access to your home. Simply provide them with a pass code, when they need it, and make it void when they don't. Genius.
Earlier this year we wrote about how grocery delivery drivers can now enter your home when you're out via smart lock, which could be the next step for Nuki...
5. Open doors automatically when your hands are full
Whether you've got your hands full with the food shop, or a screaming toddler, smart locks are here to help you out. They're designed to open your front door automatically when they sense your phone, so you'll never be left fumbling in your pockets looking for keys again.