April is here, so it's officially time to prep our gardens for the summer, and to start thinking about sprucing up our homes in time for guests to come inside. With this in mind, I, (@anniecollyer), have been spending my money on lots of homeware (and garden) buys over the past month. Here's what I've bought (and been loving) or what I am lusting after (and may have accidentally bought while writing this piece)...
Keep scrolling for my five top Editor's Picks for the month of April 2021. Including garden must-haves from an incredible patio cleaner to an outdoor rug, as well as home fragrance buys and handy storage.
Want more shopping suggestions? Head to our new in home buys page – for everything we are loving this April, from our favourite homeware shops.
1. This Argos outdoor rug that now lives on my terrace
After buying new patio furniture for our terrace, I thought I'd go the full she-bang and also buy an outdoor rug – to pop underneath our garden coffee table. The fact this one was a bargain is what initially caught my eye, but it's also a great size and very durable. It can withstand all weather and you can roll it up to store it for winter. You could even take it to the park for a picnic or use it for day trips to the beach. It's also reversible – one side is mostly grey with a white pattern, the other mostly white with a grey pattern. It's also yet to look dirty, even though it has been stood on and used for weeks now...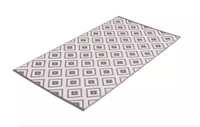 Argos Home Curated Grey Outdoor Rug | £15 at Argos
Made from 100 per cent polypropylene so designed to withstand weather, this geometric rug isn't just stylish but also extremely practical. It measures 90cm x 170cm.
2. This very handy (and cute) collapsible laundry basket from Amazon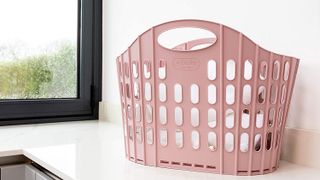 This collapsible basket now lives tucked down beside my tumble dryer, and I use it for collecting clean and dry clothes and taking them to our room. Where they (obviously) sit for days waiting to be folded. It looks nicer than having clothes sprawled everywhere, makes it easier to get clothes from A to B, without missing a sock that is, and it comes in lots of colours. From pink to dark grey, light grey and mint, and also white. It's very easy to fold – just push in the bottom.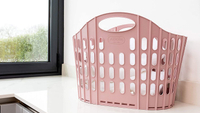 Addis 518613 LQOC Fold Flat Easy Store Clothes Laundry Basket Hamper | £19.99 £12 (save £7.99) at Amazon
Easy to hold and store, this foldable basket can fit nicely atop your washing machine or tumble dryer. It's also part of the new Lynsey Queen of Clean Range by Addis. If she loves it, then so do we!
3. Jo Malone's new reed diffuser – it floods my living room with a lovely scent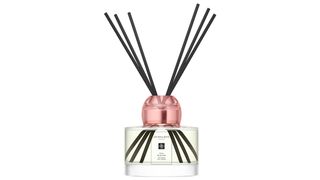 Jo Malone's new limited edition reed diffuser laded on my doorstep last month, and ever since I popped the reeds in the fragrance, my house has smelt so lovely. Initially, I had this in my home office but it's definitely too strong for smaller rooms, so I moved it to my spacious living room. It's definitely not overpowering, yet you can 100 per cent smell the fresh yet floral scent flooding the room. And, it makes a lovely coffee table centrepiece. It comes wrapped in a lovely box so it would also make a great gift.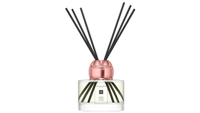 Jo Malone Silk Blossom Diffuser | £67 at Jo Malone
This reed diffuser can last for around three to four months once the reeds are inserted, while it comes with 10 reeds in total included. Add according to the size of your space, and how much scent you want the diffuser to give off.
4. This incredible patio cleaner that transformed my garden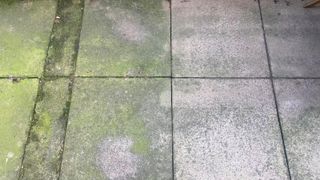 This year, for some reason or another, there was a build-up of green moss on my patio from winter. Since I want to make good use out of having a terrace this summer, I decided to do this chore early in the year so I can enjoy my outside space for longer. I used Jeyes Patio Fluid on my outdoor space, diluting it as per the instructions and pouring it on my patio. I then gave it a scrub, left it for a few hours and then washed it away with water – no pressure washer used at all! It did require two coats, but to say it transformed my patio would be an understatement.
See the results above, and click to read more about how I used Jeyes Patio Cleaner on my patio – and to buy a bottle for yourself.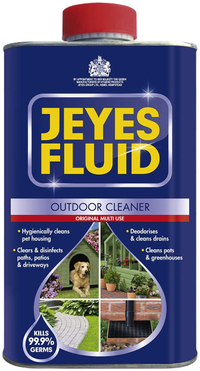 Jeyes Fluid Outdoor Cleaner & Disinfectant | £9.99 at Amazon
This impressive patio cleaner works to clean and disinfect your space from everything including bacteria, mould, mildew, algae and moss. It's very easy to use and while you can use it along with a pressure washer, it will work without one.
5. This statement leaning mirror from Dunelm that I am lusting after for my home office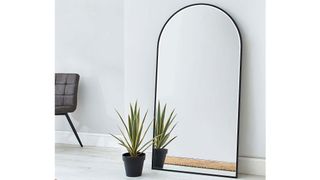 Okay, so this is currently in my basket – I am very much trying to not press pay yet until I am 100 per cent certain I love it. I really need a floor-length mirror for my home office/our spare bedroom, and this one isn't just a bargain but it's minimalist so it will pretty much blend in anywhere in my home. Because I just love to switch things up and move furniture around every few months. I am also hoping that due to its very large size, it will make this room seem a lot bigger and also brighter – there is just one small window in the corner. *accidentally presses pay*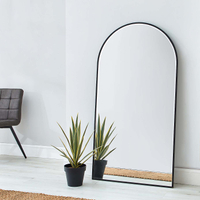 Apartment Arch Leaner Mirror Black | £100 at Dunelm
This mirror measures 150cm x 80cm and it comes in your choice of black, white or grey. It's unsurprisingly popular so it keeps coming in and out of stock – grab it while you still can!