Doing some homeware shopping after payday? You've landed in just the right place then, as we've been doing a lot of shopping ourselves – for research purposes, obviously. Keep scrolling for a round-up of everything we are loving in April 2021, from our favourite homeware sites including Made.com, Anthropologie and even H&M Home. We're talking everything from scallop-edged dinnerware sets to Moroccan-style pouffes and rattan floor lamps.
Keep scrolling for everything you need to buy this April and use the links on the left to jump and shop by retailer. For more recommendations from us, see our Editor's Picks page – for five things our Shopping Editor has recently bought and still loves.
New in at Anthropologie
Here's everything we are loving at Anthropologie in April 2021.
Click to shop new in at Anthropologie yourself.
A contemporary cutlery set for dinner parties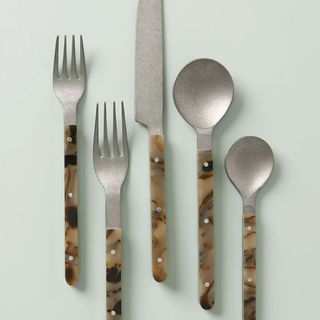 This unique cutlery set will be sure to add something a little different to a contemporary dining table. We suggest buying for fancy use – only when important guests are coming over –while each piece of cutlery is varies in texture due to how they are crafted.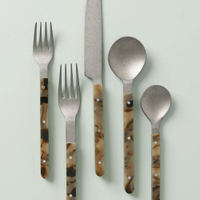 Piet 2-Piece Cutlery Set | £46 at Anthropologie
This five-piece cutlery set comes with two forks and two spoons, differentiating in size, as well as a knife. They are exclusive to Anthropologie, and unfortunately hand-wash only, but rest assured you won't see them on anyone else's dining table. They also come in silver, should you prefer it...
An eco-friendly platter for picnics or garden BBQs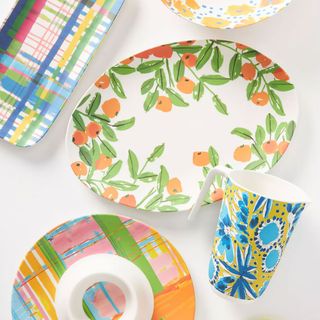 Perfect for serving those summer salads or cold canapés, this bamboo platter is vibrant and fun. It's perfect for outside use since it's made from shatter-resistant bamboo fibre and melamine, and it's also lightweight. You could even take it on a fancy picnic.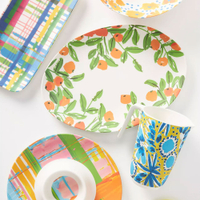 Vera Poppies Bamboo Melamine Serving Platter | £26 at Anthropologie
This eco-friendly platter is easy to clean and dishwasher safe, though you may want to avoid putting it in the microwave. There are matching plates and bowls available, too...
A decorative storage jar for your open shelving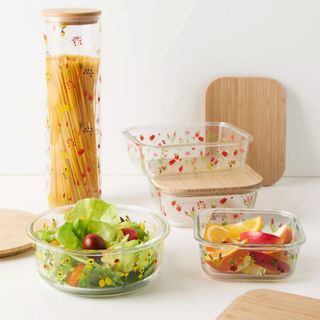 If you have open shelving in your kitchen and you like to store dried foods and more in jars on display then these ones are perfect. They're decorative unlike the usual plain jars you see everywhere, and they have a bamboo lid. Not just that, but they come in all sizes so you can store anything from rice to spaghetti and even salad (inside the fridge, of course).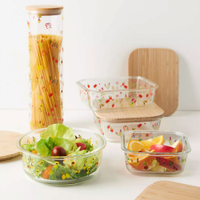 Cordelia Food Storage Container | £14 at Anthropologie
These food jars will make your kitchen look lovely – whether they are on display or you'll be using them in your cupboards. You can also pop them in your fridge to store fresh food, and they are dishwasher safe to make your life easier.
New in at Dunelm
Here is everything we love that's new at Dunelm this month.
Click to shop everything that's new in at Dunelm.
A Morrocan-style pouffee for extra seating indoors or out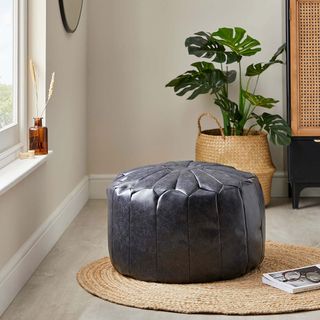 If you wish your sofa could seat more people and you hate having guests sitting on the floor when they come over, then a pouffe should be your next purchase. We love this Moroccan-style one from Dunelm as it can pretty much blend in with any decor, whether your home is boho, minimalist or Scandi-style. It's also mega comfortable and you can move it from your home, into your garden with ease.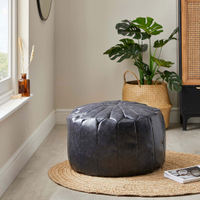 Moroccan Pouffe Black | £25 at Dunelm
Made from PVC, this dreamy pouffe is a bargain – we might even buy two. It also comes in brown and it's very easy to clean – just wipe it down with a cloth.
Cosy and neutral waffle cushions for your bed or sofa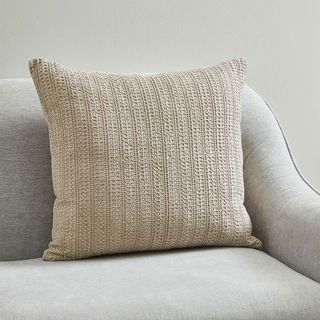 You can never have too many cushions, right? Well, at least this is what we tell ourselves every month when shopping online for new homewares. These waffle cushions from Dunelm are luxurious since they are made from 100 per cent cotton, they come in three neutral shades and they arrive filled, ready to style. We love them placed on a bed, behind your pillows.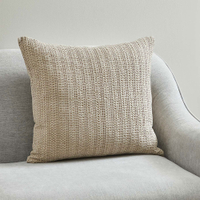 Waffle Cotton Cushion | From £14 at Dunelm
These waffle cushions come in two sizes depending on where you are going to place them. They are also very plump and comfortable.
New in at H&M
Shopping at H&M Home? These are our favourite buys on-site for April 2021.
Click to shop everything that's new in at H&M.
A lidded seagrass basket for hiding things away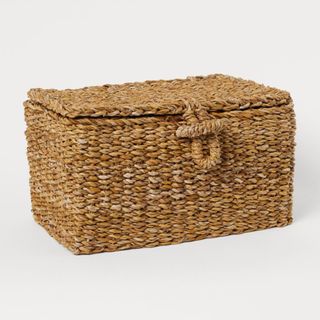 Whether for storing tampons in your bathroom or dummies in the nursery, this lidded basket is perfect for hiding things away you might not want to be seen, and doing so in style.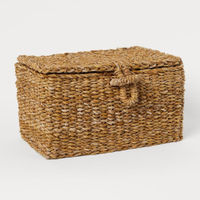 Lidded storage basket | £12.99 at H&M Home
This small basket is perfect for storing or separating items in style. It has a closing lid, while it's made of 100 per cent seagrass. We love.
A large metal garden chair for relaxing in the sun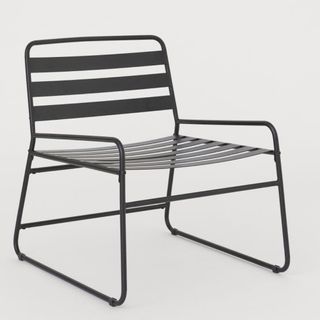 Searching for extra outdoor seating? Since we are now allowed six people (including us) in our garden, you'll want to make sure your outside space is cosy and comfortable. This large chair from H&M is durable since it's made of metal, while it's perfect for chilling with low arm rests. Buy a cushion for it and place it on a balcony or patio. The perfect place to put your feet up with a book or coffee...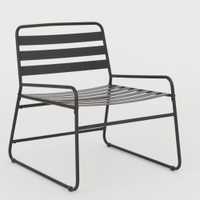 Metal lounge chair | £99.99 at H&M Home
This chair arrives flat packed, ready to be assembled. It also comes in a dining chair version for £69.99.
New in at Habitat
We couldn't forget about Habitat, could we? There's lots of lovely stuff that's new in here for April 2021, but this stuff below is already in our basket.
Click to shop everything new in at Habitat.
A Bridgerton-inspired four poster bed for sweet dreams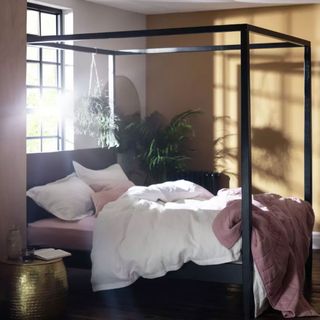 We're getting all of the Bridgerton vibes from this four-poster bed, and we love it in black. Imagine some hanging plants around it and add this bed to your basket. It's selling fast! Unsurprisingly...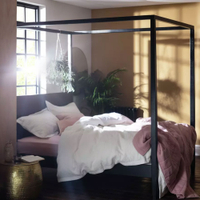 Habitat Blissford Kingsize Bed Frame | £450 at Habitat
This bed frame is made of wood to make it more than sturdy, while it has four posters and a headboard. There's also 21cm between the bed and the floor, for storage, while the base is sprung with wooden slats.
This rattan floor lamp to illuminate your living room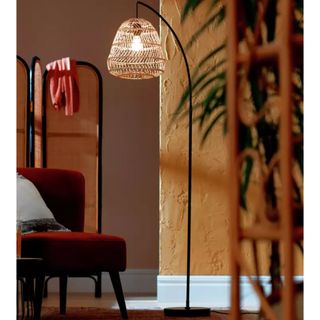 This lovely floor lamp will do more than brighten your space – it will fill an otherwise empty corner or boring section of a room. Use it in a living room, bedroom or home office to add light. It's perfectly suited to boho homes...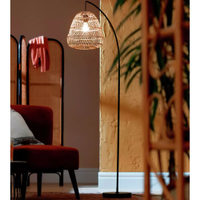 Habitat Rattan Arc Floor Lamp | £65 at Habitat
This floor lamp has a black finish with a curved stem, and a pale rattan shade which allows light to flood a room beautifully. It has a 1.5-metre cord and an A++ energy rating, as well as an in-line switch for controlling.
A side table that can store your records in style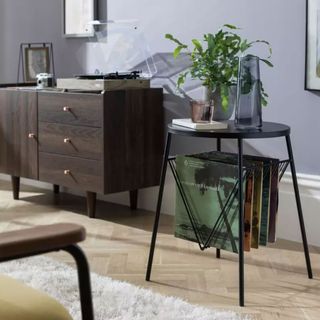 This side table also acts as record storage, so that you can store your favourite discs in style. And out of the way! Space-savvy and it can also be used for storing magazines or newspapers. Pop a lamp on top and place it near to your record player. Vintage... and we love it.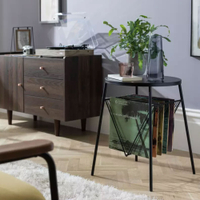 Habitat Mid Century Record Holder Table | £42 at Habitat
This space-saving solution is clever since it hides your records out of the way yet in a convenient place. This table is made from steel to make it sturdy, while it has a black finish to ensure it blends in with all decor...
New in at Made
If you are shopping at Made.com right now because there's free delivery on everything, then see our top favourites from this London-based brand below.
Click to shop everything new in at Made.com.
These very lovely highball glasses for G&Ts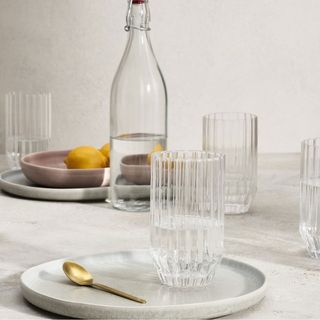 How lovely and unique are these glasses? They come in a set of six so they are also a bargain, while they are made of thick glass. They are also ribbed to add something different to your dining table or your drinks cart. The perfect size for a G&T, we reckon...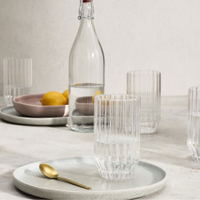 Hollie Set of 6 Ribbed Glass Highballs | £25 at Made
The perfect size for a G&T, these highball glasses are even dishwasher safe.
This scalloped edge dinner set for your dining table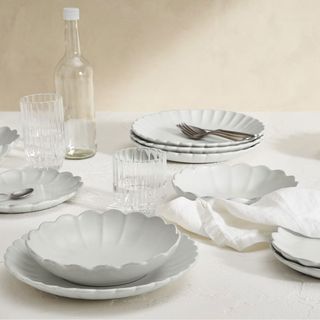 Wee are kinda in love with this scalloped-edge dinnerware set. Not only because it's unique and we've not seen a set like it before, but also because it's plain yet still exciting. This stoneware is microwave and dishwasher safe, while it comes with four of everything – from dinner plates to side plates and pasta bowls.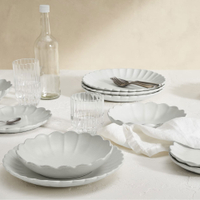 Caeser 12 Piece Scalloped Edge Dinner Set | £79 at Made
A dinnerware set to keep for special occasions such as birthdays, Christmas and dinner parties, this 12-piece set is so cute!