Cleaning up your outside space ready for the 29th of March, when we are officially allowed another household over in our garden? We've already rounded up the best patio cleaners on the market, but a few weeks ago we thought we would actually put one to the test. We tried and tested the Jeyes Fluid Patio Cleaner, and we have been pleasantly surprised with the results.
Whether you have access to a pressure washer or not, Jeyes Flud patio cleaner can give great results – and fast. So, if your patio, driveway or path is in need of a serious transformation then keep reading.
Here's how (and why) I used this patio cleaner, and where you can buy a bottle of this magic stuff for yourself.
What do you use Jeyes Fluid for?
You can use this patio cleaner on dirty patios to remove algae, mould, mildew and just general dirt. It also removes 99.9 per cent of germs from your floor.
Why did I use it?
For some reason or another, I had a load of algae grow on my patio after this winter, which turned it green – it has never done this before. So, with no easy access to a hose tap to use a pressure washer on this space, I thought I would give a patio cleaner a try. I've used this patio cleaner twice now – two coats over the same area – and each time I have been thoroughly impressed with the results. In a few words, this patio cleaner turned my terrace from looking drab to looking fab pretty much instantly, and to say I am excited to do the rest of it would be an understatement. Saturdays in lockdown, eh!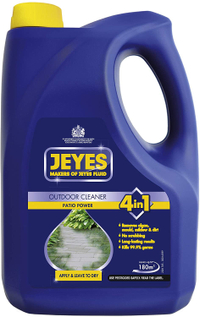 Jeyes Fluid Patio Cleaner | £6 at Wilko
This magical stuff needs to be diluted, but rest assured it's so easy to use. Pour it on, give it a scrub to work it in and rinse it off. You'll only see the results once it's fully dry, but prepare to be wowed.
You can, alternatively, buy Jeyes Fluid patio cleaner from one of the retailers below. It's sold in larger bottles, for larger spaces...
How I used Jeyes Fluid patio cleaner
So, using a bucket (a bedroom bin that we don't use) I diluted this patio cleaner as per the instructions on the bottle. Then, I carefully walked it through my entire house to my back garden and started pouring over my patio, slab by slab, and after covering I began to scrub. Using a garden broom, that is, to make this a lot easier. After the job was done I left this stuff to set in for a few hours, and then using the same bucket but washed out, I poured water over the patio to rinse it. I also have a dog so this was for peace of mind that he wouldn't lick something he shouldn't.
After drying, I saw an incredible difference as I only applied this cleaner to a third of my patio. As you can see from the photos above, the transformation is insane – especially when bearing in mind there was no pressure washer used. Use the arrows above to scroll through transformation photos.
How to use Jeyes Fluid patio cleaner:
Dilute as per bottle instructions
Pour over your patio
Scrub (if necessary)
Leave for a few hours
Rinse with water
Wait to dry
Repeat if necessary
What to bear in mind when using Jeyes Fluid patio Cleaner
You'll want to dilute it exactly as the bottle says, and I had in mind that you can never use too much – so I used quite a lot on a small space. If your patio is quite dirty, then you'll really want to scrub. You might want to repeat if you're not totally happy once dried. Be sure to take before and after photos so that you can compare with ease.
Also, this patio cleaner isn't just for use on patios but driveways and tarmac, too. It can also clean mould, mildew and dirt as well as algae. And it can apparently kill 99.9 per cent of germs from your floor.
How much Jeyes Fluid patio cleaner do I need?
One two-litre bottle of this cleaner can clean up to 90 metres squared – that's around nine car parking spaces. You might want to allow for two coats if your patio is in desperate need of a scrub.
Does Jeyes Fluid clean concrete?
Absolutely! That's what I used it on and you can see the results above. You can use it on patios, driveways or paths – whether stone or concrete.
Can I use Jeyes Fluid with a pressure washer?
You can definitely use Jeyes Fluid patio cleaner with a pressure washer. In fact, if you can, we suggest doing so for better results. It just so happened that we couldn't but even then we still were left with great results. You can also use it with a garden sprayer.
Where to buy Jeyes Fluid patio cleaner?