Before this year we had heard of the door bow, seen it on some corners of Instagram even, but this year, we swear we have seen more oversized bows tied to front doors than we have wreaths. Probably linked to the whole 2020 being a shocker of a year and everyone going over board on their Christmas decs (we are okay with that BTW).
Extra in all the right ways, this extravagant, bright red festive bow is the ultimate seasonal statement. Equal parts glam and fun, this new Christmas trend is actually really easy to DIY yourself too using reams of tulle and ribbons. But just in case you don't trust your craft skills, we have rounded up some top affordable picks for you to get shopping instead.
For plenty more Christmas decoration ideas head to our gorgeous gallery too.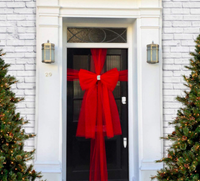 Extra Large Double Deluxe Door Bow | £29.99 £17.99 at Mano Mano
Whether you're a hosting home, ready to welcome in friends and family with this wow-factor bow or just a home that wants to spread some festive cheer via your outdoor decor, this isn't a bad shout. What's more, the website says it's made of weather-resistant tulle netting, that won't shrink or droop in rain. Phew... we're not so sure how well a non water resistant outdoor decoration would fare in the UK!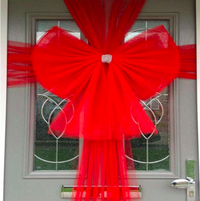 Deluxe Standard Door Bow | £22.89 £18.99 at Amazon
If you missed out on the Mano Mano model, you can't go wrong with Amazon. Quick delivery is guaranteed and this Christmas door bow is available in a range of colours: red, gold, grey, hot pink, blue, yellow, green, white, black and rose gold. Free delivery, too!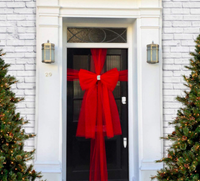 Guaranteed4Less Christmas Front Door Bow | £14.99 at Amazon
Smaller with sparkly diamante detail, this bow is glamorous and playful without totally dominating your door! At an affordable price of just £14.99 with free delivery, this glamorous bow decor will jazz up your doorway without breaking the bank!
Want to go for a traditional wreath instead, or even aswell, don't miss our Christmas wreaths gallery or have a go at learning how to make a Christmas wreath with our guide.