Nothing divides us more than how to load and unload the dishwasher. And that's not even going into the pre-rinsing debate.
A professional home organizer trained by Marie Kondo has revealed a tip for when it comes to unloading your best dishwasher. She says we should work from the bottom to the top to avoid water dripping on the dishes on the bottom shelf.
Her advice comes just in time for the holidays when our kitchens will be busier than usual.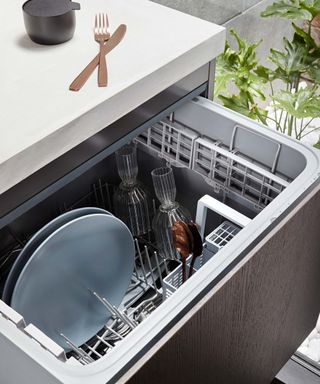 Global appliances manufacturer Hisense has teamed up with Sue Spencer, founder of A Life More Organised. As a certified KonMari™ Consultant, she helps clients to declutter their homes and businesses.
Dishwasher unloading tip
'It's a good idea to unload the bottom of the dishwasher first to prevent items from the top layer dripping onto the plates,' says Sue. We tend to work from top to bottom, but doing the opposite is bound to speed up this household chore over the holiday season.
It goes without saying that knowing how to clean a dishwasher helps to keep it functioning properly. To avoid any problems over Christmas when it'll be working harder than usual, it's worth and stocking up on the best dishwasher rinse aid.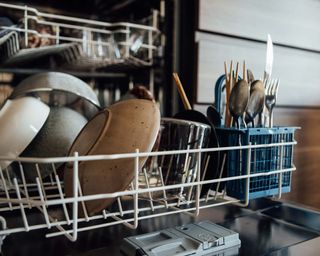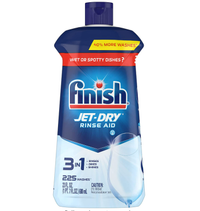 Finish Jet-Dry Rinse Aid, Dishwasher Rinse Agent and Drying Agent, 23 fl oz | $10.16 at Amazon
Leave dishes and glasses gleaming with this popular rinse aid on Amazon. It helps get rid of stugbborn stains and gives crockery extra shine - just pour some into your rinse aid compartment each month
'The bottom rack of the dishwasher benefits from a hotter wash, and stronger water jets so it's ideal for cleaning plates, saucepans, and roasting tins,' Sue adds. 'On the other hand, the top rack is cooler and offers a slightly gentler wash, which is ideal for glasses, mugs, cups, any plastics, and large utensils.'
Dishwasher manufacturers Hisense spoke to 1,500 people across to find that over a third (38%) had fallen out with a friend or family member over the dishwasher. 70% said they think that there is a 'right way' to stack the dishwasher.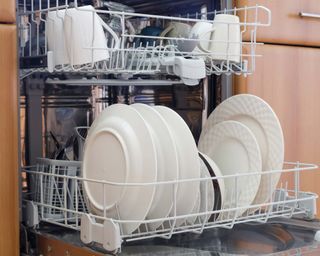 A whopping 50% said that they were the only person in their household that took on the responsibility of loading this kitchen appliance. Howard Grindrod, Vice President of Hisense UK, says, 'Almost all of us have a clear idea of how we like to stack the dishwasher.
'But the key to clean crockery is making sure you've selected the right program and spaced out your crockery and pots so the detergent can be as effective as possible.'