Why buy dishwasher rinse aid if you've already bought the dishwasher tablets and salt, right? Well, adding rinse aid to your appliance is the finishing touch you need when it comes to washing up. Its purpose is to step in at the end of the cycle to make sure dishes are dry and shiny, without any watermarks, limescale or salt spots. It works by accelerating the drying process, preventing water from sticking to surfaces and instead, creating a shiny finish.
Convinced? Read on to find the five best buys – and don't miss our guide to the best dishwashers if you want to match your appliance quality to that of your rinse aid!
What is the best dishwasher rinse aid you can buy?
Why you can trust Real Homes Our expert reviewers spend hours testing and comparing products and services so you can choose the best for you. Find out more about how we test.
We think the best dishwasher rinse aid you can buy is Finish Shine & Dry Rinse Aid, which is brilliant for shine (clue's in the name); it's highly rated by users (including us). We also rate Fairy Rinse Aid, as it's designed to be used on all leading dishwasher brands and lasts up to 150 washes, giving glasses and cutlery a clean, shiny finish and keeping your appliance clean inside, too.
See our selection of all the best products below to give your plates, dishes, crockery, cookware and cutlery the deep clean and high shine finish it deserves.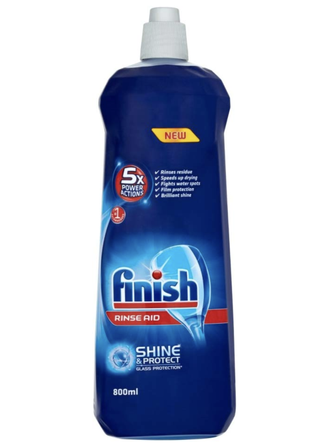 For shine you can really see and dry dishes ready to use, add Finish Shine & Dry Rinse Aid even on top of your multi-benefit tabs.
Why we like it:
Shine
This dishwasher rinse aid has got history: it's known for the shine it'll give your dishes and glassware – and it really does.
Prevents water stains
This rinse aid leaves glasses and dishes sparkling with no residue, no water stains and no streaks.
Economical
This dishwasher rinse aid comes as a pack of two 800ml bottles.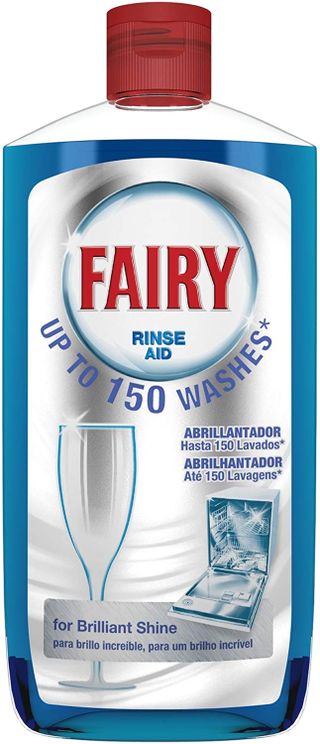 The Fairy Rinse Aid is streak-free, smells lovely and lasts ages too. It also leaves your machine shiny and sparkling, and is tested for use on all leading brands.
Why we like it:
Good quality
Fairy carefully selects its ingredients to create outstanding performance while consistently testing them to make sure you are getting the quality you associate with this leading brand.
Lasts ages
This rinse aid lasts up to 150 washes so you are getting plenty for your money with this pick. Plus, for this price, you get two in a pack.
Streak-free
The Fairy Rinse Aid dries well and doesn't leave any streaks so you won't have to spend ages polishing your glasses when they come out of the dishwasher.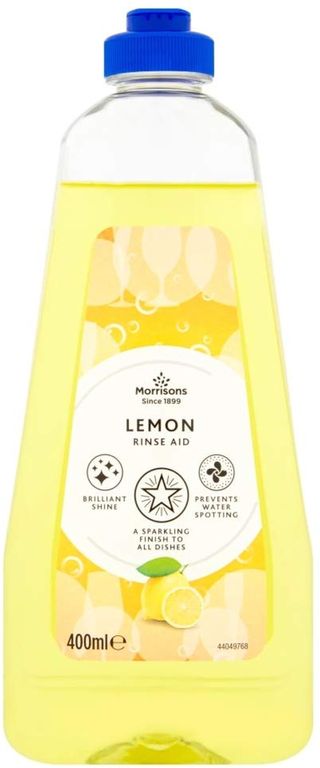 When you need to save a bit of money by cutting back on leading brands, this Morrisons rinse aid one does the same job as the leading brands, for less.
Why we like it:
Affordable
This Morrison's rinse aid is the cheapest of our pick and it does just as good a job as the bigger brands – some reviewers commented they, in fact, saw no difference when they changed from a well-known brand.
Smells good
Who doesn't love a lemony fresh smell when they open the dishwasher? However, it's not too strong and won't leave a taste on your dishes.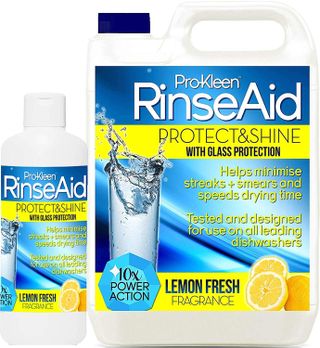 Pro-Kleen Rinse Aid will clean and protect glasses, plates and cutlery thanks to its blend of low foam and additives that speed up the drying process.
Why we like it:
Convenient larger bottle
To save you always topping up your rinse aid stock, this comes in a much larger five litre bottle which you then decant into a smaller 500ml one with flip top lid for easy pouring.
Great on glasses
This rinse aid has been specifically formulated to leave glassware with a diamond shine – no limescale, no water spots, no streaks.
Nice scent
But don't worry it's not too strong and won't linger on your dishes, just freshens up your dishwasher and gets rid of any unpleasant smells that might be going on in there.

Achieving a natural shine without the harsh chemicals, the Ecover rinse aid is ideal for the more eco-conscious cleaner, but its low odour is what wins for us.
Why we like it:
Eco-friendly
As the name suggests all Ecover products are made to be super effective but have a minimum effect on the environment. This rinse aid still brings out your dishes sparkling but without all the unnecessary chemicals.
Naturally shiny dishes
Despite the lack of strong chemicals, you still get amazing results with this rinse aid and you don't have to worry about any chemical residue on your dishes. The smell isn't too strong either, just a subtle, clean perfume.
Read more: