A kitchen upgrade for under £3,000 might seem like a pipe dream, but with hard work and creative thinking, it's completely doable – as this Nottingham home goes to show.
Beth Jamison, a technical worker for a cladding materials manufacturer, and her partner Tom Marsden, a project manager for a precast concrete company, used their skills and knowledge of the industry to transform their dated kitchen with little more than a lick of paint and some new accessories. Keeping the existing units and making cosmetic changes kept costs down, and the entire kitchen cost just £2,500 in total.
Find more kitchen ideas here.
The before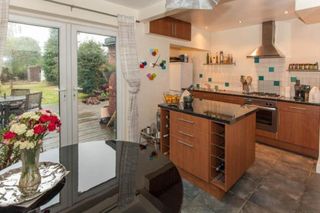 The couple were looking to buy somewhere they could put their stamp on when they found this three-bedroom semi-detached house in Nottingham. 'We loved the space – we could visualise exactly what we wanted to do with it, which was a good sign,' says Beth.
The house was in good shape, but needed a bit of TLC. 'There was nothing wrong with it, but it wasn't to our tastes,' Beth adds. 'The big kitchen-diner with an island was what drew us to it. We had a new bathroom put in when we moved in, but in the kitchen, rather than having new units, we decided to utilise what was already there.'
The process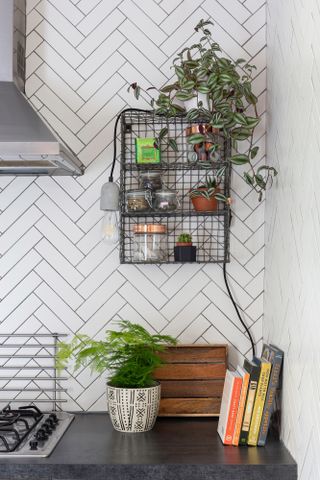 One of the only structural changes Beth and Tom made to the space was to put up a stud wall between the kitchen and utility. The rest of the work was largely cosmetic – but as the couple took on most of the jobs themselves, it was no less hard work.
'I love getting stuck into projects and having a go at everything, so I really enjoyed the process, but we were quite lucky – our dads were hands-on with it as well,' says Beth. 'They basically came in, showed us how to do the basics – like tiling – and then left us to it. It took a long time, and there were times when I thought, "Why did we start this?". But when you come to the end and see the result, knowing you've done it all yourself, it's quite an accomplishment.'
The existing cupboards were kept in place and painted with Dulux paint. 'It was a bit of a chore – they're melamine so we had to find a primer that would work first,' says Beth. The original handles were updated with new ones from All Handles & Pulls, and the couple managed to sourced a Howdens worktop for cheap on Gumtree.
The after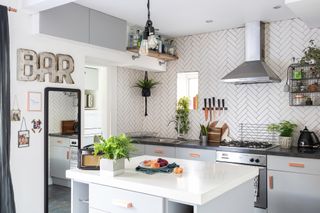 In all, the kitchen – including the furniture – cost around £2,500 to transform. 'We scrimped on some parts to save for other, more expensive things,' says Beth. 'We decided on brick slips for the kitchen-diner chimney rather than exposed bricks, because they weren't in amazing condition. That was probably quite costly compared to other parts of the project, but we did them ourselves, as well as the tiling and painting – all without too much arguing!'
The couple have added character with unique finishing touches, like the quirky herringbone tiles from Tons of Tiles along one wall. 'I knew I wanted statement tiles in the kitchen, so I decided to go for a full wall instead of a splashback,' Beth says. 'Something more linear would have been a lot easier to do. But we like a challenge!'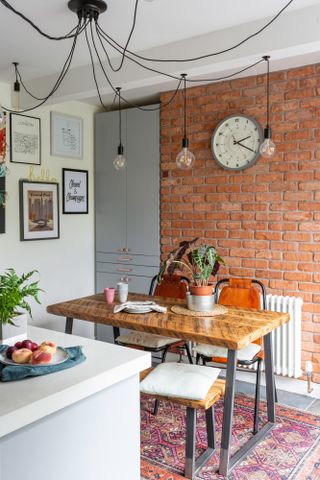 The finished space has plenty of the couple's unique touches, including a statement ceiling light from Cult Furniture and an industrial-style dining set from Design Shack Interiors. It's now their favourite place to spend time. 'It's a sociable space,' says Beth. 'We'll have family and friends over, and because it's open plan, whoever's cooking doesn't feel out of it. Even when it's just me and Tom, one of us can be cooking tea while the other is pottering around. We spend a lot of time in there – it's such a lovely space.'