Two million Cosori air fryers are being recalled due to faulty wires causing them to catch fire, the US Consumer Product Safety Commission (CPSC) revealed this week. Read on to see if your countertop convection oven is affected, and how to receive a free replacement if you live in the United States, Canada, or Mexico.
Which Cosori models are affected?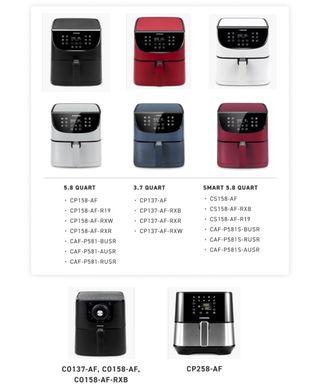 The affected products were sold from March 2019 to December 2022. Check your paper, digital, and email receipts, as this brand is a super popular purchase at brick-and-mortar stores and at online shops like Amazon.
3.7-quart models
• CP137-AF
• CP137-AF - RXB
• CP137-AF - RXR
• CP137-AF - RXW
5.8-quart models
• CP158-AF
• CP158-AF-R19
• CP158-AF-RXW
• CAF-P58-BUSR
• CAF-P58-AUSR
• CAF-P58-RUSR
Smart 5.8-quart
• CS158-AF
• CS158-AF-RXB
• CS158-AF-R19
• CAF-P58IS-BUSR
• CAF-P58IS-RUSR
• CAF-P58IS-AUSR
Other recalled Cosori air fryers
• CO137-AF
• CO158-AF
• CO158-AF-RXB
• CP2580-AF
How to check which Cosori air fryer you have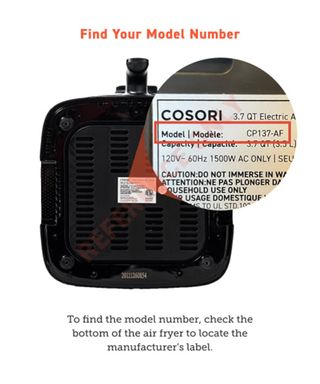 Option 1: To find your model number, check the bottom of the air fryer and locate the manufacturer's label. The information you need should be listed below the Cosori logo.
Option 2: Otherwise, your reference numbers are in the user manual.
What to do if you've got a recalled appliance
First things first — stop using the machine immediately. It might be tempting to cook just one more air fryer recipe before you pack it up for return, but the risk isn't worth it.
What caused the issues cited in the recall? Cosori's site states: "After a thorough investigation, we determined that in extremely rare circumstances, the closed-end crimp connectors within the recalled air fryers — which are responsible for establishing electrical connections between certain wires — can overheat, posing fire and burn hazards."
Cosori is offering replacement air fryers to all affected customers (registration required), so you'll have a safer updated appliance in no time at all. Even if the warranty has expired, you don't have your original receipt, it's used, or not in working condition, the brand has promised to replace your machine immediately.
If you decide that you don't want a new air fryer, Cosori has confirmed that you can choose from a select catalog of other products, depending on the model of your air fryer.
Note: You will need to input your model number/batch number and upload three images in order to complete the recall registration.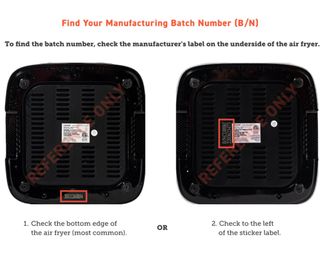 How soon will I receive a replacement product?
Once you've registered for your replacement, you can check on your delivery status via the dedicated recall portal.
What did the US Consumer Product Safety Commission (CPSC) say?
The CPSC's official page states: "Consumers should immediately stop using the recalled air fryers and contact Cosori to receive their choice of a free replacement air fryer or another Cosori product by registering at recall.cosori.com. During registration consumers must provide their contact information and submit photos of the recalled unit with the cord cut off. No receipt is needed to receive a replacement."
According to the Canadian Government's site, "...there have been 23 reports of minor property damage globally and 10 reports of minor, superficial burn injuries, including four reports in Canada,"
How to return your Cosori air fryer
According to the CPSC, you can call Cosori toll-free at 888-216-5974 from 8 am to 5 pm ET Monday through Friday, email at CosoriRecall@Sedgwick.com or go online at www.recall.cosori.com or www.cosori.com and click on the "Important Voluntary Safety Recall. Learn More" banner at the bottom of the page for more information.
Does the Cosori recall mean air fryers aren't safe?
Rest assured, air fryers are a healthy and safe way to cook. COSORI says: "The health and safety of COSORI users is our highest priority; we are recalling certain air fryers out of an abundance of caution,"
"All of our products are rigorously and routinely tested for consumer safety and are in full compliance with established industry standards. COSORI is committed to the safety of those who use and love our products, and we sincerely apologize for any inconvenience."
And, if you're reading this in outside of North America — you're fine. We spoke to a marketing representative from COSORI for some further clarification. They issued the following statement:
"We would like to further clarify that the recall ONLY involves those models manufactured for and sold in the U.S., Canada, and Mexico. This does not impact the models manufactured for and sold in other regions, including UK, Europe, Asia, and Australia. All of COSORI products are rigorously and routinely tested for consumer safety and are in full compliance with UK & European CE standards."