Chrissy Teigen's 'hanging flower thing' became a brand new decor trend the second she posted it on her Instagram. The internet exploded with questions about what this floral arrangement was and how it's made.
So we asked experts from Dobbies Garden Centres and Bloom and Wild to explain how to recreate the look at home. The good news is this DIY is surprisingly simple - apparently.
See more: How to make a flower garland - perfect for a wedding or garden party
'Had another big shoot for nothing magazine today!' the American model jokes in her caption. 'Love this new flower hanging thingie @jakearnold'
She shared two snaps of herself wearing a brown dress to match the earthy tones of her sleek linen sofa and marble coffee table. Hanging above is the famous arrangement of dried flowers, including pampas grass, dried ferns and small crystals.
Chrissy tagged the floral designer, A& J Los Angeles who brought this floral marvel into being.
Her posts attracted reams of comments with people obsessed with the hanging flowers. 'We love big nothing shoots and hanging thingies,' one wrote.
'Need that flower hanging thing,' another said. So, how do we get one of our own?
'The Pampas cloud is definitely a Pinterest favorite,' says Dobbies Creative Stylist, Rebecca Stanton. 'It works well to create instant impact and dress a space to celebrate special occasions.'
'Although it looks like something straight out of a magazine shoot, it's actually relatively simple to create at home, you just need the right elements and tools to create it,' Rebecca adds.
'Make sure the ceiling you're hanging it from can support the weight. Pampas is light but you want to ensure it's securely hung to keep it looking its best until you take it down – which you may not want to once you see how good it looks!'
See also: How to arrange flowers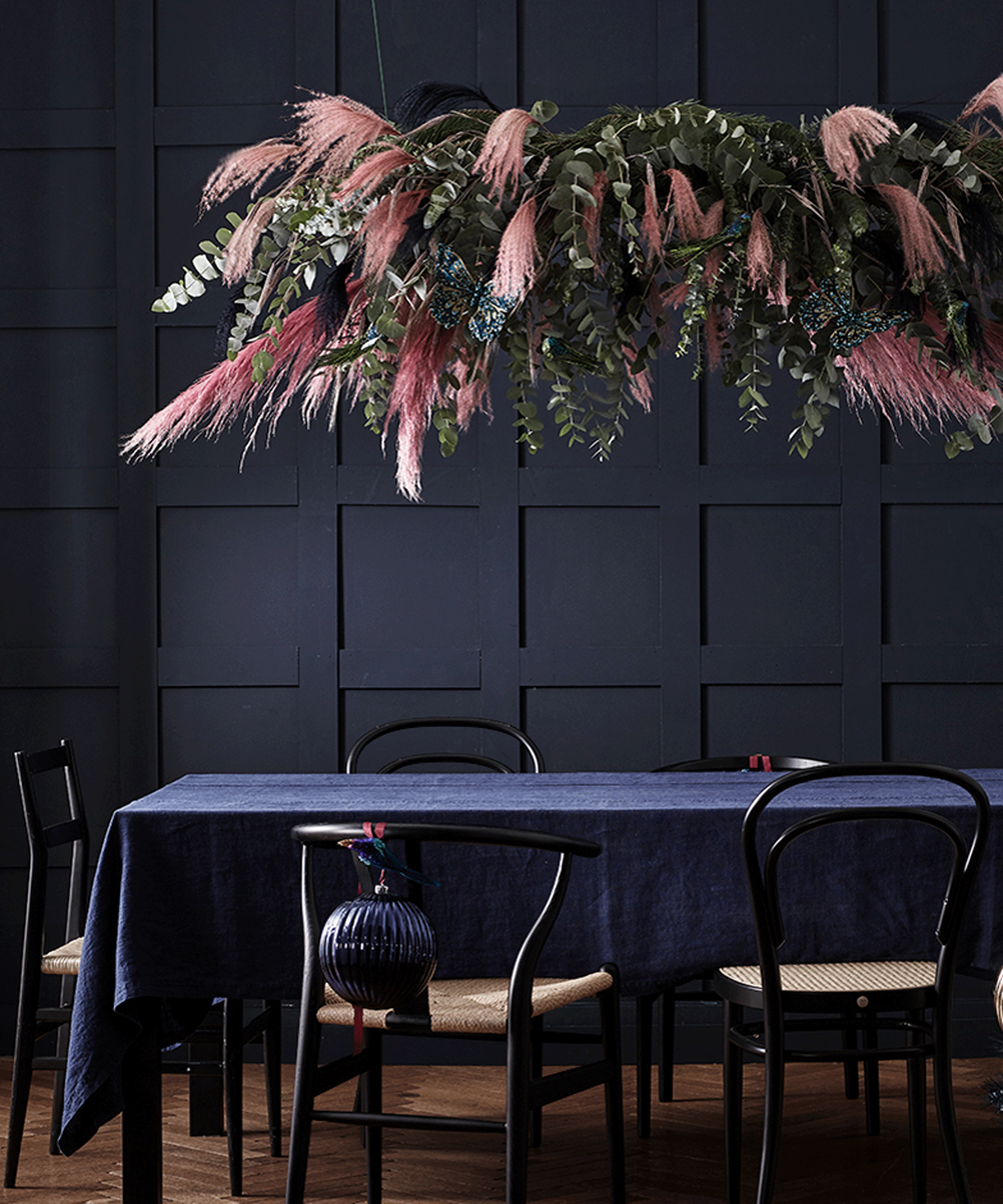 'If you are more limited in space than Chrissy, then maybe think of doing it on a feature wall,' Bloom and Wild's Lead Florist Caroline Grimble suggests.
'Attach some hooks to the wall then use cable ties to attach the chicken wire onto the hooks. Then just simply place your stems through the chicken wire at different angles until you completely cover the chicken wire structure.
'You can make some really beautiful shapes just by playing with different textures and lengths of stems.'
Step-by-step for making a flower cloud
Here's the how-to.
You will need:
Twine to hang
A plank of wood
Blocks of oasis
Foliage
Pampas Grass
Method
Attach oasis blocks to a plank of wood and, using twine, suspend from your ceiling in the middle of the piece of furniture you'd like the installation to hang above.
Create your base layer of foliage. Dobbies chose to use Eucalyptus as it dries out nicely and doesn't shed onto the space below.
Add in your Pamapas Grass of choice, Dobbies opted for pink Pampas Grass, however you could use natural or alternative grasses like in Instagrammer Luke Arthur Wells flower cloud creation You could even use artificial flowers.
Continue to build the Pampas into the display distributing it carefully to balance weight and colour.
Finally, add some additional artificial stems for extra interest, keeping it neutral to blend in with the Pampas. This can be a great way to fill any gaps and to balance out the Pampas cloud
Step back and enjoy your stunning display!
Pampas and Eucalyptus are available from Dobbies stores, as plants and as faux stems.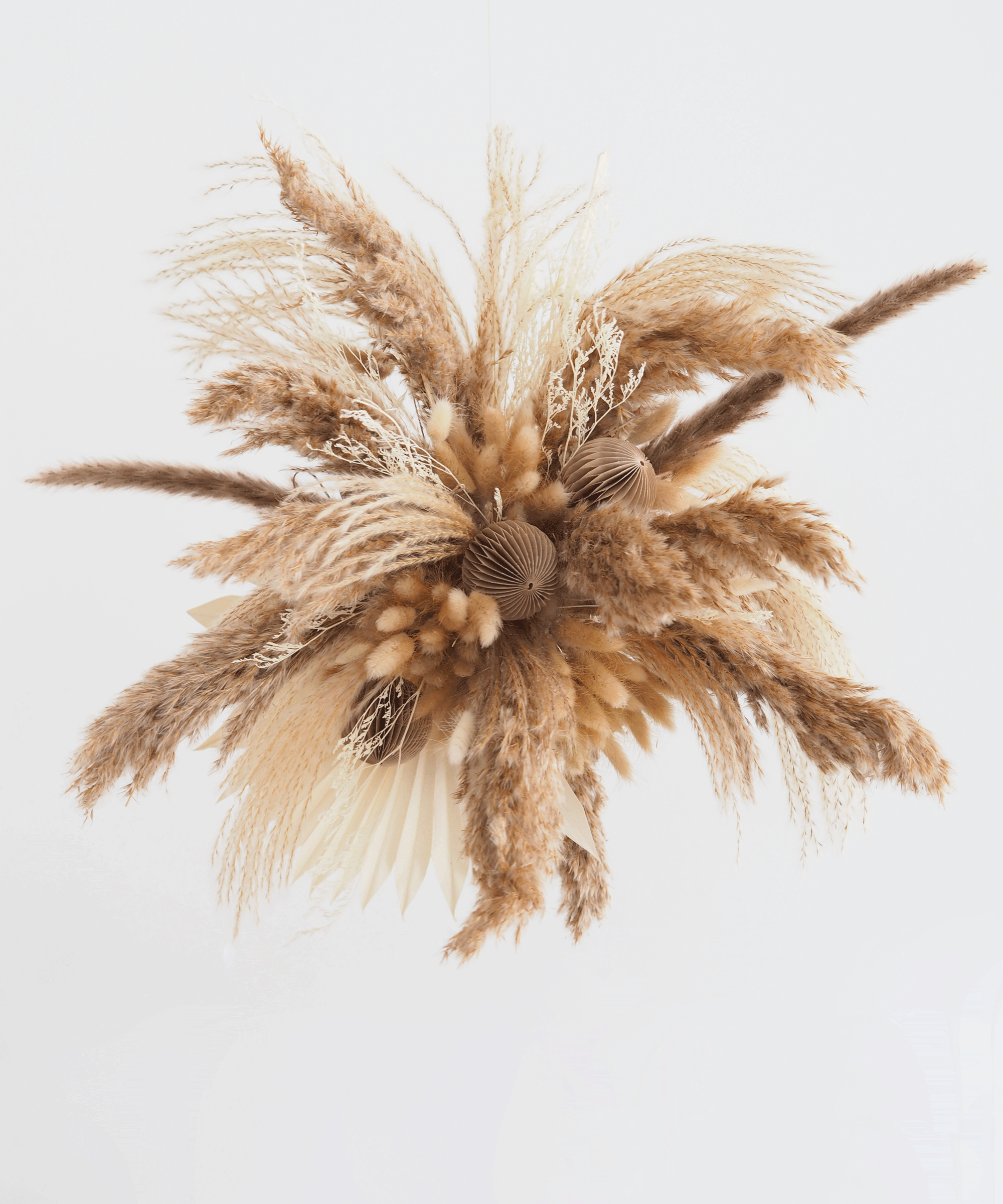 Next time we've got an afternoon with no plans, you know what we'll be doing...