Buying a Gladwell mop? Whether you're fed up of your current spray mop breaking, you dread lugging a bucket round to clean your floors or you're treating yourself to a new appliance before fall, the Gladwell mop is a smart investment.
What makes it different to a normal mop? It's electric; one charge lasts two hours; it features waxing, mopping, and quick spraying programs; it can remove dirt from ALL surfaces; and it's quiet during operation. Need we say more?
Usually, one of these machines retails at a huge $159.95 and due to its versatility and effectiveness, we can easily understand why. The good news? Today, Groupon is selling the Gladwell mop for just under $100. Scroll down for the deal.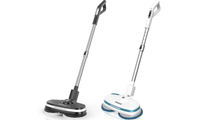 Gladwell 3-In-1 Premium Cordless Electric Mop | Was $159.95 now $99.99 at Groupon
Featuring a huge 37 per cent off right now, this electric mop deal shouldn't be missed. Those who want to save a few $$$s can choose a refurbished model, if not there are new ones available, too. You also get a choice of color out of white and blue or black and silver, and shipping is included. Be quick, there are a limited number available...