A few small changes can revitalize a lackluster kitchen, transforming it into a space you actively want to hang out in. There's no question that those of us in rented apartments and houses have a harder time making our homes look cute.
Bobby Berk has exclusively revealed one simple rented kitchen tip that's guaranteed to create a stylish kitchen on a budget.
Bobby Berk is one of the world's most famous interior designers, best known for being part of the Fab Five on the hit Netflix show Queer Eye.
Born in Houston, Texas, the star moved to New York aged 22, where he worked his way up to the position of creative director before launching his own store and interior design service. The star has also recently launched a neon lighting collection in collaboration with Yellowpop.
Bobby Berk's rented kitchen tip
We asked the interiors expert for one simple thing renters can do to make their kitchen look good, which would cost under $20 or so. 'New hardware!' he says.
'You can easily change up any cabinetry with updated hardware,' Bobby Berk adds. He says this kitchen idea is renter-friendly since you can change it back when your lease is up.
The options are limitless, from sparkling diamond-shaped handles to more kitsch, painted ceramic knobs for more of a cottagecore vibe. If you're looking for a quick and easy way to shake things up, order a couple of packs of the best kitchen cabinet pulls.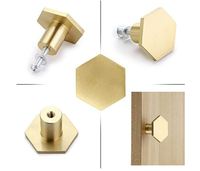 10-pack of gold hexagon cabinet knobs in solid brass, 30x21mm | $22.59 at Amazon
Bring warm gold tones to your kitchen cabinetry with these hexagon cabinet knobs from Amazon. Perfect for jazzing up your kitchen without the need for any DIY skills.
You can get the job done in less than an hour, which is well worth it. I can vouch for the gold, hexagon-shaped knobs above, which made a big difference to my kitchen.
The cabinets are, naturally, painted in an uninspiring shade of magnolia and they aren't in perfect condition. Adding these metallic accents made the kitchen feel a little more modern.
(Next, I want to change up the tired old flooring with some decal stickers in a terracotta tone.) You could also go for matte black bar handles, leather straps, or natural wood, depending on what kind of textures you want.
Maybe it's just us, but when you're not allowed to paint your walls, picking hardware and getting rid of the old handles that have been there forever feels very satisfying.