Whether you're completing a kitchen remodel or looking for a simple update, new cabinet hardware is a must. Kitchen cabinet pulls are a necessary design element that is both functional and stylish. These prominent pulls handle a lot of daily stress, so they shouldn't just dress up cabinet drawers; they must also be durable. With so many shapes, sizes, and material options available, it might be difficult to find the cabinet pulls that best fit your needs. To assist, we've collected the best hardware finds.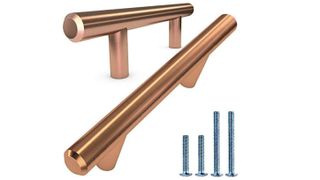 Add a sleek look to your kitchen cabinets with these streamlined copper-finished pulls. This set of 5-inch pulls is crafted from solid stainless steel for durability. These sturdy handles are not all about function; the minimalist T-bar style offers a contemporary vibe that appeals to many design sensibilities. A variety of size, finish, and package options are available to grace your cabinet drawers for years to come.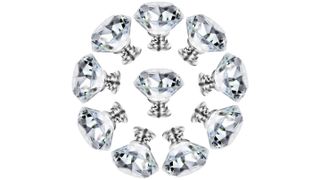 It's all about the glam with these faceted glass knobs by Northern Brothers. This set of opulent diamond-shaped pulls offer drawers a touch of luxury. And shine. Did we mention shine? Each glittering 1.2-inch kitchen cabinet pull captures the light, making all meal-prep moments more refined. These drawer essentials are accompanied by mounting hardware to easily install the shimmer. Different package options are available, so every cabinet receives the elegance it deserves.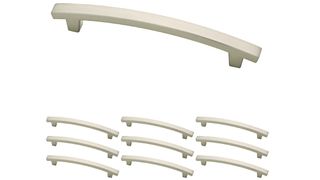 There's nothing wrong with simplicity when it comes to your kitchen cabinet hardware. The clean lines of these 5-inch arched pulls offer drawers a polished modern look. Each curved bar in this set is constructed of sturdy zinc with a matte satin nickel finish. You can simply install these pulls with the included mounting screws. These kitchen cabinet pulls are available in several sizes and finish options to enhance your drawers no matter the color.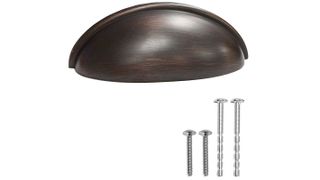 You can add a little warmth to your kitchen finishes with this rounded cup-style cabinet pull set. These rustic half-circle pulls are shaped in durable metal, sized at 3.5 inches, and detailed with an oil-rubbed bronze finish. This set includes ten cabinet pulls with a convenient hardware install package. Various style and finish options are available to properly accent your kitchen design.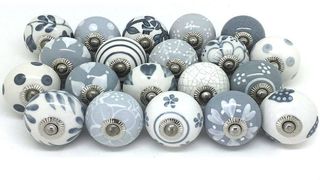 If you have an off-beat, artistic style, then this set of round hand-painted knobs is a perfect choice. These one-of-a-kind, 1.75-inch ceramic cabinet pulls feature intricate patterns that are unique, yet cohesive. Each pull offers a playful burst of creativity, painted in soothing grey and white hues. This set also includes the hardware needed to complete the installation. These crafty knobs are available in several package options to accommodate your cabinet layout.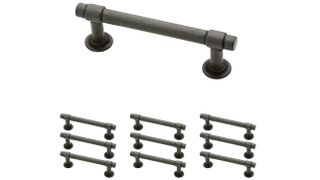 This set of bar-style pulls offer cabinets and industrial vibe, anchoring your kitchen with a simple linear style. The soft iron finish adds to the modern vibe for a distinct look. Each 3-inch pull is packaged with installation hardware to make mounting simple. You can add these cabinet pulls to your kitchen by choosing from the finish and quantity options available.
You can handle it
Why you can trust Real Homes Our expert reviewers spend hours testing and comparing products and services so you can choose the best for you. Find out more about how we test.
Cabinet pulls might seem like a small design element when it comes to your kitchen, but these functional style-infused pieces contribute to the overall aesthetic. Your choice in hardware can add polish, no matter if your cabinets are new or vintage. Kitchen cabinet pulls are available in a variety of styles, sizes, and materials to support your design vision. They range from simple to positively ornate. Our first choice when it comes to pulls is the Alpine Hardware 5-inch Copper-Finish Steel Kitchen Cabinet Pulls - 25 Pack. These sleek pulls are shaped in a simplistic T-bar style, which offers a streamlined look. Each polished linear bar has a copper finish and is shaped in solid stainless steel. Their sturdy construction makes this minimalist style perfect for heavy use.
If subtlety is not your strong suit and you need handles with a bit of drama, the Northern Brothers 1.2-inch Glass Diamond-Shape Drawer Pulls - 10 Pack is the right choice. This set of 1.2-inch glass diamond-shaped pulls offers kitchen cabinets eye-catching elegance with tons of shimmer.