Decorating a gingerbread house for the holidays is a great family-friendly activity, especially when we're stuck inside. Whether you're all about traditional gingerbread houses or curious about unconventional and trendy designs, we found a few kits we can't wait to get our hands on. Though, we'll leave the decision of whether eat it right away or leave it on display up to you.
Once you get your kit, light up the fireplace, heat up some hot cocoa, prepare to get a little messy, and get to creating some fond seasonal memories that are sure to become an annual tradition, if it's not one already in your household.
Looking for more holiday ideas? Be sure to check out our holiday hub for all things Christmas including gift ideas, decor inspo, and delectable recipes.
1. Try this classic Gingerbread Home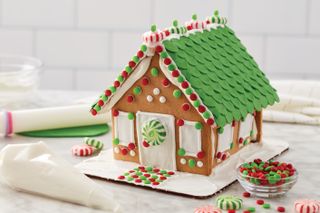 Wilton Ready to Decorate Dressed for the Holidays Gingerbread House Decorating Kit| $8.98 at Walmart
When it comes to gingerbread houses, Wilton is the OG source. For under $10, this classic "Dressed for the Holidays" kit ships right to your door and can be decorated two ways. It includes a pre-baked house, green fondant, pinwheels, confetti sprinkles, white ready-to-use icing, a decorating bag with tip, and an instruction sheet.
2. If you want to start a Christmas village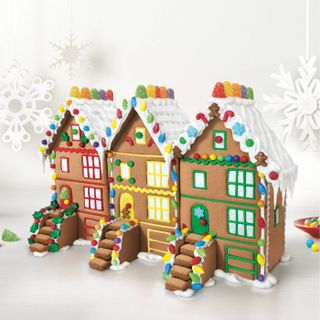 Wondershop Holiday Gingerbread Row House Kit | $14.99 at Target
You're going to want to scoop up the entire Wondershop gingerbread house collection before it's gone. We've spotted this adorable rowhouse, as well as even more unconventional designs like a football stadium for sports fans, a mini-village so everyone can make their own house, a holiday camper for those who want to showcase their wanderlust, and a treehouse, because we're all kids at heart. Can you tell we want them ALL to create our own gingerbread city?
Worried about your kit breaking in transit? We've also spotted this one in our local Target store.
3. When only gourmet will do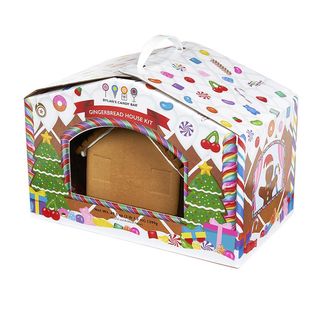 Deck The Halls Gingerbread House Kit | $50 at Dylan's Candy Bar
Dylan's Candy Bar fans will especially enjoy this pre-assembled gingerbread house. That's right you can skip straight to applying the gumballs, rather than fumbling with making the gingerbread structurally sound. And we totally won't blame you if you sneak a taste of the candy store's infamous gummies first.
4. If chocolate is more your thing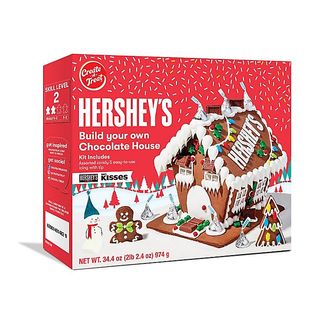 Hershey's Large Chocolate House Kit | $14.99 at Bed Bath & Beyond
Calling all chocolate lovers! You'll want this sweet kit filled with a chocolate cookie base, Hershey kisses and snack bars, and the cutest Christmas lights and holly leaves and berries candies. Once it's built and Insta-pics are taken, we're sure you'll be ready to dive right into this yummy treat.
5. A novelty set that will be a big hit among all ages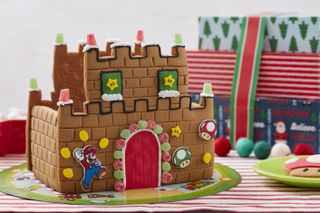 Wilton Build-it-Yourself Super Mario by Nintendo Gingerbread Castle Decorating Kit | $13.97 at Walmart
Reach a new high score when it comes to being the coolest parent ever! Adults and kids alike will love this nostalgic Super Mario inspired Gingerbread Castle decorating kit. In addition to the typical kit fixings, this Super Mario castle also comes with Mario and Mushroom head candies.
6. Now for a true DIY opportunity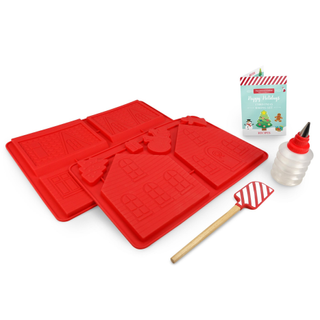 Handstand Kitchen Make Your Own Gingerbread House | $27.99 at Bed Bath & Beyond| $20.29 with code FRIEND at Macy's
Go old school and make your gingerbread house from scratch, giving you the ultimate control over the recipe. Plus, you can break it out year after year to make as many houses as you desire. Handstand Kitchen's gingerbread silicone molds feature imprints to help guide you when it's time to decorate. The set includes two silicone molds, a spatula, a frosting bottle, and a recipe book.
Read next...