Courtyard gardens are increasingly common, and they are notoriously tricky to get right. Without lots of space for a lawn and flower beds, they can often appear quite cold and lack lustre. But, as stylist Maxine Brady has demonstrated here with her own colourful and fun outside space in Brighton, with a little imagination, they can become a relaxing urban hideaway, packed with cosy nooks and welcoming social spaces.
But what if you don't have the eye of an interior stylist? Well, we've chatted to Maxine to share how she created the look. Head here to find out more about how to design a garden.
The before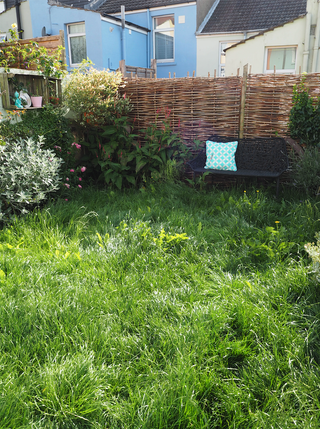 When Maxine first moved into her Victorian worker's cottage in Brighton, the garden had been left to over grow for a long time. 'There was a climbing weed that was so big and heavy it had pulled the fences down and grown over the back door, blocking it closed. The ground was covered in grey shale that had weeds growing through it. It was so awful, I didn't go out here for the first year,' Maxine says.
After taking a trip to Morocco and visiting the Yves St Laurent gardens in Marrakech, Maxine fell in love with the designs she'd seen. 'The outdoor spaces were decorated with tiles, pergolas and plants in large pots. I came home brimming with ideas for my garden,' she says.
The after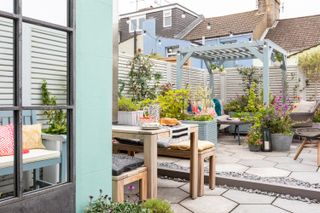 With a Moroccan inspired garden vision in mind, Maxine hired landscape gardener Thea Pitchard to transform her outdoor space. The rotten fences were quickly replaced with sleek wood panels with horizontal slats, which were painted white to reflect light around the space.
A common problem faced in courtyard gardens is that they, by their very nature, are quite angular with sharp fence lines and a boxy shape. Maxine has overcome this by choosing an olive tree, willows and climbing plants to soften the hard lines of the fencing.
To improve drainage, one half of the garden was raised to create a split-level effect using railway sleepers. This, along with the blue painted pergola, helps to zone the space into a dining area and a casual lounge area at the back.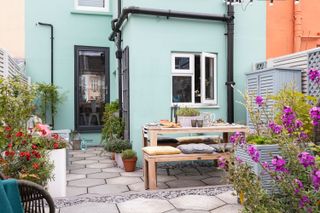 The hexagonal granite paving tiles are bespoke. While they're not like the colourful patterned tiles she'd seen in Morocco, these are a more practical choice as the textured finish makes them safer in wet weather.
Maxine's garden gets the sun all day, so she dotted seating around the space so she could enjoy the garden as the sun moves around. 'I love my compact table as I can push the benches under when not in use.' By the back door, she put up a large garden mirror in the L-shaped space to make it appear bigger.