A London couple have transformed a former school science laboratory into an industrial-style open-plan home.
Carlo Viscione, creative director of a spatial design studio, and his wife, Florence, had been house-hunting for over a year before they spotted this former annex to an Edwardian school in Leyton.
'We were pretty picky about what we wanted and this building was not what we were looking for at all but the potential and original features of this place caught our eye,' says Carlo. The building was listed with a small description mentioning the parquet flooring and including a couple of photographs. 'It captured our interest and we liked the idea of living in an industrial building.'
On the open day viewing, the couple were up against several developers, but their bid was successful – and they set about transforming this unique building into a characterful home complete with an industrial-style kitchen design. Read on to see how they did it.
The before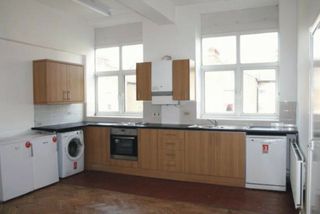 The building was built in 1935 as an annex to a now demolished Edwardian school, and is attached to the caretaker's house. 'In its time this building had been the school canteen, an art department and then a science laboratory,' says Carlo. 'It later became a recording studio in the 90s. We could see where the live room and mixing room had been, and the building had three-phase power supply.'
During the 1990s, the building had been converted into two flats. There was graffiti on the walls from where it had been used as a squat, and it was suffering from damp and smelt mouldy in places. The windows were made in tatty uPVC and the external render had blown, but the couple loved the generous proportions and the solid pine herringbone flooring.
The process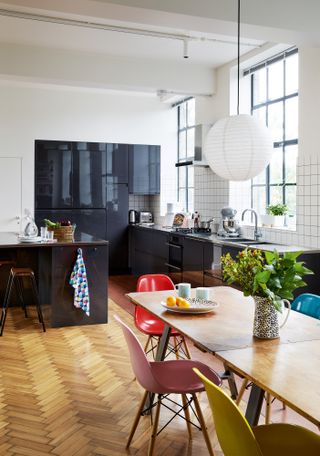 Carlo applied to the planning office to convert the building from two self-contained flats into a family home. Drawing on his experience running his design studio made with volume, he drew up detailed plans to revive the period features and unite the two floors with internal staircases. On the first floor would be the open-plan living space, complete with kitchen, dining area and Carlo's home office.
The couple's builders stripped the house back to the concrete walls and ceilings, and then put in an energy efficient perimeter and internal wall insulation. The water mains, electrics, plumbing and drainage were replaced and new period-correct steel windows from Fabco reinstated. 'It was important to put in double-glazed steel windows that looked as closely as possible to the originals,' says Carlo.
The after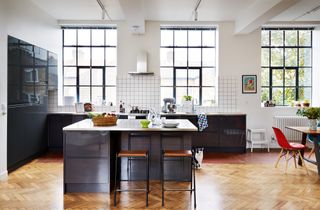 The newly installed industrial-style kitchen from Benchmarx has concealed appliances and stainless steel worktops. The dining table top, which came from the Vauxhall factory in Luton, was an engineer's drawing table. The couple found much of the furniture and accessories from antiques markets and car boot sales, even sourcing vintage science lab stools from Ebay for the island.
The layout provides a great space for cooking, entertaining and relaxing, and the project has become the flagship project for Carlo's design agency. 'We had such detailed plans for everything from the sockets to the plumbing that we came under budget and ahead of schedule,' he says. 'By being thorough and organised, we didn't have to compromise on the design. We love the aesthetics of our home and how the industrial features have been blended into the design.'