An outdoor kitchen is the stuff of dreams and high up on many people's garden wishlist – but one DIY-savvy homeowner has managed to create a stylish alfresco cooking space on a serious budget.
Melanie Cooke, a physiotherapist who runs the seriously inspiring Instagram account @banish_the_beige_, created her contemporary kitchen for just £70 with help from her partner, Christian – and the overall cost of the whole space was just over £2,500, all thanks to the pair being ready to get hands-on. Read on to see how they did it.
The before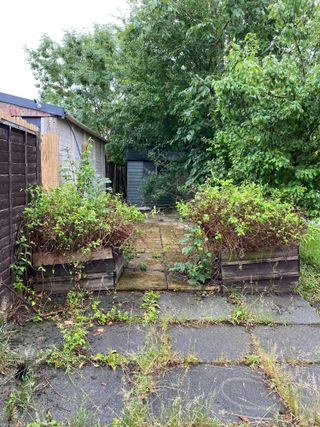 The existing garden was an unloved space with overgrown beds, uneven slabs and weeds growing in between. The couple tackled the rest of the garden bit by bit, repainting the exterior of the house and installing new decking from the back door before starting work on their outdoor kitchen.
The process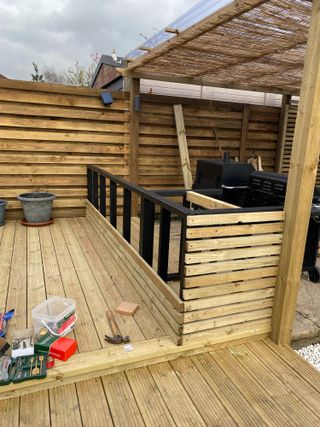 'We started by clearing the area, cleaning up the current tiles and building a pergola,' Melanie says. 'Christian and his dad then built the decking, as well as a frame, which I painted black to match the legs of the barbecue.'
Christian then placed 2x1 treated timber lengths across the structure, leaving gaps in between to create a slatted look that ties in with the pergola. The couple opted for aqua board for the tiling due to its water-repellent properties. 'We had some cement tiles left over from our bathroom makeover, so Christian tiled the worktop and the back of the BBQ frame with those,' Melanie adds. 'After the tiling was all set I sealed them.'
The after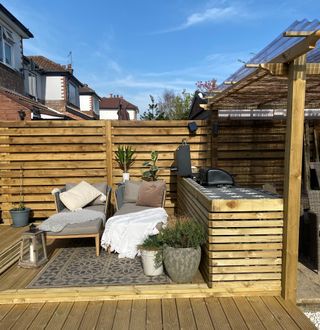 Because they took on the work themselves and made use of materials they had lying around, Melanie and Christian managed to bring the whole project in for just over £2,500, including the decking.
'The decking covers a huge area, so that cost £1,370 for the wood,' Melanie explains. 'The pergola cost around £890 for the wood, reed screen and corrugated plastic roof. We bought two barbecues from Argos, one gas and one coal, which cost £205 for both. The actual kitchen was the cheapest part – it only cost around £70!'
The space is a lesson in how to create impact on a small budget. 'It's great if you have leftover bits and bobs from other jobs – that always saves a lot of money,' Melanie adds. 'We bought the wood, tile backer board and adhesive, but the tiles, grout and sealant were all left over from other jobs.'
The result? A stunning contemporary space that will prove invaluable over the summer months as the family host guests.