We love a great garden design makeover, where a plain and boring piece of patio is transformed into a dining space so romantic, you'd think it'd been lit by fairies.
Okay, maybe the wee folk don't have a side hustle as electricians, but you get the idea – masses of soft lights placed or hung over tables or artfully illuminating the plants and bushes in the garden. All you need is the remains of a warm day, your favourite music on Spotify, delicious food and drink, and you have a Midsummer Night's Dream-y evening.
Nic Howard used his skills as a garden designer and his eye for an antique bargain to create the perfect space for entertaining at night, or during the day. We learn how so we can recreate it (if the fairies are too busy to help).
If you are planning to turn your garden from bland to beautiful, we have lots of ideas and advice in our garden ideas feature.
The before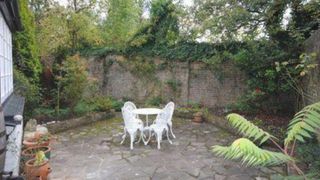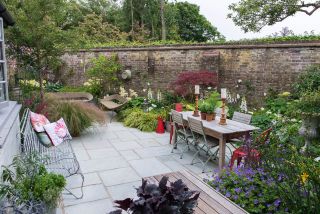 The garden was an awkwardly shaped courtyard behind Nic's Edwardian house in Surrey, but he could see it had potential. 'Even though it was overgrown and had awful crazy paving, I could see it was a lovely, peaceful space,' he recalls.
'It's actually more of a challenge to get the design right in a small garden than it is in a larger one, so I was excited to see what I could achieve,' He wanted a modern take on a traditional country-style plot that would complement his home. 'I love entertaining, so my plan became to make the courtyard feel like an intimate outdoor living room.'
The process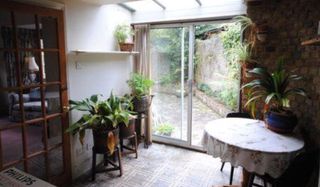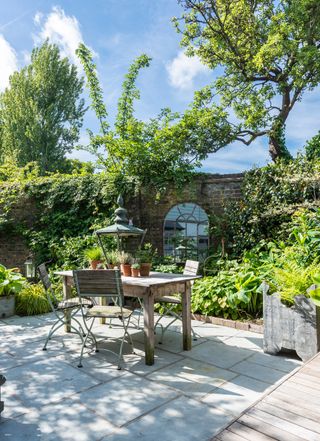 Nic's landscaping team laid limestone slabs, added decking and planting, then built a new dividing wall between the courtyard and driveway so it felt more private. 'The crazy paving was level and had good drainage. We were able to lay the limestone on top, which kept down costs,' Nic explains. The structural work was completed in six weeks,

He decided against a lawn, which he felt would be too much work for the size of the space, and instead put down some artificial turf in the front garden for his two dogs to lounge on.

The exterior of a composite-clad summerhouse – which was part of his mum's garden next door, but she transferred ownership to Nic – was painted in Farrow & Ball's Railings to contrast with the brickwork and planting.

The makeover cost £15,300. Nic made some smart savings by using reclaimed furniture and finding accessories at antiques fairs and on Ebay. The prize piece is a weathered mirror that cleverly helps make the compact courtyard feel bigger. Urns, planters and lanterns in the trees also help to create layers of interest.
The after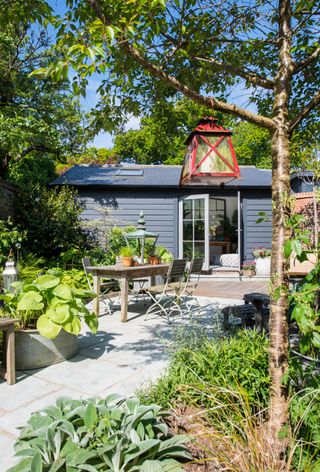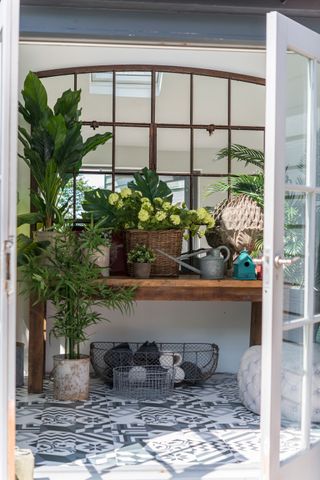 A combination of timber decking and blue Kota limestone paving define zones for dining and relaxing. Deep triangular beds jut out from the courtyard walls, echoing the garden's three-sided shape. They are lushly planted for year-round interest, and include Japanese forest grass, which thrives in the semi-shaded setting. 'In a small space, it's best to stick to a base of six or seven plants and then introduce seasonal colour,' says Nic, who has hydrangeas and geraniums for summer blooms, plus a winter-flowering cherry.

There have been some setbacks: 'I planted boxus hedging around the artificial lawn, but it became infected with box blight so had to be removed,' he explains. 'I also have an ongoing battle with slugs and snails, which I'm not sure I'll ever win!'

Despite this, the garden is now a showcase for Nic's work as a designer. 'It really is a garden for all seasons. It may be small, but we've got space to eat and relax outdoors during the warmer weather, and in the winter we can hide away in the summerhouse and stay cosy while still enjoying the views of the planting.'