An interiors lover has totally transformed her boring bathroom on a tight budget by using a clever color blocking paint technique. Lauren from @the.tiny.colourful.terrace has banished the beige, filling her space with playful bathroom ideas and plenty of plants, too.
Before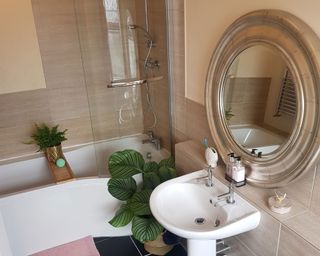 Before the pink and blue bathroom makeover got underway, the bathroom was perfectly functional and spacious, with a bath, shower and toilet. But it didn't *quite* reflect Lauren's style.
The DIY fan tells UK Radiators, 'I would describe my interior style as a vibrant spin on retro design. 'I like to use bright colors and graphic shapes with traditional elements to add a modern touch,' she says.
With a few cans of paint, Lauren has created something much more impactful by creating a color-blocking effect. The gold, oval mirrors work really well alongside the round edges of the pink arch (see bottom pic), while offering some handy bathroom storage for her plants and skincare.
After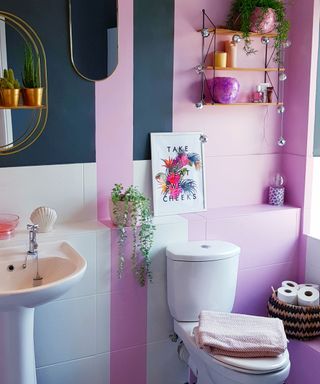 'The total cost of my bathroom makeover was £124 and the beauty of it is that I didn't use all of the paint in this room so I have been able to use leftover paint for other projects,' Lauren tells UK Radiators.
Feeling inspired? Take a look at how to paint a wall arch and give it a go. If all else fails, you can paint over it again and pretend it never happened.
Lauren painted all of the walls and tiles, waving goodbye to the magnolia and stone hues. On the floor, she used budget-friendly blue peel and stick vinyl, available at Amazonwhich brings some lovely pattern.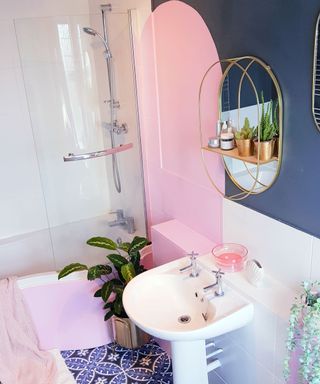 Lauren also used color blocking in her kitchen to give the walls a fun and retro feel. The experienced DIYer says her top tip is to always follow the instructions on the paint can.
'The tile paint required a completely clean surface, so I used sugar soap to wash away any residue and then sprayed it with water to clean away any sugar soap residue. I was also not able to get it wet for 24 hours after painting.
'All these things will help to get a good finish on the paint,' she says.