The hallway is one of the most hard-working rooms in the home, and should not be neglected. There are plenty of hallway ideas to help you get started, and we're feeling particularly inspired by this DIY fan's bold leopard print makeover.
Lisa's hallway goes to show that a low-cost DIY job can make a huge difference to how a space feels. She's totally transformed her entrance by giving the stairs a revamp with leopard print wallpaper on the stair risers.
Before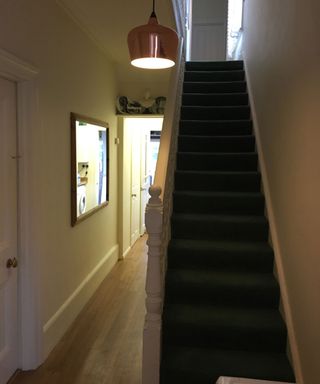 In many homes, the stairs are the first thing you see when you walk in. A great reason to banish the oatmeal and go for something you love, if you ask us.
You can afford to be bold with pattern and color in the hallway - after all, you're not spending hours in there at once watching TV, nor are you trying to get a good night's sleep.
But hallways also need durable, long-lasting materials able to withstand lots of people going in and out, muddy shoes and the occasional scrape.
After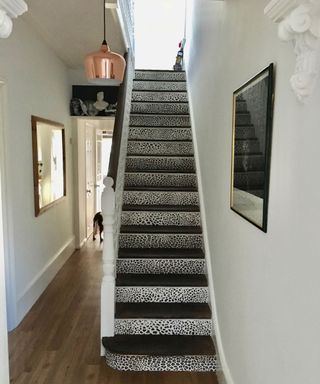 'I didn't tell my husband that I was using animal print as I knew he'd try and put me off!' Lisa tells us. She explains that when they moved into the house, they inherited a dark green carpet.
Better than beige, but not what they'd have chosen themselves. 'It wasn't within our budget at that time to buy new carpet as we wanted something hard-wearing, with a dog, cat and lots of other traffic.'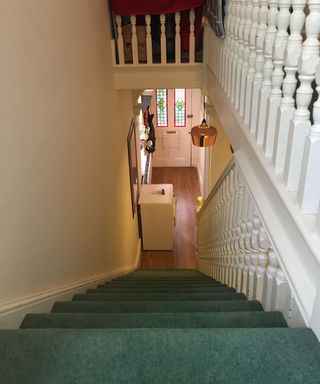 She explains that she stripped and sanded the stairs back to the bare wood. 'I also did the post and handrail too which took forever! So many nails to remove!'
Next, she stained the stairs with a dark oak, followed by a nonslip varnish in matte. 'I then added wallpaper with PVA glue and added a top coat of PVA over the top of the paper to protect it,' Lisa says.
If you're looking to change the color of your hallway, our hallway paint ideas will help you to work out what you want. Plus, our hallway lighting ideas are sure to inspire a way to make the perfect entrance.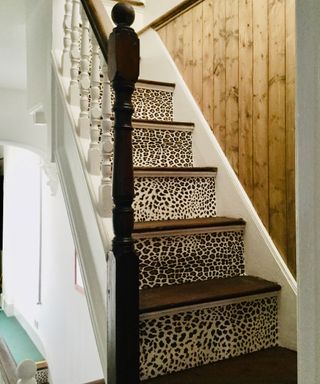 Lisa carried on up the stairs to the next floor making the leopard print a common thread through the core of her home.
What a brilliant way to add some character and fun into a hallway. You could also use removable stickers from Etsy - great if you're in a rented property.
So if you're thinking of decorating your hallway, remember that the stairs are a great place to inject some personality.