Now it's December, it's officially okay to talk about Christmas, which means – rejoice! – we can finally think about putting up the tree without too much judgement from the neighbours, and embrace the most magical of seasons!
But before you set off to your nearest Christmas tree farm, we have something to tell you: B&Q sell a variety of real and fake Christmas trees, and they're pretty good. They cater to all tastes and ceiling heights, and some of the faux ones come pre-lit for the particularly lazy (that's us, then). And, in typical B&Q fashion, they're great value for money, too.
We've listed our pick of the best trees that we think would look brilliant all done up in your living room/dining room/kitchen/the bedroom of your house/rented flat – which means you don't even have to leave your sofa to shop. Result! After that, check out our ideas for decorating your Christmas tree – happy holidays indeed!
The best real Christmas trees from B&Q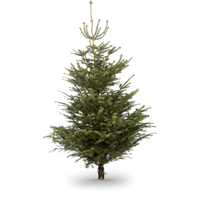 8ft Nordmann fir cut Christmas tree | Now £68 at B&Q
The mother of all B&Q Christmas trees, this 8ft beauty is the perfect choice for homes with high ceilings. With soft dark green foliage and tiered branches, it's the classic real Christmas tree you need for a traditional Christmas.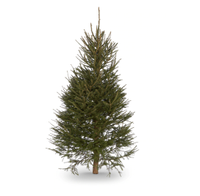 6ft 6in Norway spruce cut Christmas tree | Now £39 at B&Q
Going for the Nordic look? Take your Scandi theme to a new level with this Nordic Christmas tree. With a scent reminiscent of a traditional Christmas and bright green foliage, it's another classic style perfect for any home.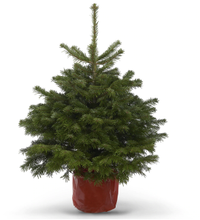 2ft 6in Nordmann fir pot-grown Christmas tree | Now £26 at B&Q
Want a real tree but can't quite squeeze one into your tiny house/flat/bedroom? This 2ft 6in potted tree is proof that good things come in small packages. Perfect for placing on a table or in a corner, adorn with all your favourite decorations for a cute, festive feel.
The best artificial Christmas trees from B&Q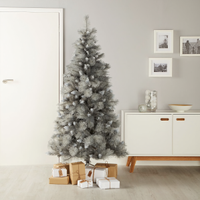 6ft Tula snow effect artificial Christmas tree, £65
This gorgeous 6ft tree has a combination of tapered branches and needle tips finished with glitter to make a real impact. It comes with a tree stand, and around 240 bulbs are recommended to make it really sparkle.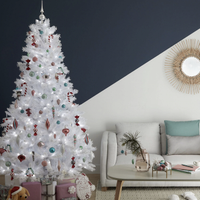 7ft Igora pre-lit artificial Christmas tree, £125
This white tree is a real show stopper. The branches are flocked to give it a snowy, full and luxurious look, and there are 320 ice white LEDs already on the branches to make set up speedy and easy. All you need to do is add the baubles...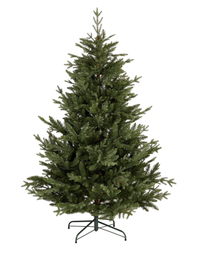 6ft Falera artificial Christmas tree | Now £70 at B&Q
For a classic look without the falling pine needles and sporadic maintenance, opt for this artificial 6ft Christmas tree. With upswept branches and a natural green colour, it's a great way to introduce statement foliage that will last year after year.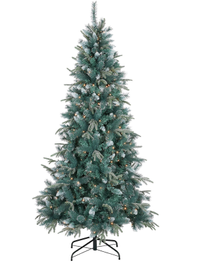 7ft Rokua Pre-lit artificial Christmas tree | Was £125, now £109 at B&Q
If you're not keen on the idea of stringing fairy lights through your Christmas tree, opt for a pre-lit artificial version like this 7ft model, currently on sale with £16 off. With a snow-effect finish, it's a wintery option that will work perfectly in a Scandi scheme.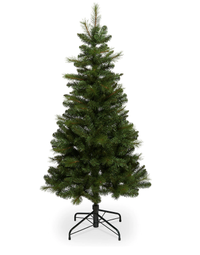 5ft Eiger artificial Christmas tree | Now £24 at B&Q
Not all of us have the space for a six- or seven-foot Christmas tree, but if you want maximum Christmas in minimum space, this 5ft artificial tree is a great option. In a classic tiered shape, it can be tweaked to your liking for a naturally full look.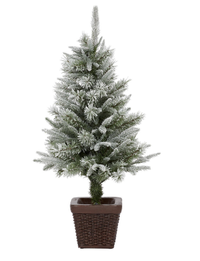 3ft Tarnaby flocked potted artificial Christmas tree | Was £35, now £28 at B&Q
Potted trees are an adorable way to introduce festive feelings to a small space, and this artificial version makes it even easier to maintain seasonal spirits all month long. Perfect for a tabletop or windowsill, don't let a small space stop you from feeling Christmassy.