Aldi, you really are spoiling us. Earlier this week, we ran a story about Jamie Oliver's enamel cookware – and where you can buy similar pieces. And now, Aldi has launched its own range that's a dead ringer for Jamie's.
Let's take you back a step or two. Everybody's lockdown experience has been different but if there's one thing that we've all been hooked on... it's Jamie Oliver's cooking show. Seriously, who knew fresh pasta and homemade baked bread was THAT easy?! And where on earth did that fantastic, retro, blue and white enamel cookware come from?
Well, the answer to the second question at least is below. We're not sure where Jamie's is from, but Aldi is now selling this on trend cookware right now – as are many of our favourite retailers. And it's a bargain. Yep, that's right, we can now get started on our mission to replicate our favourite TV cook's awe inspiring shelves, stacked high with the best cookware, utensils and essentials out there
Check out the video below to marvel at Jamie in action, using our fave oven dishes, and keep scrolling for buys.
On the hunt for more kitchen ideas? See loads of design tips in our dedicated feature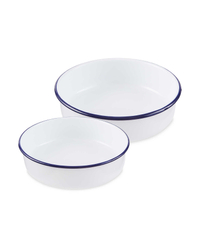 Aldi's blue and white enamel cookware, £7.99
Choose between two large or three small oven dishes, both for just £7.99! They're oven safe up to 250ºC degrees and dishwasher safe, too. Beautiful and practical... perfect.

John Lewis & Partners Enamelware Baking Tray, £20
We love this John Lewis baking tray for its generous surface area, with a length of 41cm making it a versatile purchase, whether you're using it for a tray bake, a pie or a guilty pleasure mac 'n' cheese. It's machine washable too!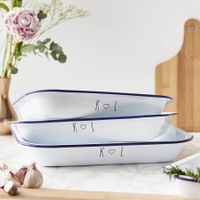 Personalised Initials Enamel Baking Tray, was £28, now £22.40
Notonthehighstreet have pulled it out the bag with this cute variation on our favourite enamel baking trays... personalise with initials as a lovely gift or staple kitchen piece. We're thinking this would make a fab wedding gift!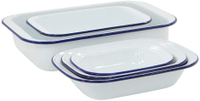 ProCook Traditional Enamel Bakeware Set 5 Piece, £39.99
If you're looking to kit out your kitchen, this set of five could be a good start! It includes 27cm and 37cm roasting tins, and 20cm, 24cm and 28cm pie dishes. Easy to stack and store, we're a big fan of this deal from Amazon.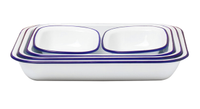 Falcon Bake Set, £79
Revamp your kitchen cookware kit with this falcon bake set, ideal for whatever the meal! It comes with three bake pans of different sizes and two smaller pie dishes. With so many pieces, we're glad it's easy to stack and store. Also available in white and black, red or grey.
Read more: