OMG Aldi has done it again: introducing the Christmas tree arch that is set to rival the traditional Christmas tree! Space-saving and quite frankly fabulous, Aldi urges you to deck your doorway with this glamorous festive homeware must-have!
If there has been any year that has most deserved elaborate festivities, it's 2020 and that's why we're backing this wow-factor bit of kit all the way! Stretching 2.4 metres across your doorway, there's soooo much room to adorn your arch with twinkly fairy lights, baubles and everything Christmassy! The warmest welcome imaginable and (in true Aldi style) an absolute bargain.
On the hunt for more Christmas decoration ideas? Check out our gorgeous gallery for plenty of inspiration.
Perfect Christmas 2.4m Tree Arch | £89.99
Elevated on stands, just like a Christmas tree, this arch is fun and playful - making a massive statement while taking up a fraction of the space of a Christmas tree (despite its 2.4 metre reach). We're obsessed with this concept and are sure that your guests will love the festive welcome, too!
How would we decorate it? We're torn... We're thinking either Scandi Christmas decor all chic with white twinkly fairy lights and glass baubles or go for festive fun and sparkles, maxing out with traditional red bows, bells and aaaall the decor trimmings. Basically, you can't go wrong with this mega bit of Christmas decor - deck your door in whatever way you see fit!
We are SO ready to transform our interiors into our very own winter wonderland and this perfect Christmas tree arch for only £89.99 is just the ticket. Or check out our roundup below of some fab alternatives from our other favourite retailers: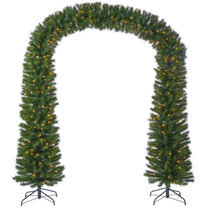 8ft Pre Lit Festive Christmas Tree Arch | Was £165, Now £110 at Homebase
This model from Homebase is a seriously sturdy option and comes readily decked out with fairy lights leaving you little to no decorating to do! 8 feet tall, this is a grand option for a festive loving home!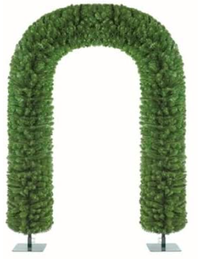 2.3M Tree Arch | £249 at Amazon
Anything available on Amazon Prime is a winner in our books. Order this Christmas tree arch and have it delivered within days for free. The price point on this model is higher but it's extremely durable and will last for years to come.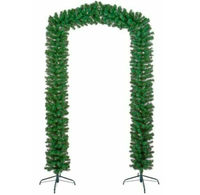 Premier Christmas Indoor Single Door Tree Arch | £69 at Ebay
Fit for a single door, this Christmas tree arch available on Ebay is affordable and just as fabulous. If space is at a premium, this model is perfect and will give your space some festive fun without dominating a room.