I spy with my little eyes an Aldi ceramic Christmas tree candle lurking in the grocery store's aisles (and lighting up FYPs).
Every holiday season, a new decorative trend emerges, much to our delight. As of late, we've been reveling in nostalgia thanks to retro ceramic Christmas trees in a variety of playful shades. Aldi's latest offering takes the viral hit in a new direction.
We don't need to tell you that the best candles are cozy Christmas candles. When they *also* boast a playful decor element, consider us hooked. Oh Santa, we have a small request.
Take a look at the Aldi Ceramic Christmas tree candle
On TikTok and Instagram, eager shoppers are posting Christmas decoration deals and unique finds ahead of the festive season. We were pleased to see that Aldi's Ceramic Christmas tree candle boasts an aesthetic and fragrant offering. The $8.99 buy comes in white (peppermint snow crystals) and green (spruce) and varies depending on location.
While yes, we'll admit to eyeing ceramic Christmas candles on Amazon and we fell in love with a few pink Christmas decorations (thank you, Nostalgic Christmas Tree Light at Urban Outfitters) we have yet to see the Christmas cutie in candle form. If you're wondering how to reuse a candle jar, this baby will sit comfortably on your mantle next to other festive paraphernalia for years to come.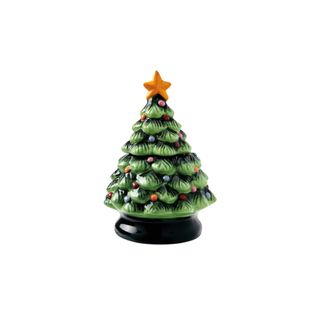 Prices may vary by store
Huntington Home Spruce (Green) Nostalgic Tree Candle
You might also like
Things come and go pretty quickly at Aldi, but fortunately, we've mastered how to make your home smell like the holidays if you cannot snag one of the ceramic tree candles for yourself. We've spotted Christmas reed diffusers that are as fragrant as they are eye-catching (lookin' at you, Nest New York) so your home can enjoy that spruce-tacular scent for the foreseeable future.