The Aldi bed about to launch as an online exclusive is a godsend for anyone who's been coveting a scalloped bed upholstered in velvet.
What a gorgeous bedroom idea to turn the place where you sleep into a mermaid's cove! Alas, scalloped beds tend to be more expensive than your average bed frame, but Aldi – the amazing people who have brought us designer candle knock-offs better than originals and cheap hot tubs – have done it again and have produced a bed with phenomenal good looks at a very low price.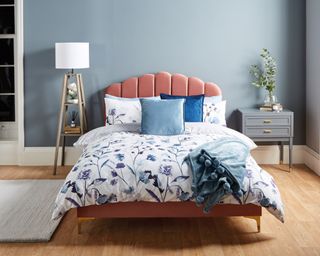 The Scallop Double Bed (above) is only £249.99, while the Ottoman Storage version (below) is just £349.99. That is incredible for an ottoman construction with such a cool design.
We've seen plenty of storage beds that are cheap but lacking in refined design, and we've seen really cool (expensive) beds with no storage whatsoever. The fact that Aldi have managed both proves that they really understand what a good-value furniture is, and we're not surprised these beds have been so hotly anticipated.
The bed is an online exclusive, so once it's gone online you won't be able to catch it in store. So think fast and hit that buy button.
There is one snag with the new beds. The Aldi beds were due to become available last Sunday, 24th January.
Those who wanted to be the first to know when the bed became available had had to sign up for an email notification. Aldi had hoped that the bed would become available on the 28th January (today), but have now confirmed that people will still need to sign up to the email notification, as there is no exact date for the beds' arrival in the UK.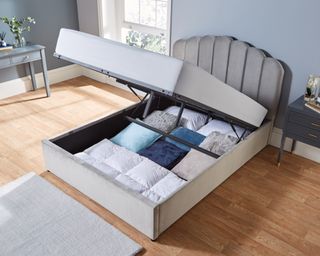 The product pages for the beds state that 'Due to port delays this product has unfortunately been delayed and will be in stock soon.' We can't be absolutely certain, but 'port delays' right now more likely than not mean - yes, you've guessed it - delays due to Brexit. With businesses on both sides of the Channel struggling with new paperwork, new tax rules and country of origin rules, and with hauliers facing unprecedented new problems around transporting goods to and from Europe, it really is no wonder than even a retail giant like Aldi is struggling.
Fingers crossed, those who've been patiently waiting for the beautiful Aldi beds will be able to snap up one of the beauties today - we predict a sell-out.