The housing market has been booming in 2021, thanks to low interest rates and motivated buyers. In many demographics, this has led to low inventory and sky-high asking prices. If you can't seem to find your dream home for sale, purchasing land and having a house built is a great option.
Of course, building a house comes with a lot of choices, contractors, permits, unforeseen costs, and waste. Prefab homes offer a more sustainable, and often more affordable, alternative. These prefabricated modular homes are built off-site in a factory, reducing water usage and material waste, and then shipped to your build site for installation and assembly.
Curious? We've rounded up nine affordable prefabs you can move into in as little as a few months.
Keep reading: Home insulation - How to improve energy efficiency in your home
Why should you buy a prefab home?
If you're thinking about going prefab, chances are you've been crunching some numbers. According to Home Guide, the average modular home costs between $80 and $160 per square foot to build and install. Meanwhile, the average cost to build a house in 2017 was $153 per square foot. So while you can purchase a fancy prefabricated home that rivals the cost of a regular house, there is lots of room for savings.
Some of that savings comes from building permits, which are less expensive for modular homes. And aside from costs, prefabs can also be built more quickly and with less waste, thanks to their standardized format, and they're usually built with superior insulation that'll save on energy usage down the line. Convinced? These nine affordable prefab homes are move-in ready.
Bluhomes Origin 1,000

The "1,000" in this Bluhomes concept's name comes from its square footage, which boasts two bedrooms and two bathrooms in an open concept, ranch-style house. For a starting price of $330,000, you'll enjoy a large kitchen, living, and dining space complete with ample windows and light. There are also built-in deck trellises, a modern roof line, LED lighting throughout, and great access to the outdoors from every room.
Dvele Laguna Blanca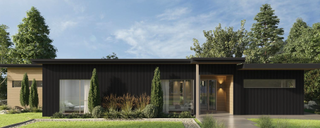 If you're able to spend a little bit more, you can have double the footprint for the 2,285-square-foot Laguna Blanca by Dvele. The $510,000 price tag comes with three roomy bedrooms, three full bathrooms, and a powder room. The ranch-style home has a modern design aesthetic with an open concept that seamlessly flows from kitchen, living, and dining to the outdoor patio. The exterior has aluminum window frames with dark gray laminate film for sleek style.
MethodHomes Cabin Series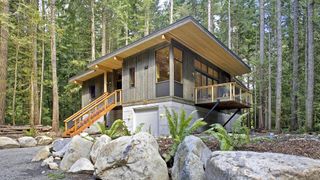 Prefer more of a rustic look? Method Homes' Cabin Series is designed by Prentiss + Balance + Wickline to incorporate efficient details with pastoral cabin style. Prices range from $270,000 to $520,000 (and up to $990,000 with site) for 1,471 to 2,600 square feet. Designs are customizable, so you can add things like a full or daylight basement, two-story construction, and extra bedrooms.
Plant Prefab LivingHome 4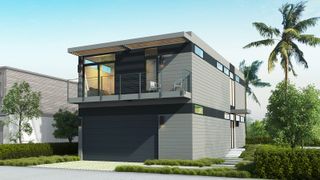 If you thought prefabs were just for large plots of land in remote areas, think again. Plant Prefab's LivingHome4 is designed specifically for narrow, urban lots. The clean design offers everything you'd expect in a suburban home compacted into a sleek dwelling. Think a two-car garage, three bedrooms, two-and-a-half baths, and two outdoor balconies. High windows along the side walls amplify light while preserving privacy. The best part? It can be yours for $557,000.
Connect Homes Model 2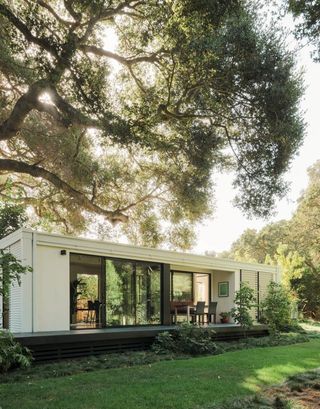 If you're ready to downsize and embrace small space living, this 640-square-foot Accessory Dwelling Unit maximized comfort. Despite its tiny profile, the home feels spacious with its expansive living room that seamlessly flows into the kitchen and dining area. The generous bedroom feels luxurious, and ample natural light connects with nature. The price is estimated at $278,700, and you can add on an optional extended deck.
Signature Building Systems Juniper Duplex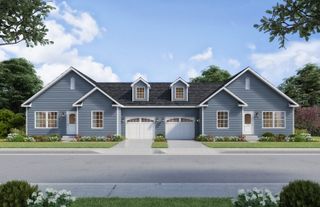 Prefab homes don't have to be limited to single-family designs. This ranch duplex has endless configuration options depending on the site or subdivision. Each unit has two bedrooms and two full baths, so you can live in one and rent one, or go in on the home with extended family. An expansive great room near the entry can be set up as the living, kitchen, and dining areas in a myriad of ways. Plus, each unit has a panelized garage.
Weelhaus Wedge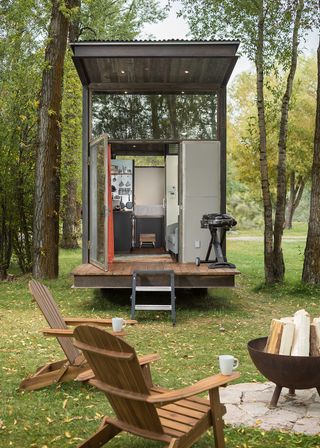 For tiny living on a tiny budget, the Weelhaus Wedge offers 400 square feet for a base price of $149,500. It features a striking roofline and exterior siding crafted from Wyoming snow fencing. The timber and steel roof covers high ceilings for the 47-foot long cabin beneath. Though it seems small, the footprint can sleep up to four adults with bedrooms sized for queen or king beds and two side tables.
House Port Estate House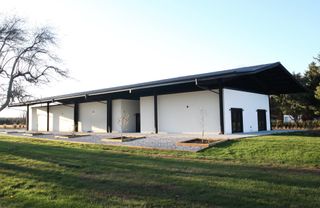 Another way to save big is to handle the construction yourself. House Port's kit package costs $275,000 for an over 3,000-square-foot plan. The kit includes three 32' x 32' x 9' cubes with structural insulated wall panels, an exterior secondary roof, and all the plans and instructions you'll need. When you've installed the frame, the door schedule and Ikea cabinet layout drawings let you make the house a home.
Alchemy Lighthouse ADU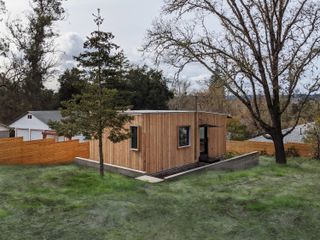 Minnesota-based architectural firm Alchemy offers a line of modular homes under its weeHouse brand for sustainable, affordable living. The Lighthouse accessory dwelling units (ADSs) are delivered fast via factory, panelized, or on-site build partners. With their small footprint, they are favorited as age-in-place dwellings, short-term rentals, or home offices.