We have a long last love of Ikea lighting. So cheap, so stylish and so easy to add into your home. So when we saw that they have just dropped a load of new lighting, we, of course, had to share!
Whether you're looking for accent lighting to highlight interior features, task lighting to pimp your home office or ambient lighting to help you unwind, we've covered all bases in this round up. So, keep scrolling to check out the new collection available at Ikea...
Need more inspo? Head over to our living room lighting ideas page for loads more fab lighting solutions.
1. An art deco table lamp with gold accents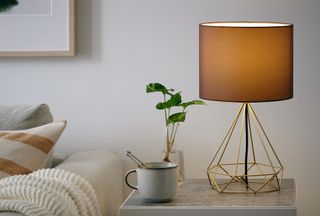 STOFTFRI | £13
We're obsessed with art deco style and if you're on our wavelength you'll be equally as obsessed with this table lamp. The brown shade paired with the gold geometric shaped stand is just perfection if you're looking to make a classy statement.
2. Add festive feels with star shaped lace lamps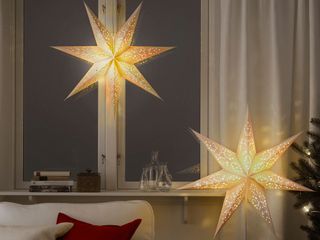 STRÅLA | £4
It's not quite the most wonderful time of the year yet but you better believe we're ready to get our festive feels on. These adorable star shaped table lamps are a gorgeous choice of decor and we love the golden glow they give off through the white lace detailing.
3. Make a statement with a bottle green pendant light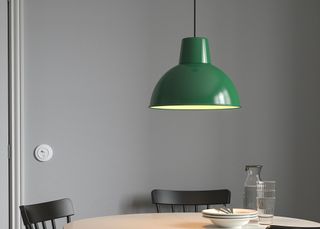 SKURUP | £15
Pendant lighting always makes the ultimate edgy statement and the striking finish of this bottle green lampshade adds an extra edge. This pendant light has a simple, industrial silhouette while the colour adds a welcome twist.
4. An exposed bulb table lamp for an industrial style home office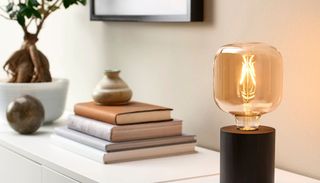 BLEKKLINT / LUNNOM | £16
If you're into minimalist interior design then this exposed bulb desk lamp will tick every box. An excellent choice if you're styling a home office and space is at a premium. Plus, the brown bulb emits a warming hue to strip away the harshness of the exposed bulb.
5. A stylish and practical bathroom lighting solution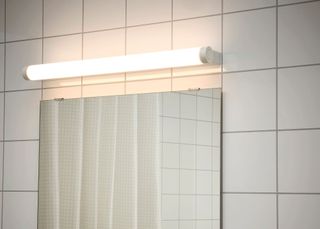 RAKSTA | £19
If you've been on the hunt for a practical lighting solution that doesn't distract from the overall aesthetic of your interiors, this strip LED lighting is a no-brainer of a buy. Mount it to your wall to illuminate your bathroom or bedroom mirror... Also available in black!
For more bathroom lighting ideas check out our feature.
6. Create moody lighting for a cosy reading corner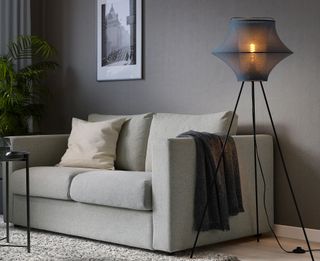 FYXNÄS | £27
This floor lamp is elevated on black tripod legs and will stand proud in a reading corner, giving off a gentle hue through the turquoise shade. We love this buy from Ikea and are SO impressed with that price.
Read more: