There is not denying that we, as a nation, are getting braver and bolder with the colours we use in our homes. Whether it's dark grey walls, bold kitchen cabinets or coloured roll-top baths, we're going for it with colour more than ever before.
We don't know about you, but the fridge is quite possibly our favourite thing in our home. So why not give it the love, style and vibrancy it deserves? Move over stainless steel and boring black, with on-trend pretty pastels and vibrant, punchy reds on offer to brighten up our culinary space, why not give it a go?
For more kitchen ideas, head over to our hub page for tons of inspiration and advice.
1. Embrace the trend for Neo mint with a soft green fridge
The colour of the moment, Neo mint is taking the interiors world by storm. From walls to furniture and even taps, we're embracing the fresh hue and brightening our home ready for spring. This retro design from Smeg will never go out of fashion, making it a clever investment and perfect accompaniment to a simple white kitchen.
2. Chop and change your fridge colour to suit your mood
The Vario style fridge freezer is the first design with separate coloured fronts that you can change up any time. This fridge freezer from Bosch is designed to be redesigned, so if you're worried that you might grow to dislike the colour, you can easily and inexpensively slot on a new coloured panel for a brand new look. We love this sunny yellow shade, as well as the vibrant blue shown at the top of this page.
3. Choose sweet pink and add a feminine touch to a neutral space
Now isn't this just a millennial's dream? If you've got a safe and understated kitchen scheme, add a splash of fun with a sweet pink fridge. It'll be an instant talking point for anyone that walks through your door, so prepare for every guest to say, 'wow, you've got a pink fridge!'
4. Keep your style seamless and bright with a fridge that blends in with your cabinets
Have you ever seen a more relaxing kitchen space? We think not. The rattan blinds and pendant light make for a calming oasis, and the retro style fridge fits in seamlessly with the cabinets so you barely notice it's there. Now we know white isn't exactly the most inventive of fridge colours, but used in this clever way, it's a real winner.
5. Need a fridge in another room? Make it into a feature
If you're short on kitchen space and you need to put a fridge in another room, this needn't be a major design faux pas. While a stainless steel box may quickly ruin your interior scheme, a coloured design can be made into a feature. This striking red model picks up the wall colour and really holds its own, even in a living room.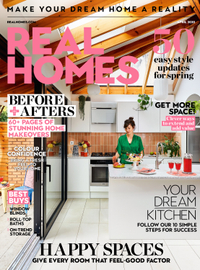 Want more from Real Homes? Subscribe today!
Subscribe to Real Homes magazine and get great content delivered straight to your door. From inspiring completed projects to the latest decorating trends and expert advice, you'll find everything you need to create your dream home inside each issue.
Read more: