On the hunt for some stylish bath panel ideas? We know that we would love to have a freestanding roll top bath to be the focus in our bathrooms but a standard bath enclosed with a bath panel is the reality for most of us. But bath panels can be pretty too! They don't have to be ugly acrylic things that bring down the whole vibe of your space, you can DIY some really stylish looking bath panels – just check out the looks below.
For more bathroom ideas make sure you don't miss our feature.
1. Upgrade your bath panel with a traditional tongue and groove
A really quick way to update your bath panel and give your space an entirely new look is to get a tongue and groove bath panel. You can pick them up really cheaply from places like Wickes (opens in new tab), and B&Q (opens in new tab) and install them yourself, just make sure you measure up your bath properly. As these panels are usually wood, you can paint them any colour you like too with a good waterproof paint.
2. Add beading to your bath panel (and paint in a statement shade)
You can also pick up plywood (opens in new tab) really cheaply, cut it to size and use that as your bath panel. Check out this bath panel idea, where beading has been adding to create a panelling effect. You can do this so easily with just some decorating beading (opens in new tab), a saw, a mitre box, and some wood glue. Then just paint over the whole thing – we love this black/blue and how it works with the pale pink.
3. Panel your bath with wooden planks
We've been seeing this bath panel idea all over Instagram – create a bath panel with planks of wood. It's such a cool rustic look and can be achieved really inexpensively too. You can pick up new wooden planks from DIY shops or you could get a really textured look by sourcing them from reclamation yards. You can then paint the planks but we personally love the look of natural wood, just seal it so it's moisture-proof.
4. Tile your bath panel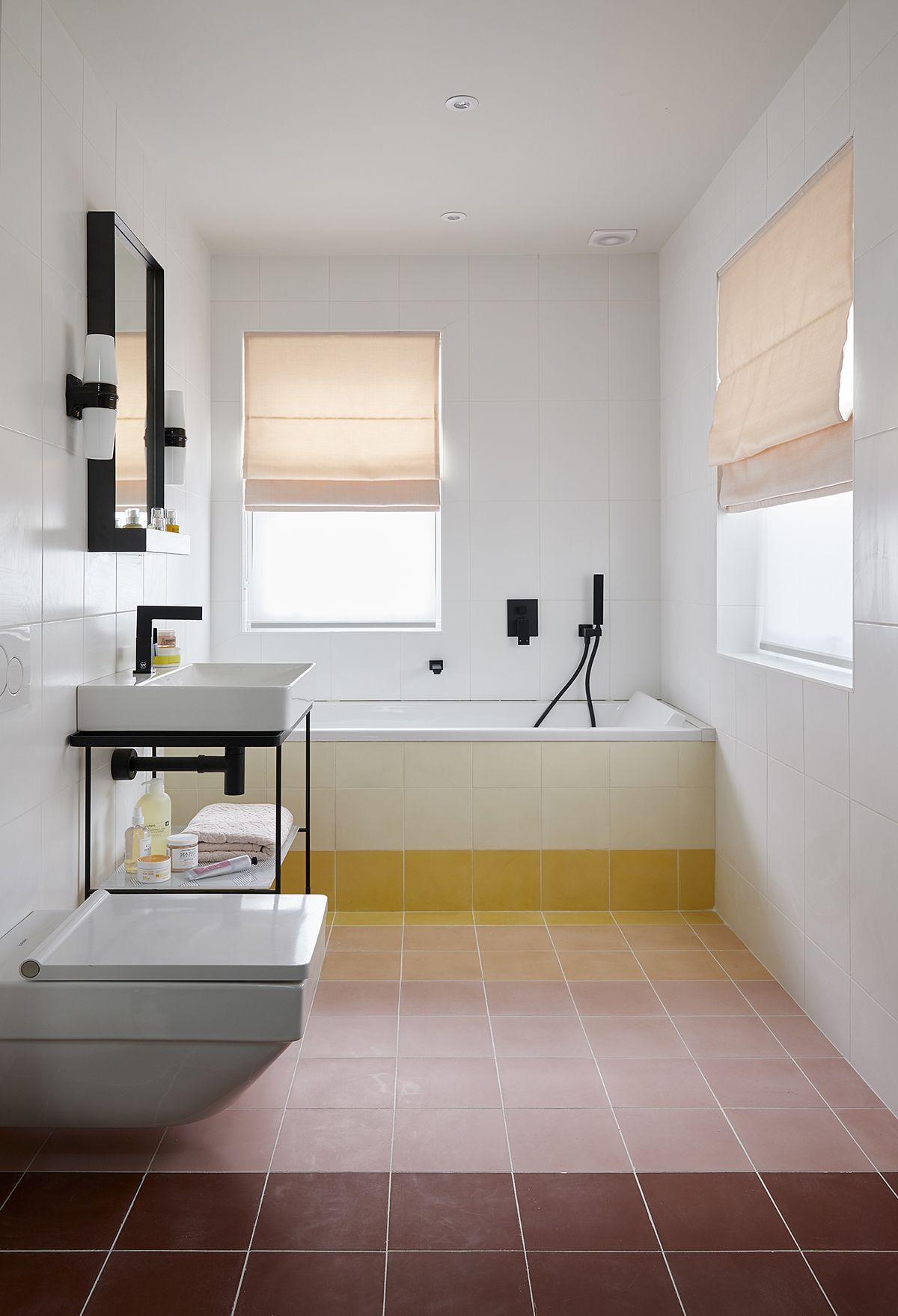 Tiling a bath panel is easier than you think – just see it like tiling a kitchen splashback. Running your floor tiles up the side of the bath creates a really clean, seamless look that's perfect for a more modern bathroom. You could, of course, get more creative and copy the ombre effect going on in this bathroom – a gorgeous look for a smaller space.
5. Or (an even easier bath panel idea) stencil it
Want an even easier DIY bathroom tile idea? Rather than tiling your bath panel, just use stencils to create a very similar effect, but in a tenth of the time. Check out Dizzy Duck Designs (opens in new tab) they have so many amazing designs that look exactly like a lot of the tiles floating around Instagram. Plus there is free UK delivery at the moment too.
Read more: