You can't blame us for talking dining room ideas, even as the school term ends. With some of us still working from home until autumn and restrictions still in force for outside activities during the school holidays, seating around our dining and kitchen tables will still be stretched – especially if you don't have the luxury of a home office.
They will still have to be that place of work and play over the summer holidays – so how do you make the seating work? Chairs? Benches? If you are having to rethink your seating arrangements we've come up with five workable ideas to help you.
Tuck in – and don't miss all the rest of our kitchen ideas, which include everything from decor to dining.
1. Looking for small dining room ideas? Choose a round table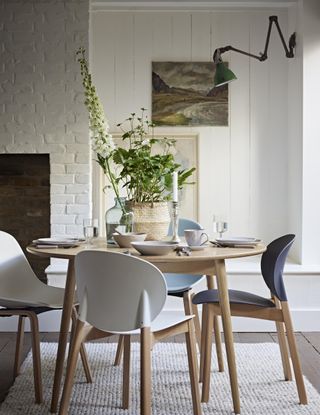 We love a round table, like this one from M&S – it takes up less floor space than a square or rectangular table, which in turn makes a small dining room look bigger. What's more, it's the perfect table for creating a sociable space, and you can squeeze more people around a round table than one with corners.
But can it work for home and school work? Yes, if there's no more than two of you trying to work on it at the same time and they work particularly well in small spaces. These Loft chairs have curved backs for extra comfort and come in two designs and various colours.
2. Need to squeeze dining seating into a kitchen? Choose benches over chairs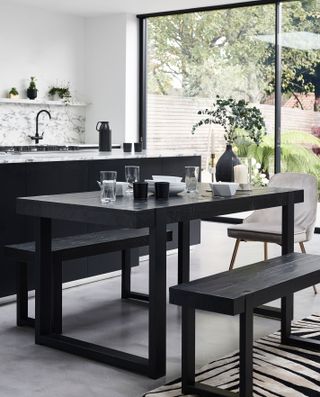 Open plan kitchen diners lend themselves to a more relaxed feel and this is why this double bench option works well. But if your open plan kitchen diner is already tight on space, benches are a practical choice, too. They take up less space visually than chairs – and if you can tie them in with the kitchen's decor, like in this room by Next, you can create a cohesive look that feels really well put together. Although made of traditional wood, this Jefferson jet black table and bench set look thoroughly contemporary due to the complementary coloured metal legs.
3. Got more kids than seating spaces? Go for a bench and chair combo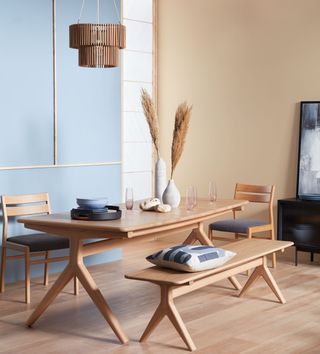 Benches, on the whole, can squeeze on extra bottoms so they're a great option for small people – kids on one side, adults on chairs on the other side right? This Poise bench from John Lewis sits three and you can match it with the Poise table which is narrow yet long – great for a dining room where space is compromised. Plus, it also extends, which is a win win when everyone is trying to 'work' at the same time! The table top has rounded edges too which is a bonus with young kids careering around.
4. Pick narrow chairs to fit more bums on seats – neatly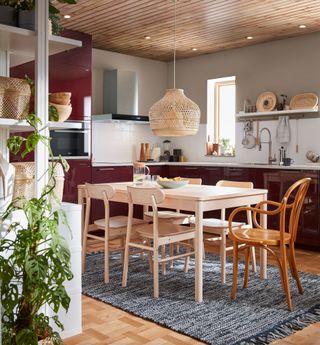 We're not all blessed with a kitchen AND dining room so your kitchen often has to work doubly hard. Ikea are the masters at dealing with space issues and we love how they've zoned the dining area with the rug and their compact NORRÅKER and RÖNNINGE birch table and chairs. Making sure the chairs neatly fit underneath the table when not in use is key for space saving.
5. Repurpose existing furniture for tight budgets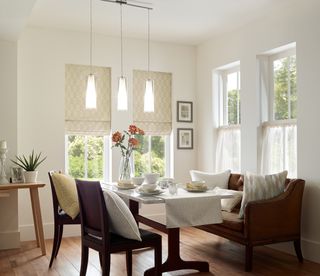 Having a little shift around of furniture can work wonders to improve a space – and using a sofa for one side of a table is a genius idea that we'll be considering in our own homes! If it's not quite the right height for the table then add extra cushions to sit on – this option by ILIV definitely creates a more relaxed feel and mix and matching different styles of seating creates a more individual look.