We've got a confession to make. We could watch Monty Don pottering round his garden forever. One, it's very relaxing, and, two, it's so inspiring. We never miss out on his Insta posts either, and that's where we found these great tricks for a garden that's, well, just lovely (like Monty).
One of the things we love about these projects is that two of them will look instantly fab (not that we're impatient, honest). The other does rely on growing time, but the results are definitely worth the wait.
If you're looking for more garden ideas and inspiration, you'll find plenty you'll love in our feature. For Monty's great ideas, just scroll down.
1. Monty Don's netting supports
Growing your own fruit and vegetables? Then you'll know that you need to protect your crops so they actually end up on your plate. Cages and netting create a physical barrier that will stop your produce getting eaten before you can harvest it.
Monty showed off his cabbage patch on Insta, and these beauties are, of course, netted. But what we really love are the pots on top of the canes: 'simply to support the netting', Monty says. They do that job, but we think that using terracotta pots looks appealing, too.
There's another reason why putting an upturned pot on garden canes is a sound idea. When you're concentrating on tending your plot, bending down or turning round without spotting a cane or plant support and getting poked in the eye is surprisingly easy to do. With a pot on top, you'll spot the hazard and can take avoiding action before you get a nasty surprise.
Love the idea of eating food that's come straight from your garden? Find out how to start organic gardening.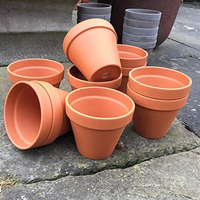 Weston Mill Pottery Small terracotta plant pots (pack of 10), £14.95
These traditional terracotta pots will create rustic style in your veg plot. As well as using them for the top of canes, you'll want them for plants. They have a drainage hole in the base, and you can get saucers to go with the pots separately.
2. Monty Don's rustic plant supports
Yes, you can use canes for your sweet peas, but how much better do these branches look as seen in Monty's garden? You can use this rustic alternative to create cottage garden style wherever you live, and this idea works for any climbing plant.
Start setting aside branches and twigs when you're pruning and you'll have a supply to create wigwams, obelisks, and other supports for your climbers. If you're lucky enough to have willow in your garden, this is particularly handy as it's flexible and can therefore help you create shapes like arches or cages for fruit. You can use garden twine to fix branches or twigs together to make your structure.
Don't have any branches or twigs in your garden to create your plant support? Try willow climbing plant supports suitable for climbers like roses, or clematis.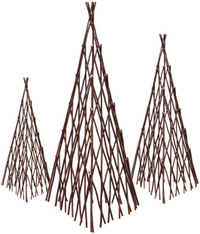 Nature by Kolibri Climbing Plant Support, Set of 3 £25.80
These scissor trellis pyramids are made from willow. The approximate heights are 90, 115, and 145cm, so you can use them for a variety of climbers in your plot, and they can help create privacy, too.
3. Monty Don's poppy table
The poppies in Monty's garden self-seeded between the planks of an outdoor table. Spectacular. However, rather than wait around to see if a similar happy accident happens in your outdoor space, you're going to have to take action if you want blooms, or perhaps herbs, to thrive in tiny spaces.
First of all, check the gap or crack you want to plant in isn't already home to weeds. If they're lurking, remove them first.
You'll need to mix the seeds you want to use with compost and push them into the gaps. Alternatively, you could grow them into small seedlings in a pot or tray first, then put the seedlings into the gap. Add in some compost, too. You'll need to keep watering to give your chosen plants a good start.
Aside from poppies, you could consider sedums, alpines, or herbs like thyme or marjoram for the gaps and cracks in your plot.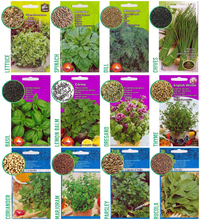 Seklos 12 Herb Seed Mix, £7.98
You can grow herbs in the gaps and cracks, plus create a fantastic herb garden with this collection. There are 8700 seeds altogether, including thyme and marjoram, plus basil, dill, parsley, coriander and more.
4. Monty groups succulents on a table top for impact
Monty Don's succulents table is a thing of beauty: the gorgeous succulent arrangement was recently proudly displayed on the beloved gardening presenter's Instagram account. And the best news is it is easy to create and maintain.
The variety of colours and textures on Monty Don's succulent table makes for a fascinating display, and the variety of sizes creates maximum interest. What makes this display even more inspiring, though, is the fact that it's very easy to recreate, even if you are a beginner gardener.
Succulents are very low-maintenance plants: the only thing that can kill them is too much water (during prolonged wet weather spells it's advisable to cover them or move indoors). These resilient, drought-tolerant plants have another amazing quality that makes them low maintenance: they don't mind big temperature fluctuations, which makes them well suited to British weather from spring through to autumn. The only thing they won't tolerate is frost – a bit of fleece will keep them safe in the coldest spells.
And did you know that not all succulents come from exotic climates? While many species originate from South Africa, a couple are actually natives and will happily grow outdoors for many years.
So, if you want to create a succulents table similar to Monty Don's, consider using the following types of succulent:
Aeonium arboreum 'Schwarzkopf': this dramatic, burgundy-coloured succulent is a great display plant; it's slow-growing, so get one that is already large. Will tolerate semi-shade, but must be protected from frost.
Haworthia: the pointy-leaved succulent looks a little bit like the aloe plant and has very similar requirements. It needs bright light and regular watering without water logging. Plant it in gritty soil with plenty of vermiculite.
Echeveria: One of the prettiest succulent plants, the rosette-shaped echeveria produces beautiful flowers in the summer. It needs full sun and very well draining soil.
Sedum: Sedum, or stonecrop, is a native succulent that will happily grow on a roof or in containers, producing flowers that are irresistible to butterflies. It prefers a sunny position and regular watering during the summer.
And did you know that succulents will do equally well as part of an indoor display? These plants will especially like it in a bright conservatory, greenhouse, or orangery, but a bright window sill is also a suitable place for them. Just remember: don't overwater and provide plenty of light, and your succulents will thrive.