A John Lewis furniture sale? Up to 30 per cent off you say? Lighting is included?! Well, that is certainly something we can get behind. While we try not to have favourites here at Real Homes , if we really had to choose a favourite homeware retailer, John Lewis would certainly be on the shortlist.
So needless to say when they have a sale on, you can bet we are there as quick as you can say 'this grey velvet sofa has £360 off'. And to get you just as excited, we have rounded up the eight best John Lewis deals for you to make the most of...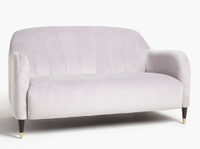 (opens in new tab)
John Lewis & Partners Meghan Fluted Back Petite Sofa | Was £1,199 now £839 (opens in new tab)
Well here is the grey velvet sofa we were talking about. We love the unusual colour and the quirky shape of this sofa. Plus it's perfect for smaller spaces so if you are looking for a new sofa for your small living room, this would be ideal.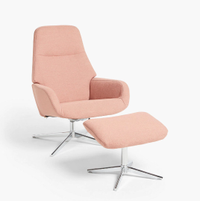 (opens in new tab)
Design Project by John Lewis No.122 Reclining Chair with Footstool | Was £999 now £699 (opens in new tab)
What a cool design! Oh this would look so great in a home office. We are getting some Mid-century modern vibes but the coral pink is giving it a more modern edge.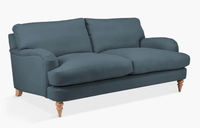 (opens in new tab)
Otley Large 3 Seater Sofa | Was £1,198.75 now £959 (opens in new tab)
If you are after a more traditional sofa, this Otley sofa is a classic shape. It's traditional without being fussy and would definitely still work in a modern space. It comes in a few colours too – blue, grey, mustard, red and teal.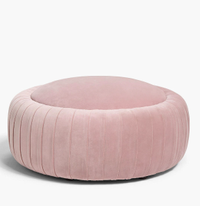 (opens in new tab)
Pleat Velvet Footstool | Was £499 now £349 (opens in new tab)
And what do you buy when you already own a velvet sofa? A velvet footstool obviously!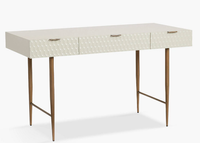 (opens in new tab)
west elm Audrey Desk | Was £489 now £345 (opens in new tab)
Hello dream desk! Definitely the kind of desk you should be writing your correspondence in a lacy nighty with a fur trim rather than hunched over in your pjs with a blanket and a vat of coffee working from home.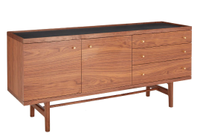 (opens in new tab)
Design Project by John Lewis No.004 Sideboard | Was £659 now £559 (opens in new tab)
This stunning sideboard has been discounted by £200! Again, there's something Mid-century going on here, but the design is super simple and would easily fit into any existing style you have going on in your hallway or living room.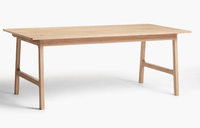 (opens in new tab)
Santino 10 to 12 Seater Extending Dining Table | Was £799 now £639 (opens in new tab)
A new dining table is a perfect buy for this time of year, especially if you have lots of entertaining on the cards for 2020. Pushing together the circular kitchen table and a desk and throwing a tablecloth over the top won't cut it for much longer so jump on this amazing dining room table deal!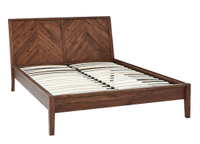 (opens in new tab)
John Lewis & Partners Padma Parquet Bed Frame | Was £699 now £639.20 (opens in new tab)
If it's a new bed frame you are after, this parquet version is gorgeous. You could style this in so many different ways – it would be lovely in a rustic style bedroom but we also think this would look so cool in a minimalist bedroom (white sheets and Mid-century modern furniture? Dreamy).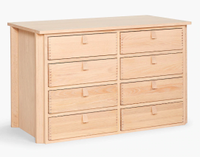 (opens in new tab)
Croft Collection Dovetail 8 Drawer Chest | Was £699 now £349 (opens in new tab)
There are loads of lovely pieces of bedroom furniture in the John Lewis sale, so make sure you have a scroll if you are after a new wardrobe or chest of drawers. We couldn't resist the classic design of this set, not to mention the amazing price!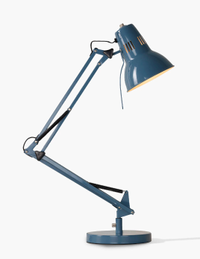 (opens in new tab)
Elliot Task Lamp | Was £60 now £40 (opens in new tab)
Lighting is included in the John Lewi furniture sale! Yay! John Lewis makes gorgeous lighting and we have sung its praises many a time. Our pick of the best deal however is this task lamp. Psssst, if you love the classic Anglepoise lamps but don't have the budget, this a fab, affordable alternative.
More must-haves to snap up now: