If you're shopping for an engagement gift, a congratulations is in order. What can be more exciting than two special people in your tribe choosing to spend the rest of their lives together? You might've double tapped on their Instagram announcement or congratulated them over video chat, but you can show them some extra love by sending them an engagement gift.
While an engagement present is a thoughtful gesture, finding a great gift is easier said than done. Since couples don't make an engagement gift registry, it's up to you to find a thoughtful present without any guidance. (And that's before considering your couple's tastes and personalities.)
To help, we're sharing 10 of our favorite, fail-safe engagement gifts, below. From sentimental to stylish, and everything in between, these picks will make any couple happy.
Looking for a practical gift idea? Check out our list of the best slow cookers for rundown on this wedding-registry staple.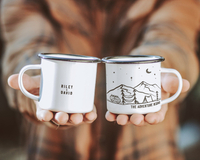 Kampr Co. Personalized Mug Set|Currently $19.50 at Etsy
The special couple in your life doesn't need to be avid adventurers to enjoy this mug set. Made with a mix of steel and metal, this pick offers an easy (and affordable!) way to commemorate their most special milestone yet. With charming illustration and customizable details, this set will put a smile on their faces every time they reach for their morning coffee.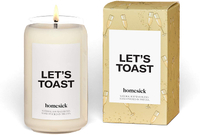 Homesick Let's Toast Candle|Currently $34 at Amazon
Why send a bottle of champagne when you can gift them this delicious candle? With notes of grapefruit, orange, and champagne grapes, this scent will smell just like their favorite bottle of bubbly. Since this candle has up to an 80-hour burn time, this candle will last long after you pop the cork. Cheers!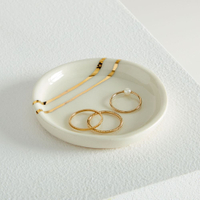 Honeycomb Studio Ring Dish|Currently $16 at West Elm
Chances are, your favorite couple just added some shiny new bling to their arsenal. If they want to keep that expensive engagement rings—and their future wedding bands—safe, give them this chic trinket dish from Honeycomb Studio. With 22-karat gold leafing and a sleek porcelain design, this dish looks good, but won't upstage your bling.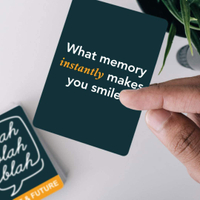 Fluytco Love Language: Card Game|Currently $24.95 at Amazon
Consider Fluytco's Love Language card a great way to celebrated the special couple's close bond. This deck features over 150 conversation prompts ranging from deep questions to compliments. The newly engaged couple in your life might already know a lot about each other, but this fun game will make them closer than ever before.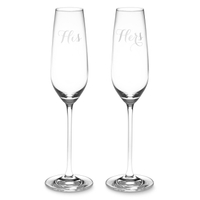 Schott Zwiesel Champagne Flutes|Currently $49.95-$64.95 at Williams Sonoma
When the couple starts to plan their nuptials, there's a good chance they'll fill their registry with a bunch of kitchen essentials. But the one thing they won't think to add? These personalized wine flutes. Made with a thick, clear glass, these dishwasher-friendly flutes are just as practical as they are pretty. Since this set is available in three version—"Mr. & Mrs.," "Mr. & Mr.," and "Mrs. & Mrs."—there's on an option for every couple.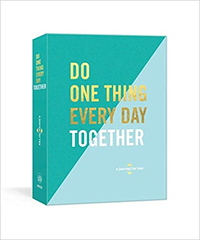 Do One Thing Every Day Together: A Journal for Two|Currently $11.66 at Amazon
According to the old adage, time goes by when you're having fun—or, you know, when you're planning a wedding. Between whittling down the guest list, managing the budget, and finding a great venue, wedding planning can be downright stressful. Encourage the special couple in your life to stop and smell the roses with this journal. Thanks to this notebook, the couple can celebrate and reflect on life's smallest moments.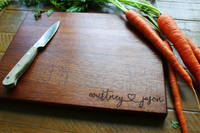 Sugar Tree Gallery Personalized Wooden Cutting Board|Currently from $45.20 at Etsy
What to get the couple who loves to cook? This sweet cutting board from Sugar Tree Gallery. Available in four wood species, this butcher block is perfect for slicing veggies and seasoning huge slabs of meat. Take this gift to the next level by etching their names into the corner—kind of like how a loved-up couple would carve their names into a tree.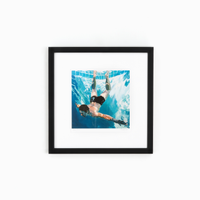 Framebridge Mercer Slim Instagram Frame|Currently $39 at Framebridge
A picture might be worth one thousand words, but this sentimental option for Framebridge will leave the special couple in your life speechless. Framebridge makes it possible to frame everything—posters, sports jerseys, and diplomas—for a fair, affordable price. Thanks to its Instagram option, you can pluck something from your feed and have a framed option at your doorstep a few weeks later. Celebrate the newly engaged couple by framing their announcement picture.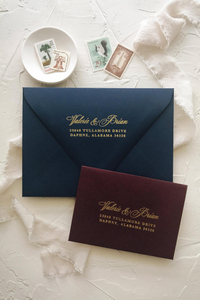 Betty Lu Paperie Wedding Address Stamp|Currently $40 at Etsy
From save the dates, to invitations, to thank you notes, your newly engaged couple is about to become very familiar with snail mail. Make their lives a little easier with this address stamp from Betty Lu Paperie. You can customize this practical present with the couple's address. Think of all the time this will save if they're sending out a big batch of notes.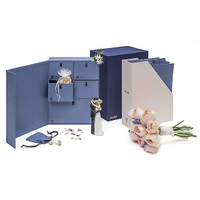 Uncommon Goods Wedding Keepsake Library|Currently $100 at Uncommon Goods
Now that the happy couple is engaged, let the wedding planning begin! Their big day will come and go in the blink of an eye, and this keepsake library offers a convenient place to stow all their mementos. With five drawers and a handful of organized files, this compact option has plenty of room for all their favorite souvenirs.
Read more: