If you're like us, you've probably done some spring cleaning and decluttering already. However, you've probably also missed a key spot - the headboard.
A study shows that almost half of people in the UK didn't even know they had to clean it. But if you have a fabric headboard, you should be giving it a clean around once a month, as they attract dirt, germs and grease.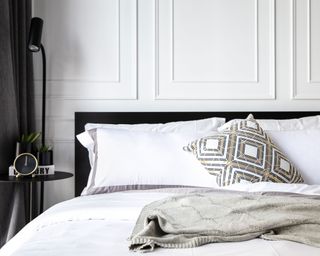 Big and bold headboards are a brilliant small bedroom idea for creating a focal point. The bed should always take center stage in the bedroom, after all.
But if the fabric isn't given a good clean often enough, it will lose its color and suffer wear and tear - not the vibe we're going for. Time4Sleep founder Jonathan Warren has teamed up with Antimicrobial Expert at Addmaster, Paul Morris, to share some top tips on how to properly clean your headboard.
So that'll be one less thing to worry about.
'The fabric on upholstered headboards offers the ideal conditions for several types of skin bacteria that break down sweat on the body,' Paul says.
'We're more aware of bacteria found on bed linen, but as data shows that 1 in 3 people have never cleaned their headboard, it could be a much larger source of bacteria than we think,' he adds.
We're already feeling the urge to go and scrub ours this instant.
As for the best way to do it, Jonathan recommends taking your hoover to it as a first step. 'Aside from improving the appearance of your headboard, the hoover will also collect bacteria that can contribute to allergies and asthma and negatively affect your sleep.'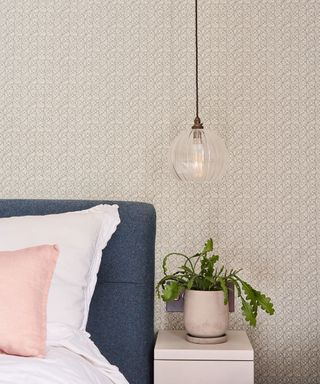 So if you've been wondering how to sleep better at night, it could even be your grimy headboard. If, as well as dust, there are stains on the headboard, mix warm water with a small amount of laundry detergent - just enough so bubbles appear.
Dip a cloth into the solution, then test it on an inconspicuous area before gently working it into the stain. You can use the mixture all over, leave to dry and give it a spray with a fabric spray to finish it off.
If you need to replace your bed all together, take a look at our guide to the best beds out there. Plus, our guide to the best mattress will ensure your bed is supporting you as you sleep.
If you want to go the whole hog and give your bedroom an update, take inspiration from our guide on how to design a bedroom.
We're off to give our headboards a deep clean.