Compact bathroom spaces complete with tiny windows can feel dingy and neglected, but they don't have to. There are lots of different ways to dress small bathroom windows in a way that will let more light in to enhance the feel of your overall space.
Make a splash with a light-flooding windows, dressed to impress with shades and more. Whether the view from yours overlooks a postcard-pretty scene, or a less inspiring 'neighborly' brick wall, or perhaps upwards and outwards to starry nights, there's an attractive and functional solution to frame small bathroom spaces successfully.
Small bathroom window dressings that make an attractive focal point
From floaty curtains to peekaboo blinds and patterned window coverings, consider all the trimmings for the best effect.
'We spend a lot of time creating the perfect atmosphere for our family room or dining area, but window treatments also give us an opportunity to create a one-of-a-kind atmosphere in our bathrooms as well,' says Paul Linenberg, president of Gotcha Covered. 'The simple addition of a custom window treatment can make the room unique while also raising the overall value of the home.'
1. Choose a sheer panel for a light, breezy look and feel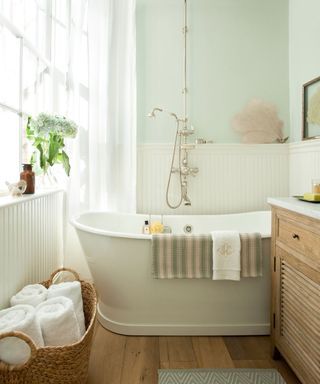 Soften a boxy or 'boxed-in' space with a floaty sheer panel, that lets the natural daylight filter through, whilst lending an ethereal, light and airy elegance. Opt for a full length drape in a light neutral shade to enhance the illusion of height and space and make a small bathroom look bigger. For added tactility and a touch of relaxed boho style, choose a design that features a subtle layer of pattern and raised needlework, such as embroidery or tufting.
2. Let dramatic florals dazzle and 'blind'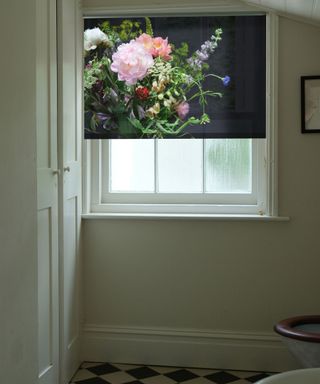 Embrace the compact coziness of small bathrooms with a midnight garden-inspired roller blind that adds impact, color and rich drama (whilst distracting attention from the non-too glam loo!) For maximalist effect, choose a flamboyant design that features an upscaled floral burst in a riotous palette of rich darks and popping brights. This attention grabbing window dressing idea gives traditional ditsy floral designs a high contrast, contemporary rethink - kapow!
Made-to-measure roller blinds can be tailored to fit all window shapes and sizes, providing an inexpensive and adaptable window treatment with privacy a-plenty to hoot.
3. Remove the need for curtains in a shower area with an obscure window film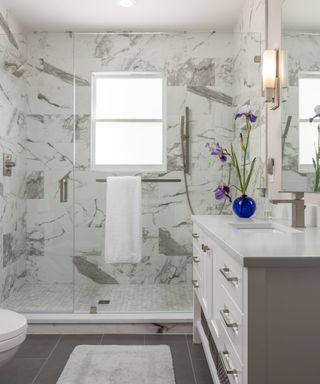 This practical and simple type of window treatment transforms your glass with a film that is quick and easy to install and remove. Ideally suited to compact, humid spaces like small showers where fabric blinds or curtains would be subject to the wet and mold, window films allow daylight to penetrate whilst obscuring the view, in and out.
'Installing a small window in a shower is an excellent way to ventilate a bathroom while reducing energy use. Shower windows can be particularly nice in secluded areas when a fully open window while showering can let in fresh air for a relaxing experience and a connection to nature. Privacy glass can also be useful for offering a little extra reassurance in areas where total seclusion may not be a guarantee,' says interior designer, Sarah Barnard.
'Choose an easy to apply obscure window film, a window tinting film or a frosted glass decorative film and transform your glass with a film that is as quick to install as any adhesive vinyl frosting. Using a glass window film is a great alternative to having net curtains and blinds in some rooms, as fabric window coverings can attract and trap dust and dirt very easily, but you can simply wipe clean our decorative window films,' advise the experts at The Window Film Company.
4. Incorporate your window treatment with a two-tone bathroom scheme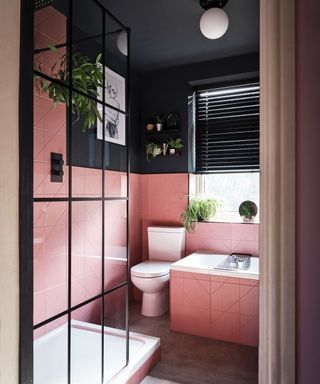 To keep the flow and bridge the gap between scheme decor and a full stop pane of glass, color match your window treatment - be that blind or curtain, with your foundation wall or bathroom tiles. By doing this, your window will seamlessly become part of the overall aesthetic, exaggerating the sense of space in a confined area. For a high-contrast scheme that makes a bold statement, unite a dark shade with a light or pastel opponent, or for a soothing, on-trend green bathroom scheme, mix and match two tonal shades, like a neo-mint green with a fresh woodland hue.
5. Set the scene, temperature and privacy with light filtering shutters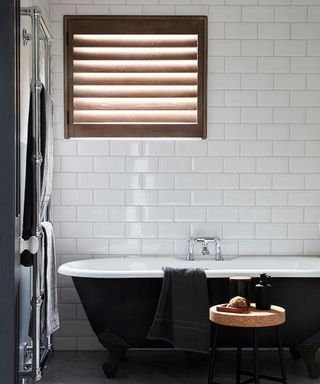 Create a clean and smart aesthetic whilst shutting out the seasonal hot and cold with versatile window shutters. Choose shutters to match your foundation wall shade for a seamless look, or make a statement with painted shutters in a stand-out, color-contrast finish.
'Bathroom windows can often be tricky to work with, especially if they are smaller. However, bespoke shutters are the ideal solution for balancing light and privacy in a room where comfort and well-being are a must. Shutters, unlike curtains will not mould due to steam and will help to create a clean and uniformed look that is suited to any taste. Shutters are also a fantastic way to ensure your bathroom stays warm during the colder months, by acting as an added insulating layer to your windows, they create an extra barrier to prevent heat escaping and cold air creeping in,' says Sam Tamlyn, general manager, Shutterly Fabulous.
6. Bring the outside-in with a windowsill of potted plants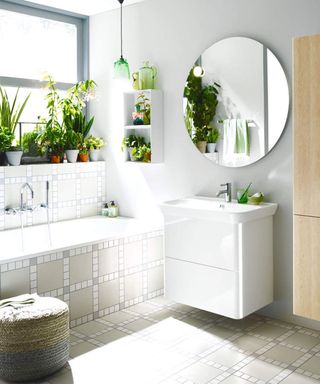 Transform your small bathroom into a jungle spa oasis with a verdant windowsill 'shelfie' of potted houseplants. Incorporate a range of different types, textures, shapes and sizes to add a revitalizing nature-nurture lift, that doubles-up as a verdant 'modesty screen' to the outside world. Not only do leafy lovelies add green gorgeousness to any scheme, but houseplants also purify the air, making them a great choice for warm and humid bathrooms (and water to give them a drink is on tap - literally!)
'Small bathrooms can be hard to style, especially due to lack of space. One thing I wouldn't want to do in a small bathroom is to clog up the window with unwanted accessories or even vertical blinds. Vertical blinds can make small bathrooms appear even smaller, so I'd opt for venetian blinds. Alternatively, you could add some frosted glass and include plants in the bathroom,' advises Gina Kay Daniel, interior design and home décor blogger with a passion for houseplants and minimal/boho design mixes.
7. Turn your window into a decorative feature with an intricate design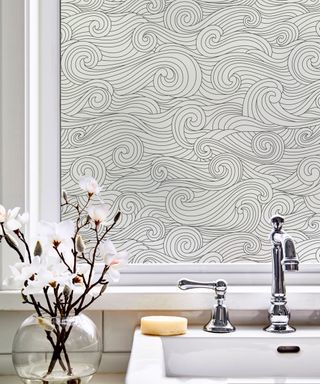 Is your bathroom without a view? Fear not, you can inject some pattern-fuelled personality and interest in a jazzy-jiffy with this quick and affordable small bathroom window dressing.
Provide a practical and stylish solution for your window with a decorative window film design. These versatile pretties are available in self adhesive or static cling options, in a variety of contemporary, classic and worldly influenced designs, or why not get creative and create something bespoke and unique? Keep things calm and collected with a quiet pattern in a soothing neutral, or get the color wheel spinning with multi-colored brights boasting stained glass gusto?!
8. Add a charming pattern pop blind for interest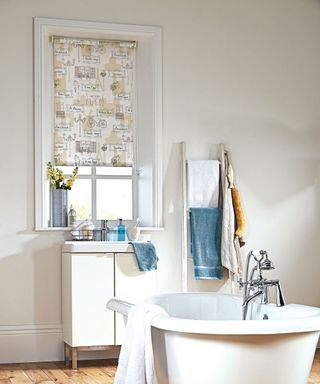 It can be easy to overwhelm a small space with too much pattern, which can look confusing and chaotic, and has the opposite of a calming effect – not ideal in any relaxation space. Instead, style your cute bathroom with color block bath linens and bath accessories in a serene two-tone palette, and accent with a playful patterned blind that unites the scheme, whilst adding charm and interest. Have fun with your blind design and choose something that really reflects you and your home's personality.
9. Let there be light with a sky-scanning loft window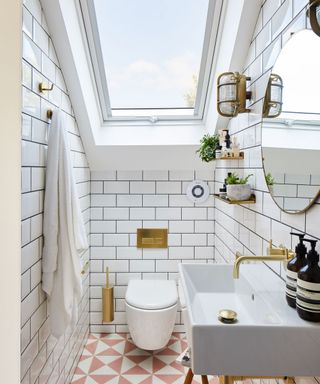 The ultimate way to game-change the look and feel of any space, no matter how petite or generously proportioned, is to let the natural daylight flood-in. That connection to the wild outdoors automatically makes interior spaces feel bigger and retreat-like, as opposed to cabin fever confined and trapped.
Shed light and provide ventilation in a compact loft bathroom or walk-in shower with a stylish ceiling window that lets the blue skies and twinkling night skies do the talking. From striking glass rooflights through to electronic or manual opening skylights and solar powered eco options, there's a sky high solution for all sloped ceilings and layouts.
'A skylight may serve as a dreamy and eco-friendly alternative to overhead lighting. In one past project, a circular skylight in the shower took on a role typically filled by recessed lighting, naturally illuminating the shower space during the daytime,' says interior designer, Sarah Barnard.
10. Transform the ambience of your space with a subtle window treatment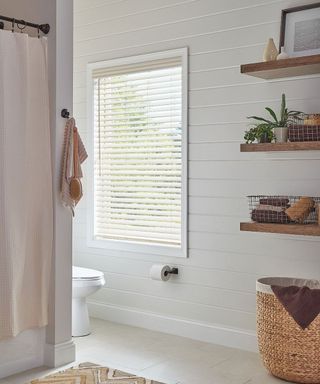 'While we oftentimes overlook the windows that are within our bathrooms, a subtle addition of window treatments can change the overall ambiance of the room,' says Paul Linenberg, president of Gotcha Covered. 'By adding the right blinds or shutters, the room can transform from an ordinary bathroom to a room filled with decadence.'
How do I cover a small bathroom window?
'If your bathroom window is on the smaller side, consider opting for bold mouldings. By adding a broad casing around your window, you create the illusion that it's larger than it is. It also helps your window "pop" and makes it more of a focal point, rather than letting it sink into the background,' says Andre Kazimierski, CEO, Improovy
Interiors bloggers, Stefan and Maegan Bucur, The Rhythm of the Home advise: 'We think that the best idea for a small bathroom is a landscape window. This is a great perspective change since everybody thinks about windows as vertical objects. A landscape window creates a visual effect that makes the bathroom feel larger than it actually is, similar to the effect of mirrors.'
'Another cool idea is incorporating attic style windows. If the small bathroom is at the upper floor of the house, using large attic windows can help with the lighting tremendously and give off a feeling of freshness.'
Where should a small bathroom window be installed?
'In addition to creating natural ventilation, one of the benefits of a small bathroom window is its privacy over a much larger window. Even with the built-in privacy, sometimes it can be comforting to have additional options for minimizing views while still welcoming the benefits of fresh air and natural light,' says interior designer, Sarah Barnard.
'Roman shades make for an excellent option for small bathroom windows, as their soft appearance can enhance the relaxing elements of the space. At the same time, a sheer material can let in light while maintaining privacy. In addition, the shades are easily adjustable, offering flexibility depending on the level of coverage preferred throughout the day. When installing new windows, consider the landscaping outside. Placing the window somewhere with a view of ample foliage can offer a beautiful, calming scene while creating additional privacy without requiring a shade or drapery. A view of nature can also make a small window feel more expansive, as it hints at the larger landscape outside.'