When it comes to dressing bedroom windows, you really can have it all. There are so many options for filtering daylight, keeping the room cosy, and ensuring privacy. But which to choose? Naturally, a peaceful atmosphere at night is paramount, so if you're a light sleeper, seek out blackout-lined curtains and blinds, or opt for solid shutters. For ground floor and other overlooked windows, sheer fabrics, slatted blinds and window film offer varying degrees of shading. Blinds and curtains with thermal lining and thick interlinings will cut draughts to a minimum.
Above all, window treatments should have visual impact. Get in touch with your inner interior designer to come up with your own delicious combinations to enhance the bedroom. A standout pattern for curtains or a blind is a great place to start and will set the theme for a room, as you can use the colours and motifs when choosing bedroom furniture. If you like playing with textures, layer sheers with closely woven fabrics for a subtle effect.
For more window dressing inspiration and advice, head to our window treatment hub page.
1. Go for classic white bedroom shutters
For a clean, crisp look, choose pristine white shutters. These are full height, but for more flexibility, choose tier on tier, which allow you to open the top and lower sections separately, or café curtains which cover just the lower part of the window.
Full height hardwood white shutters, from £166 per sq metre, California Shutters.
Find out how to choose the best shutters for your bedroom in our guide.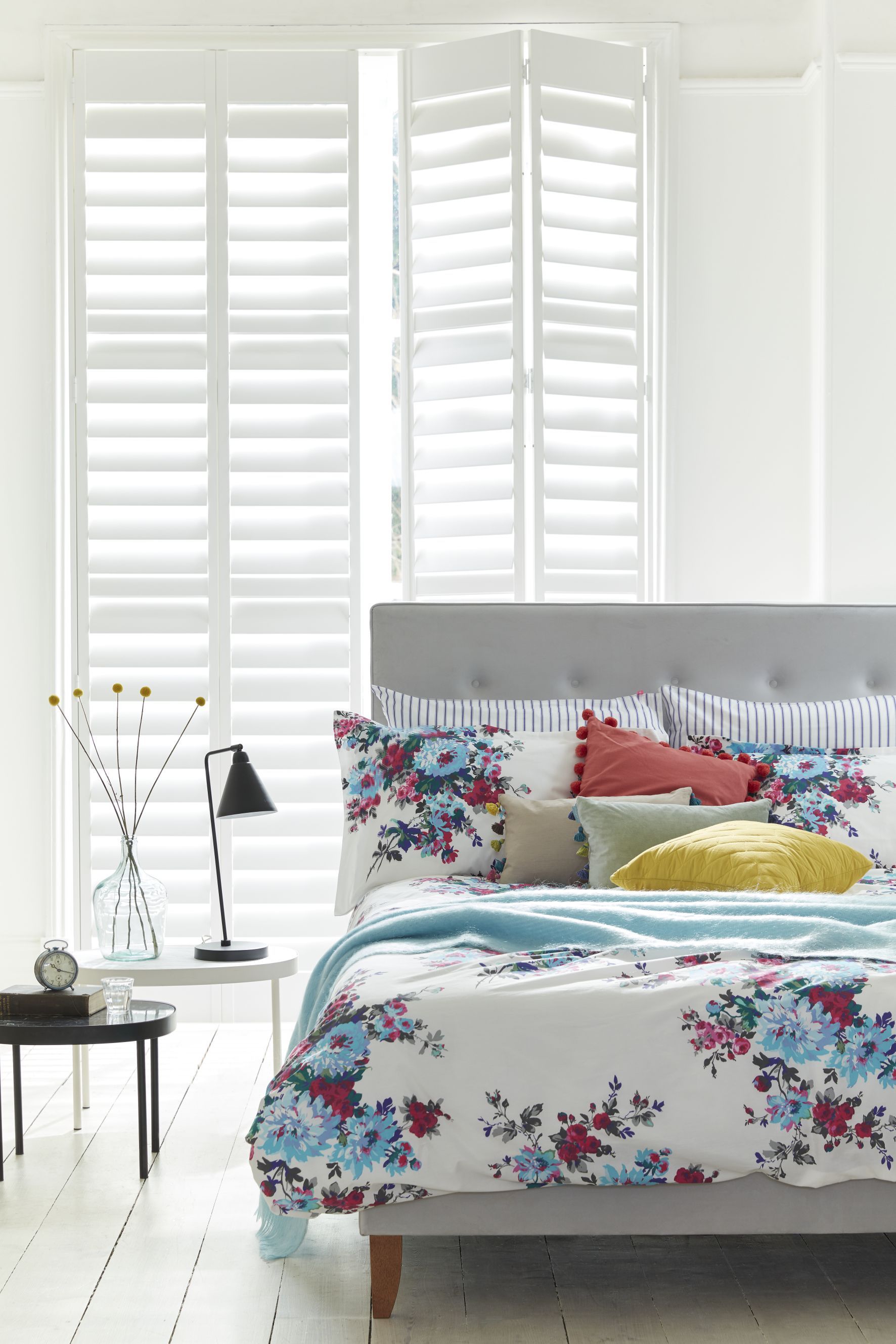 2. Make a bay window statement with patterned bedroom curtains
This bedroom bay window treatment works on so many levels. The eccentric, striking pattern is eye-catching; the eyelet heading ensures the curtains fall in even yet soft pleats from the pole and sweep the floor; the drapes highlight the height of the window. Like your bedroom to be dark? Choose blackout-lined curtains from our buyer's guide pick.
Teora Gold ready-made curtains, W228cm x L228cm, £160, from the Palazzo collection, John Lewis.
3. Create a nature-inspired bedroom with a Venetian blind
Bring a natural element to the bedroom with wooden Venetian blinds, one of the most adjustable treatments for a sunny window since the louvres can be tilted precisely to deflect glare. Wide louvres are on-trend. Choose contrast tapes for a hint of colour.
Bespoke Wood Venetian blind in Caroba, from £118 for W61cm x L61cm, including fitting, Apollo Blinds.
Find out more about choosing Venetian blinds in our practical guide.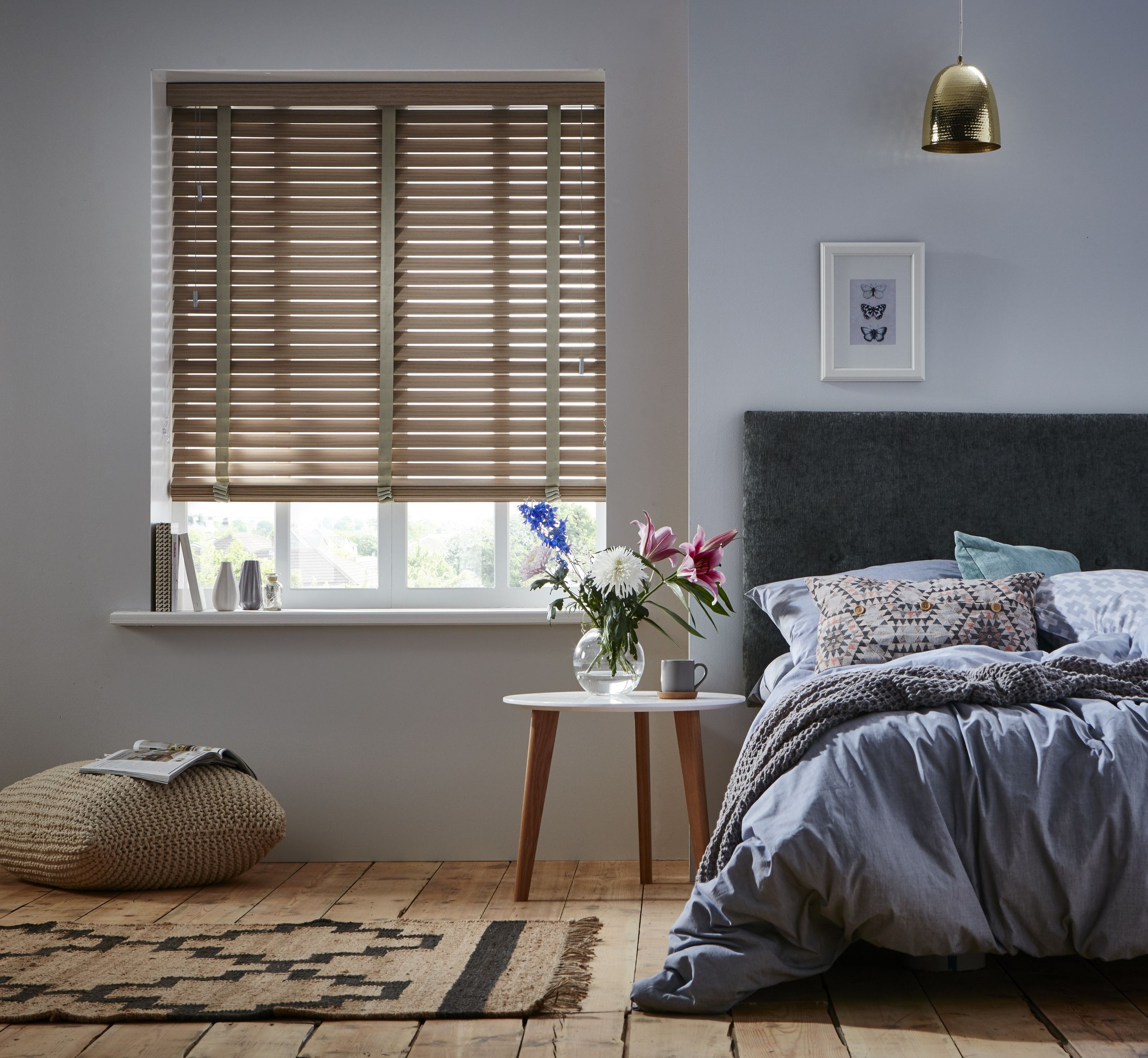 4. Add a fun bedroom shutter for children's rooms
Solid shutters shut out the light, so kids get some rest even in summer when the evenings are long, but they also open up the possibilities for colour and motifs. A colour-matching service from Shutterly Fabulous ensures the shutters are the perfect shade and you can have dots in any colours you like, to match walls, furniture or favourite toys.
Check out our gallery of window treatments for children's rooms.
Solid Polkadot shutters, from £299 per sq metre, Shutterly Fabulous.
5. Make loft blinds super-practical
Motorised blinds are a great option for loft or hard-to-access windows. The PowerView system from Duette opens them remotely via Amazon Alexa and Google Assistant and is compatible with tablets and mobile devices. These Day & Night blinds combine Anthracite blackout and sheer white fabrics. Made to measure motorised blinds, from £150 for W40cm x L60cm, PowerView hub, £220, Duette.
Read our guide to choosing the best loft blinds. Thinking about a loft conversion? Find out everything you need to know to get started.
6. Layer curtains and blinds for flexibility and warmth
A layered design multiplies the options for adjusting light. This Ikea treatment starts with Skogsklöver roller blinds in Grey, W100cm x L195 cm, £25, to cut the light. Use a triple track to hang Sparvört sheer curtains, White, W145 x L250 cm, £25, and Hilja curtains, Grey, W145 x L250cm, allowing light to filter through. Finally, hang Sanela curtains in Grey-Green, W140cm x L250cm, £39, from a pole to complete the effect. All Ikea.
Check out these bedroom curtain ideas for inspiration.
7. Choose roller blinds for an instant bedroom update
The simplest of window treatments, neat roller blinds take minimal fabric and are a breeze to put up. Variations include bottom up blinds, where the cassette fits to the window sill, half and half blinds, where the upper part is in a transparent fabric and 'zebra' blinds, incorporating adjustable fabric slats.
This Spriglets Greenery roller blind, £48.98 for W60cm x L80cm, from Blinds 2 Go, comes in a standard or blackout version.
Read our practical guide to choosing roller blinds for more info.
8. Double up with curtains and a Roman blind
For a sophisticated yet cosy effect, fit lined curtains and a Roman blind. Warm interlining is optional, but it's ideal for draughty windows and makes curtains hang better.
Mirage Blush pinch pleat curtains, from £267 for W127cm x L137cm; Serenity Blush Roman blind, from £199 for W65cm x L75cm, both including fitting, Hillarys.
Read our guide to choosing Roman blinds for practical information.
9. Increase bedroom privacy with window film
Ideal for a ground floor bedroom that is overlooked, window film is supplied ready-cut to the exact measurements for your window and is easy to fit. Frosted finishes, all over patterns and motifs are on offer.
Hex by Layla Faye, £31.68 for W80cm x L60cm, The Window Film Company.
Be inspired by these window film ideas to get the best design for your bedroom.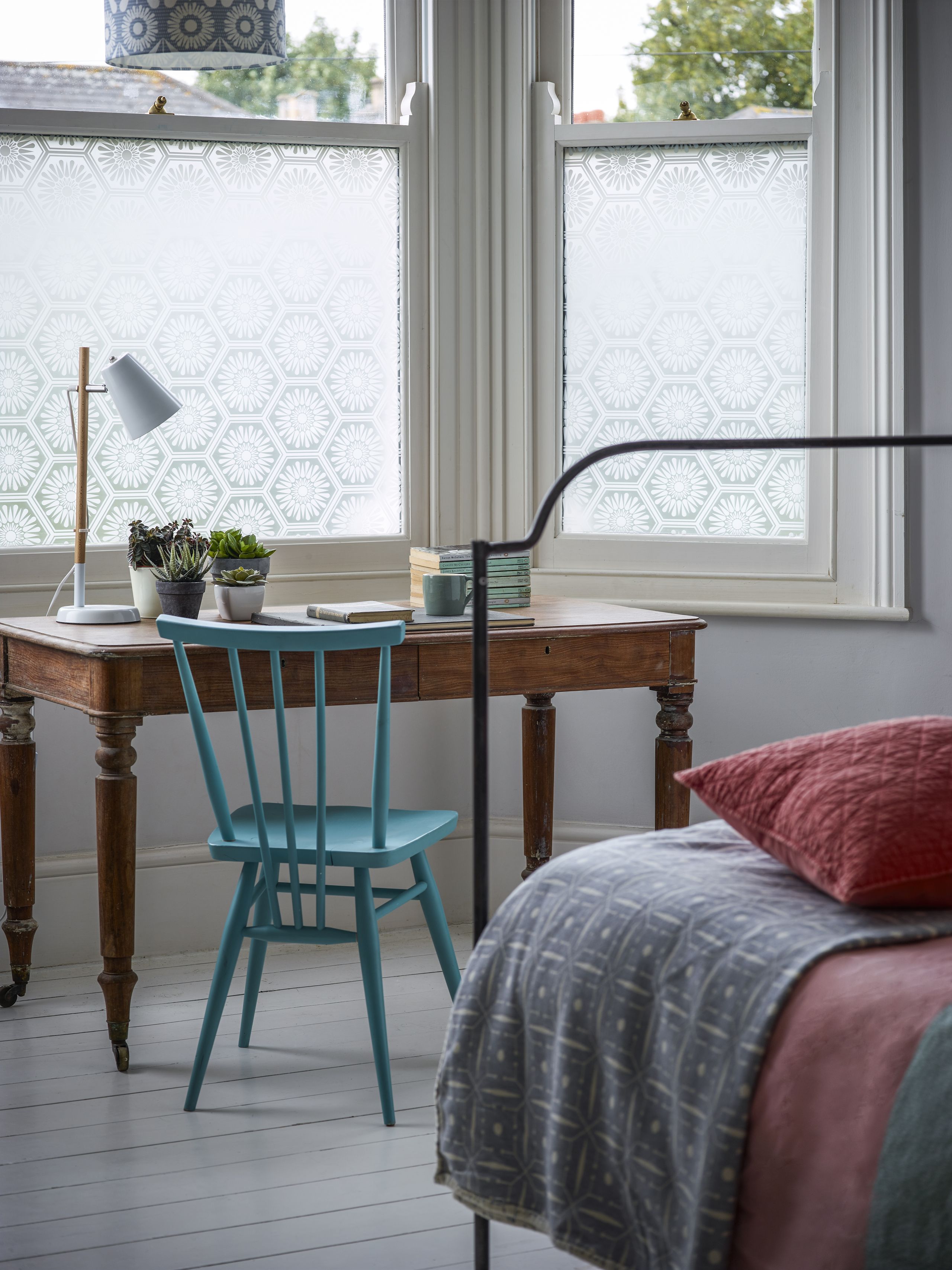 10. Set bedroom blinds within the frame for elegance
The solution for tall windows or French doors, these pleated blinds fit neatly within each pane for a minimal look without interrupting the frame. Team with sheer curtains hung from a pole that extends either side of the windows so they can be swept right back.
Made to measure Infusion taupe Intu Micro blinds, from £71 for W40.5cm x L61cm, including fitting, Style Studio.
Find more window treatment ideas for your patio doors in our design gallery.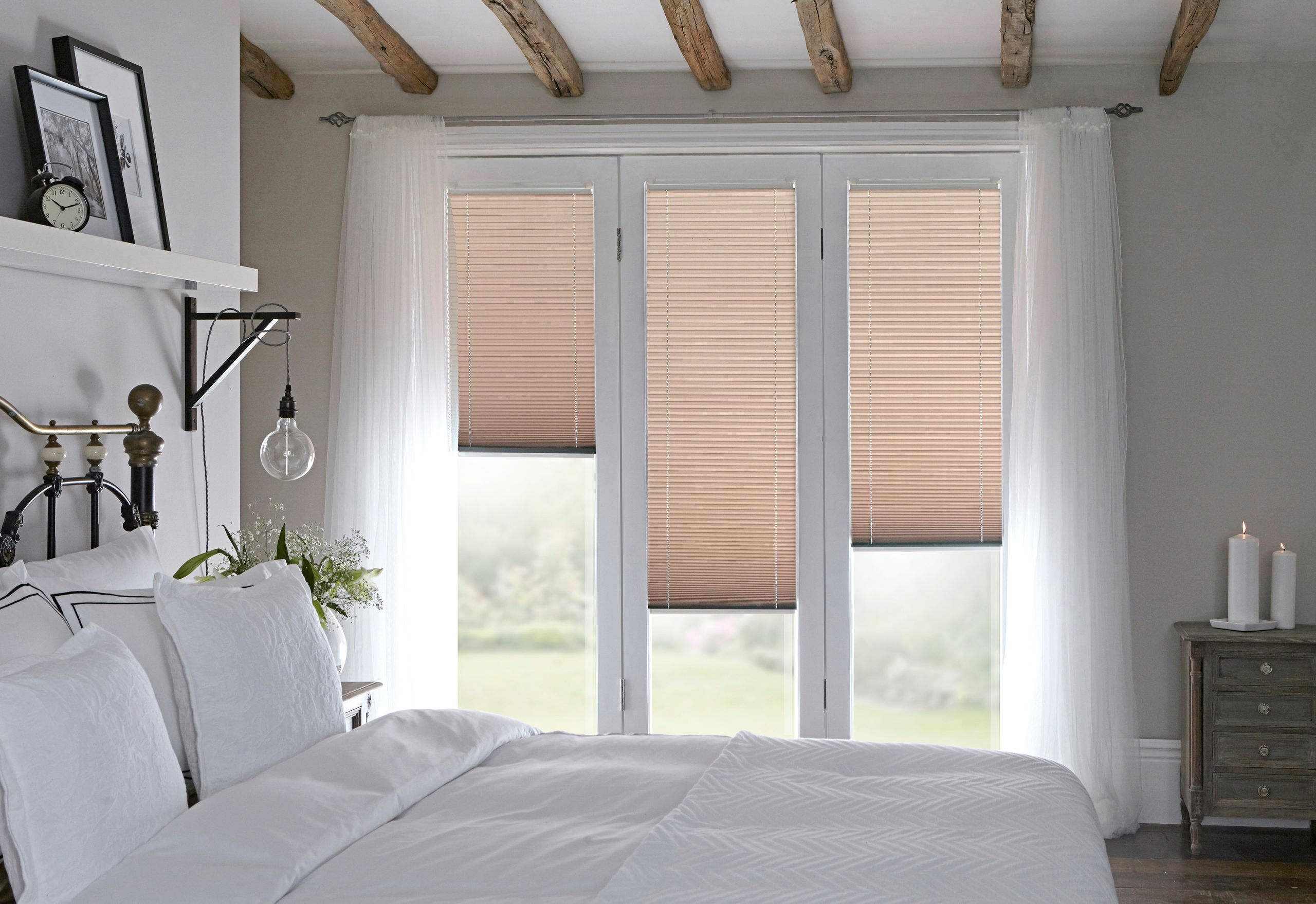 11. Go for a patterned blind with a botanical bedroom theme
Found a fabric you love but afraid of busting the budget? Roman blinds are the answer, taking far less fabric than curtains, yet folding into decorative pleats. Here, the blind puts the emphasis on an on-trend greenery pattern.
Capri roman blind in Urban Jungle, W80cm x L170cm, £59, Dekoria.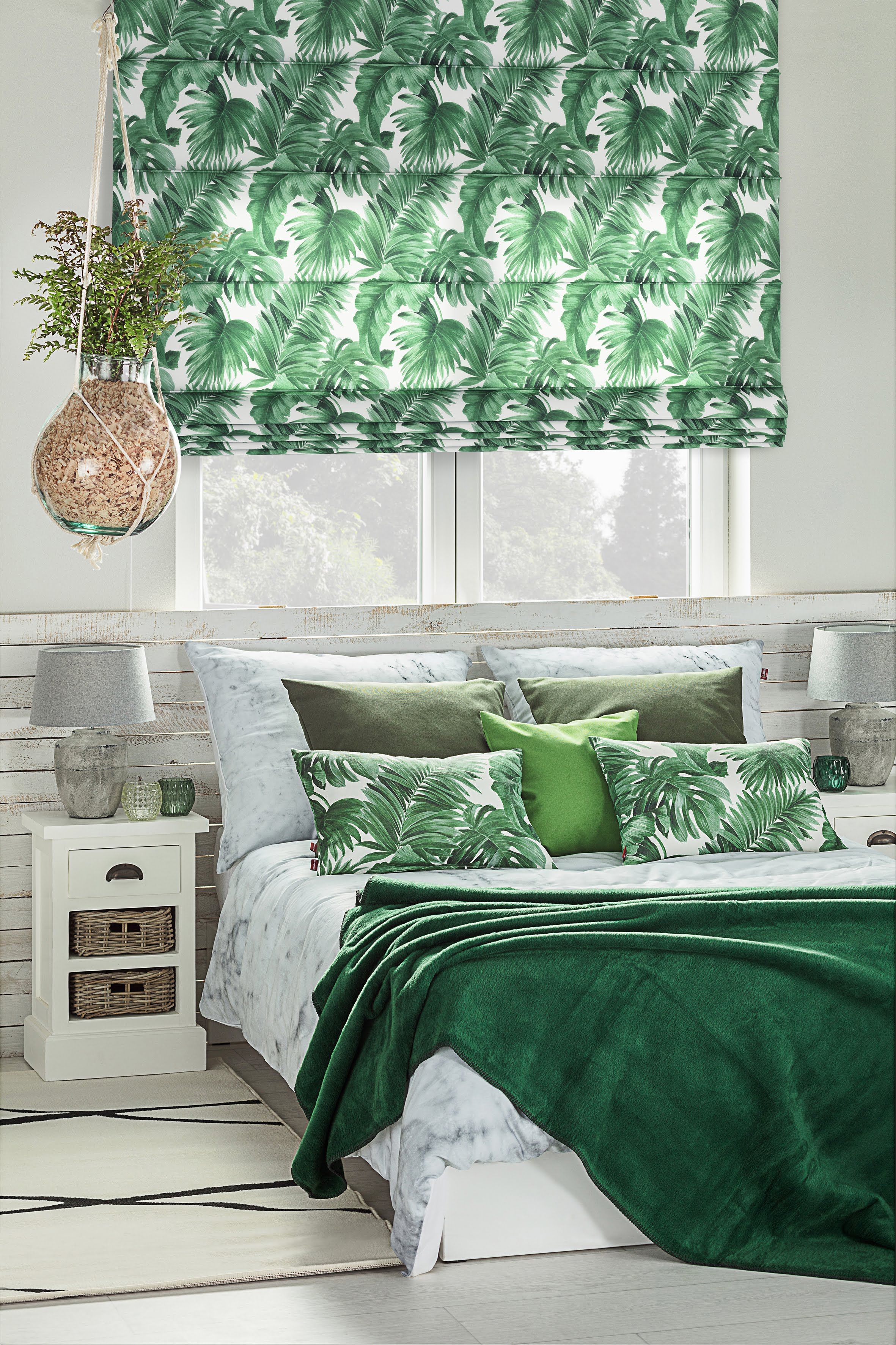 12. How to soften shutters with curtains
If you feel that shutters alone are smart but just too regimented, add a touch of romance with sheer curtains. The track or pole should extend past the window frame so that the curtains can be drawn right back without compromising the opening of the shutters.
Lyra white voiles, from £52 a pair for W127cm x L137cm; Richmond painted hardwood shutters, from £475 per sq m, both including fitting, Hillarys.
Read more: