Looking for small utility room ideas? Desperate for a utility room but don't have the space? Hate the sight and sound of the washing machine? There are tons of ways to banish your laundry room to even the tightest of cupboards. Don't believe us? Keep reading...
Have a read of our how to plan and design a utility room too, for loads more practical advice. 
1. Transform even the tiniest of spaces into a small utility room
The alcove/niche/cupboard you can fit a utility room into can be super narrow if you only want to house a washing machine. A great small utility room idea is to pack all your storage on the wall above you washing machine so you don't take up any of the limited floor space. 
2. Put a small utility room under the stairs
The space below the stairs in the hallway is usually a decent enough size to house at least a washing machine and perhaps even a condensing dryer, too. Maximise the space with a small utility room sink, a ventilated hanging area for drying or airing clothes and plenty of stack space for folded clothes. Doors can be left open while you're out or you can invest in a small dehumidifier to keep the area dry.
If you would rather keep your space for storage, go and check out our under stair storage solutions for loads more ideas. 
3. Create a utility cupboard in the kitchen
Not just a great way to get the washing machine out of sight, a floor-to-ceiling cupboard in a corner of your kitchen, is practical small utility room idea too,  allowing you to stash everything from appliances to hanging space to the ironing board in one compact space. 
If you have got the room you could create a whole utility space behind some double cupboards in your kitchen, work top and all. We love this idea of hiding an entire laundry room, not just for your appliances, but an area to fold and store your washing too. Once you are done you just close the doors and no one need know it's there, just fits seamlessly into your kitchen. 
4. Stash the small utility room in a hallway cupboard
Got some space to spare in your hallway upstairs? It's the perfect place for a small utility room because all the laundry stays upstairs, all the time (except when you're wearing it), plus you can have it built with some stud partitions at a very affordable price. Ensure you choose a super-quiet washing machine if you're putting a machine upstairs, have children and tend to wash at night. Otherwise, wash while you're out.
Looking to invest in a new quiet washing machine? We have picked the best out in our round up of the best quiet washing machines.
5. Move a small utility room to the bathroom
Why not make like the Europeans and put your utility area in a larger bathroom or shower room? It makes perfect sense: great ventilation, it's often where the laundry basket's kept; plumbing and drainage in place. What's not to like?
6. Hide a small utility room in your bedroom wardrobe
You get dressed and undressed in your bedroom, so why not? Got a dressing room? Even better. Just ensure ventilation is really good so that drying clothes don't cause a damp atmosphere that the rest of your wardrobe won't thank you for. 
7. Make space on an upstairs landing for a small utility room
Designing a new loft conversion? Why not copy this small utility room idea and design a space on the landing under the new stairs to the loft at the same time? The associated costs will be minimal and even the smallest of spaces, like this one, can make for a good utility. Our preference would be for some doors to hide it away, though... 
8. Hide a small utility behind sliding doors
Got a niche for a small utility room but no space for doors to open out or fold back against the wall. Take inspiration from this small utility room idea and instead of resigning yourself to an on-show utility, put sliding doors right across the front, just like Instagrammer The House in the Hollow.
9. Think about ergonomics when designing a small utility room
Wherever you're putting your utility space, whether into a run of kitchen units or in a run of fitted wardrobes, placing the washing machine off the floor in a sturdily built frame will mean you don't have to bend every time you load and unload it. Pull-out shelf for the basket beneath? Don't mind if we do.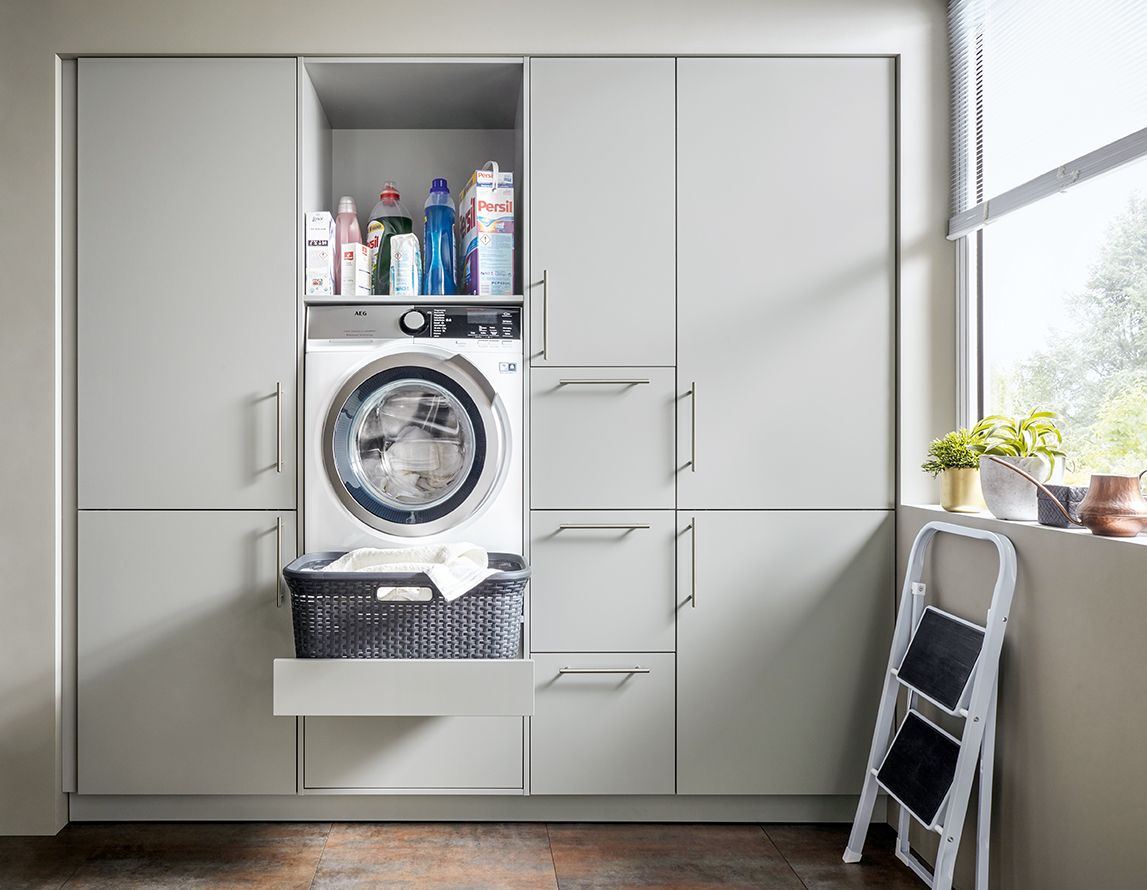 10. DIY a small utility room idea
If you are just after a space in your home to store your laundry, do the ironing and fold your clothes, maybe you don't need built in cupboards or secret sliding doors. Create a work station from furniture you already have, stash some laundry baskets underneath, add some pretty wall-shelves for your detergent and what not, and there you go: a makeshift mini 'utility room'. 
11. Make space for a small utility room in your pantry 
Lucky enough to have a pantry in your kitchen? Why not see if you can squeeze a small utility room in there? One side for dry food and one side for your washing machine and dryer? If you need help making room check out our handy pantry storage ideas to get you started. 
More utility room must-haves:
Small Spaces Month:
This article is part of Small Spaces Month, brought to you in association with the new Real Homes Travel Edition. A compact version of our hugely respected monthly magazine, Real Homes Travel Edition brings you all the same great content as the full-sized edition, but in an even more bag-friendly format that's perfect for inner city commutes and French riviera holidays. Get yours now at WHSmith, Easons and selected newsagents.