With the right small living room ideas, you can create a snuggly yet stylish sanctuary that loves to be lounged and laughed in. Yes, we all adore swooning over gorgeous lofty living spaces with high ceilings and more floor space than in our entire home, but they just aren't the reality for most of us. So, let's prove how perfectly petite can be just as dreamy.
The best Living room ideas should strike the balance between spacious and calm, but packing in enough seating and storage to make the room practical can be tricky to achieve. Fear not, there's a plethora of easy styling solutions for small living room woes.
Amazing small living room ideas for sofa-slothing and socializing
Camilla Clarke, creative director at Albion Nord (opens in new tab), comments: 'Just because you have a small space doesn't mean you have to compromise on the scale of your furniture. Try not to scale down the furniture, embrace a small sitting room with a large sofa and it becomes so much more inviting.'
Whether you're designing a modern small living room from scratch or feeling cramped in your current space, savvy tips and tricks will allow you to expand your square footage without having to knock down any walls.
1. Create a mindful escape space with a Japandi scheme
A popular home decor trend for 2022, Japandi blends the clean lines of Scandi design with the functional elegance of the Japanese aesthetic. Minimalist yet welcoming in look and feel, It's an ideal choice for small living spaces in need of a declutter and rethink. To create a zen den of your very own, embrace a neutral palette, natural materials, and tactile textures - and don't overfill your space!
Chelsea Clark, brand manager, Lust Home (opens in new tab), comments on how a Japandi scheme can boost your mental wellbeing: 'Our homes should be our sanctuaries, after all they are where we spend most of our time relaxing. Mindfulness is easy to incorporate, using interior design to bring a calm oasis to your home.'
'Decorate in Japandi style to create a mindful, peaceful home. Create focal points in your space that complement nature and plenty of sunlight. Use Japandi inspired wallpaper designs to create feature walls and panels to truly immerse yourself in the trend, bringing mental clarity and zen to everyday life.'
Charlotte Cropper, Lick (opens in new tab) international color consultant, comments: 'The first step to a simple life is assessing what you already own. Japandi interiors encourage you to think long and hard about how you're going to use the room. Open your cupboards and drawers: if you find something you didn't even know you had, it probably has to go. The decluttering doesn't need to be extreme, but it is important to know what you own, so you can always find what you need when you need it.'
Design experts at Barker & Stonehouse (opens in new tab), comment: 'Organic textures, subtle patterns, and muted tones are perfect for small space living, bringing character to the chosen spot without influencing the wider room set.'
2. Double-up your snug lounge as a getaway destination for guests with a sofa bed
If you're living in a one-bedroom apartment, you'll need an overnight solution for when visitors come and stay. The blow-up mattress and 'sofa-surfing' was okay in the youth, but come on, we're sophisticated adults now surely? And these thirty-something bodies need a bit of comfort and support!
An everyday multi-action, sleeper sofa with squishy cushions, stain resistance, and a built-in bed is an absolute must to utilize space, whilst solving any potential sleeping arrangement dilemmas. And if you're in a really cute but cozy nook, try a quick and easy sleeper chair design - genius!
Martin Waller, founder, Andrew Martin (opens in new tab), advises: 'A sofa bed is a winner for making a living space double up as a guest room. In the same way, a sofa with built-in storage does two jobs at once.'
3. Expose those (furniture) legs to create the illusion of space
It's hard to pick just 5 things you should buy for a small living room, but elevated designs across furniture and accessories (yes that's you plant pots on stands) should definitely be on the wish list. Add silhouettes of interest at different heights, and space-enhancing magic with a variety of leggy lovelies, like the compact Murray drink table (opens in new tab) from West Elm. It's the perfect perch for a well-deserved tipple and slips neatly beneath the couch.
Home experts at, The Original Factory Shop (opens in new tab), comment: 'Add more visual space to your living area by incorporating furniture pieces which sit off the ground and have exposed legs. This trick taken from Scandi living rooms helps create the illusion of space whereas furniture pieces that are bulky and sit on the ground, tend to look larger.'
4. Re-purpose unconventional furniture pieces to fit the space
When choosing furniture for a small living room, make it work for the space that you have. Can you use what you already have? Jump on the repurposing train, and use everyday pieces in unconventional ways. Use a Moroccan tea table as a portable alternative to a coffee table with storage; display heirlooms and treasures on open shelves, or use a bathroom bamboo towel ladder to hang magazines and hanging planters - simply experiment and have fun with your design. You'll be thanked with a unique and meaningful, character-filled space, that constantly evolves.
Camilla Clarke, creative director at Albion Nord, advises we should look towards using furniture for different functions.
'A bedside table doesn't always have to be a bedside table, if you are compromised for space use something interesting and unexpected as an alternative.'
Clarke continues: 'Embrace all the nooks. If there is a nook or niche, use it. Make awkward corners a point of interest by adding DIY shelving ideas and filling with books and accessories.'
5. Mount your TV on the wall or go for a space-saving projector
Your floor space is precious gold dust, so don't waste it away with a bulky entertainment center - especially considering the supersized screens of today. Instead, free-up space in a jiffy and mount your TV above a fireplace on the wall, or even in a corner on a swing arm wall bracket for easy positioning.
But, If you want to banish the black box altogether, yet still recreate the home-cinema experience for movie marathons and Netflix binges, try using an ultra-short-throw projector - problem solved, sensory overloads ahoy!
Tech experts at Projectorscreen.com (opens in new tab), comment: 'One of the biggest trends in living room design is using ultra-short-throw projectors. These projectors sit directly under the screen and are able to produce an image size up to 120 inches! They work incredibly well even in well-lit environments.' Learn more about ultra-short-throw projectors here (opens in new tab).
6. Opt for multi-functional furniture in a small living room
In any small room, each piece of furniture needs to earn its keep, so choose pieces that are multi-purpose. A stool that can be used as an end table, a pouf that transforms into a storage box, a sofa with secret storage... you get the idea. Coffee table ottomans are great for this: top them with a tray and they become a coffee table; strew them with cushions and they're extra seating; buy a bed in a box and you've got a guest space, too!
7. Replace bulky curtains with slimline shutters
When looking for small living room ideas, you might not immediately think of window treatment ideas. However, switching them up to something more subtle can make a huge difference.
Of course, living room curtains have their upsides: they add color, pattern, and a feeling of comfort to a room. But if yours are bulky and stealing light from an already compact window, why not swap them for shutters? They let in tons of light, don't take up any space, and are easy to coordinate around. Plus, DIY-fit options are super affordable, like the self-install shutters (opens in new tab) at The Shutter Store.
8. Double up on stackable furniture in a small living room
Why have one table when you can have two in the same space? Picking out furniture that can expand or create more surface space without permanently taking up too much room is a fab small living room idea.
A set of nested tables for example that fits one or two drinks is ideal for creating more surface space when you have guests over. When you are done entertaining you can just slot them neatly away. Or, transform your homeworking game by offering an adjustable height work surface, plus, hidden storage with a versatile lift-top coffee table.
9. Use wall space for lots of narrow storage
If you are lacking in square footage but have reasonably high ceilings, you can easily make a small living room feel bigger by utilizing vertical space. This space may not be that useful for adding extra seating but clever storage ideas for small living rooms – ladder-style shelving, floating shelves, or wall-mounted units – will provide extra storage and display space with a minimal footprint.
10. Layer your lighting to stretch space visually
Adding varied light sources at different heights will draw the eye to different areas of a small living room, making the space feel more interesting and marking out its various zones. For example, a strategically placed table lamp can turn a dark corner into a cozy reading nook; and an anglepoise lamp can instantly create a workspace in your living room. Ensure all your living room lighting is on dimmers, too, so that you can adjust the mood to suit the occasion.
11. Easiest small living room idea? Mirrors
Using mirror ideas to create the illusion of more space and light is the oldest small living room idea in the book. Placing a large mirror on the adjacent wall to your biggest window will reflect the most light, but if your windows are small or you don't want to rely on natural light, try placing a tall mirror behind furniture to create the visual trick of another room opening up beyond.
12. Replace bulky furniture with slimline pieces
Another age-old, small living room design trick: swap out dark, bulky furniture for transparent items made from glass or acrylic. Doing so removes visual barriers and opens up a room. Alternatively, go for pieces with slim frames to let light flow through the space.
13. Rethink your small living room's layout
There is a common tendency, when designing a small living room layout idea, to shove all your furnishings up against walls. But this attempt to claim back those precious few inches can often have an adverse effect. Instead, copy this small living room design and pull your furniture away from the wall a tad, creating space around the outside of the room, and group them around a central coffee table. P.S. Less furniture is more in a small living room.
14. Have a furniture edit
Think about alternatives to the traditional three-piece suite was designing a small living room. We might be automatically drawn to filling our living rooms with large sofas and armchairs, but resisting the temptation and choosing fewer, or less bulky, pieces will make a difference to how large a small living room feels. You can always add coziness to pared-back furniture with plenty of cushions and by layering throws.
15. Or one piece of larger furniture that's perfect for the space
If you simply can't go without a large sofa, sectional sofas are ideal for smaller living rooms as they maximize seating in minimal space. Even better, find one that has added storage so you can store throws, blankets, spare bedding. If you do choose one larger piece of furniture, keep the rest as minimal and as slimline as possible.
16. Invest in built in storage for a small living room
Instead of dotting lots of different types of storage around a room, bite the bullet and optimize your space with bespoke built-in storage. You can then customize your shelving to suit your needs, plus create a really seamless look, especially if you paint it the same color as your walls like in the space above.
17. Choose the best small living room colour scheme
Generally speaking, crisp white walls and minimalist hues make a small living room feel more spacious, but having a small space to work with doesn't need to crush your color dreams. If you prefer a more vibrant aesthetic over magnolia-blah then run with it. Be inspired by an interior paint color trend 2022 to reenergize your space.
18. Don't be afraid to go dark in a small living room
Darker shades can actually disguise the perimeter of a room, making it feel bigger and – at night – much cozier. If you want to experiment with darker colors, but are concerned it will look too harsh on the walls, copy this small living room idea and learn how to paint floorboards. Keep the walls fresh and bright but go for a more dramatic color on the floor, enhance it even more by choosing dark accessories too.
19. Paint the floor white... or throw down a light rug
If darker floorboards aren't going to be for you white floors and ceilings always bounce lots of light about and create a bigger, brighter-looking small living room. So why not tackle honey-colored floorboards with a paintbrush?
You'll have a more contemporary, bigger-looking space in hours for no more than the price of a can of paint. Plus, you can always throw down a living room rug to add a splash of color and a layer of comfort or use a darker paint color on your walls than you might have dared to previously.
20. Add interest to a small living room with a mural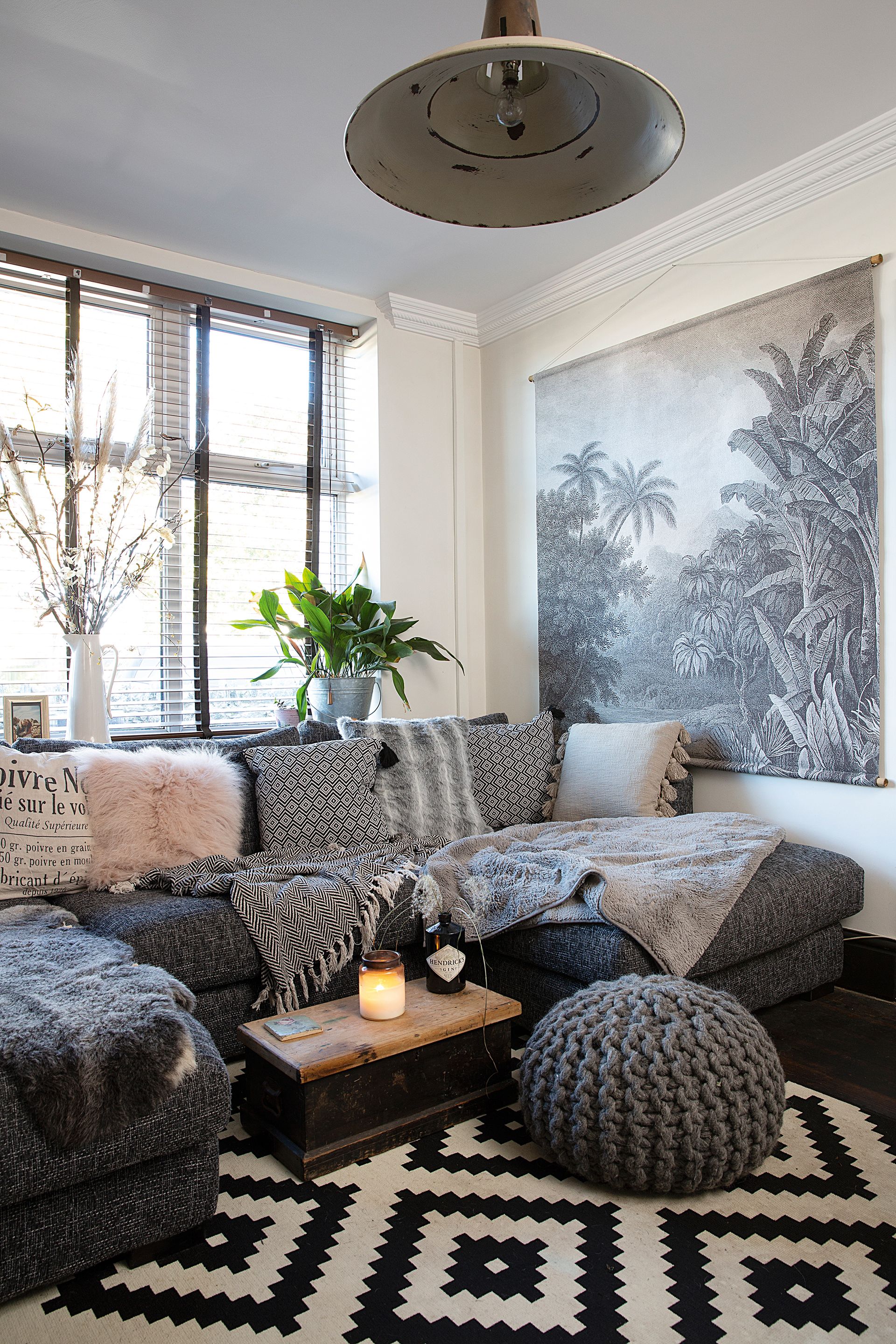 Before we go on to talk about the many positive points of adding prints and murals to a small living room, can we just appreciate the artful layering in this living room? That's how it's done, people!
Anyway, yes, wall mural ideas – a great small living room styling DO. They are also a fab option if you are decorating a rented home because you can choose to hang a mural rather than paste it permanently to your wall. In this small living room, the use of a mural expands the space as it stops an expanse of the white wall making the room feel boxy.
If you like the look of this jungle-inspired design, try the Tropical Tiger Wallpaper Mural, from Murals Your Way.
21. Layer your lighting
You REALLY want to avoid overhead lighting in small living rooms (actually, we'd say, any living room). Why? It creates a bland space that's unwelcoming at night and, despite casting a bright light over a room, does nothing to improve its proportions.
What does make a small room feel larger is living room wall lighting ideas that highlight the room's best features, whether a lovely painting, a great-looking piece of furniture, or a handsome armchair. Then, of course, you'll need to consider task lighting so that night-time reading isn't a chore... In other words, lighting a small living room is not a one-fitting solution.
22. Embrace the coziness of a small living room
So far we've focused a fair bit on how to make a small living room feel bigger, but sometimes it's just best to accept your small proportion and roll with it. Creating a cozy living space is so simple too, just stick to a nice warm color palette and pile up all the throws and blankets. Make sure you opt for something soft underfoot too, either a squishy carpet or a lovely soft rug.
How can I arrange my small living room?
Arranging a small living room to make the space functional but also still spacious can be a challenge. If you have the room, we would recommend floating your furniture, so pulling it away from the walls, giving it a bit of breathing space. This can actually make the room feel larger than if you were to push all your furniture up against the walls.
Maybe try scrapping the coffee table in the centre of your room to allow for more space and light to travel around the room. Place end tables next to your sofas and armchairs instead.
Use a large area rug to anchor your furniture and then layer a smaller one on top and arrange your living room furniture around that rather than the edges of the room.
What colors make a small living room look bigger?
It's design 101 that lighter colors will make a small living room look bigger. But that's not to say you have to shy away from dark colors if that's more your style. Painting a room darker can actually expand the space because it blurs the edges of your room o if you are not quite brave enough to go darker on all four walls yet, just go with one dark feature wall.
What is the best furniture for a small living room?
The best furniture for small living rooms tends to be slim and low slung. You don't want anything too bulky visually blocking up the space. Pick sofas that have legs and some up off the floor so light can flow under your furniture too, and don't add any pieces that are unnecessary – less is always more in smaller spaces.