Looking for IKEA kitchen storage ideas that promise to not only sort out your kitchen, but to also transform you into the most organized person on the planet? Of course you are! Everyone wants to be the version of themselves that labels all the jars, has a chopping board for every food type and can curate open shelving like a pro – but few can master it. We can help you do so, with these kitchen storage ideas that will instantly declutter your space.
And we're not just talking about IKEA kitchen storage units and cabinets, we've gone above and beyond all your usual storage solutions so that everyone can find something to suit their kitchen space and budget.
Keep scrolling for loads of practical and pretty life-changing (okay maybe just kitchen changing) Ikea kitchen storage ideas that are quick and affordable.
Check out our kitchen ideas feature too – new trends, quick updates and stylish makeovers
1. Create some quick open shelving with a picture ledge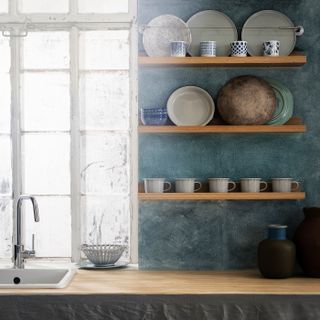 Love the look of open plan shelving in a kitchen? Get the look cheaply and quickly using picture ledges! The Maleras ledges are wide enough to display some of your best crockeries but won't take up as much room as a full-on shelf, so perfect for over a counter.
2. Get yourself an Ikea kitchen trolley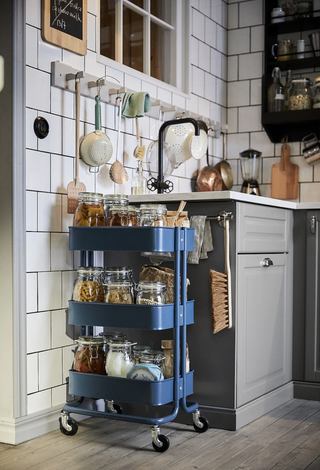 We have sung the praises of the humble Raskog trolley many a time, in fact, we dedicated a whole article to the many different uses if this iconic Ikea trolley at one point. It's just perfect if you are trying to squeeze more storage into a small kitchen – but even if you're sorted for storage in your gloriously large kitchen, the Raskog looks lovely filled with glass jars. In fact, it almost has the same effect as open shelving – just adds a bit of interest and is super practical.
Designed for those of us who don't have copious amounts to spend on more IKEA kitchen storage units or cabinets, or for those of us whose kitchens aren't blessed with miles and miles of open floor space, this Ikea kitchen storage is both budget and space friendly and importantly, a trolley doesn't require any professional fitting, just home assembly.
3. Invest in an Ikea kitchen island
Always wanted a kitchen island, but maybe you just can't justify the price of a whole kitchen revamp? Or perhaps you don't think you have the room? Let us introduce you to the world of Ikea kitchen islands.
Our fave from the lot is the classic Tornviken. It's an absolute bargain and just a fraction of the cost of very similar looking kitchen islands you'll find elsewhere. The style is nice and simple, so you can make it work with most existing kitchen schemes.
4. You can't go wrong with a load of Ikea glass jars
Oh, we love a good Ikea glass storage jar. We pick up at least one to add to our ever-growing collection – they are literally a couple of quid – every time we go to Ikea. They look great on shelving, or gathered on the top of a unit, so it's an effortless kitchen update that is both stylish and practical. Plus, now you can live the organization dream and label your jars however you want. Ikea sells some very nice labels, or take it to the next level – like the Instagrammers do – and make them yourself with your very own label maker. Swish to say the least.
5. Create a feature with open Ikea kitchen shelves
To store all your jars, you are obviously going to need some open shelving. Open shelving is a really quick and easy way to add a load of interest to your kitchen. Not only is it a practical storage solution, but open shelving units look gorgeous too. Just fill them with your best crockery, lovely knick-knacks, pots, pans and everything but the kitchen sink - it will look great. We love the industrial look of the Kungsfors Ikea kitchen storage which is really affordable, too.
6. Add Ikea kitchen hooks for handy extra storage
Think you can't squeeze in any more kitchen storage? Think again. Kitchen rails – to be completed with hooks – are perfect for popping above a stove, flush to your kitchen counter or at the end of your cabinets to hang pots, pans, chopping boards, tea towels, and everything that you need within reach but out of your way! Depending on the style you choose, you can add cute rustic feels or contemporary chic vibe to your – very organized – kitchen in no time with this nifty addition.
7. Turn spice racks in handy Ikea kitchen storage
Love this spice rack idea by @life_at_number_20. Paint them to match the rest of the kitchen! All you would need would be a tester pot and a small paint brush to make them more of a feature in your room. We like how one as been flipped here too to provide a place to hang a fruit and veg bag – pretty and practical! One of the best IKEA hacks around!
8. Use an Ikea pegboard as multi-purpose kitchen storage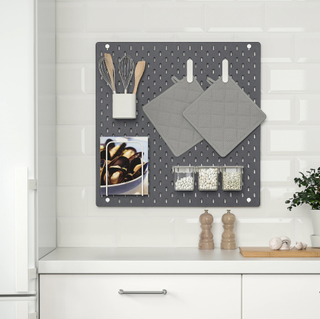 So, the truly great thing about this simple piece of Ikea kitchen storage is how flexible it is. You buy the Skadis pegboard and can then add on loads of accessories to customise it to meet your needs. When it comes to kitchen storage, you can use the Skadis to keep all your most-used bits within easy reach – use a Skadis shelf for herbs and spices, a Skadis pot for your utensils and a Skadis letter holder for your well-loved cookbooks.
Read more: