After some clever gym storage ideas? We've done the leg work for you and listed the most beautiful and practical gym storage solutions below.
Home gyms are becoming ever more popular, and with good reason. It's more convenient, less intimidating and less expensive in the long run. Plus, your home gym doesn't close in a pandemic. But where do you store all of that gym stuff?
With the holidays upon us, we'll all be eating and drinking too much, and when the new year rolls around, we'll be vowing to hit the gym and renewing our unused memberships again. Instead of making another unrealistic new years resolution, try purchasing some home gym gear, implementing a few easy home gym ideas and develop a healthy habit of working out in the comfort of your own home. It's cheaper than a gym membership in the long run and with the smart gym storage solutions listed here you can work out in just about any space.
Kyle Risley, health expert and CEO of Lift Vault advises, 'When it comes to building the perfect workout area, the most important thing to remember is use as much vertical storage space as possible. A lot of workout equipment is heavy, and therefore can't be stacked on shelves. However, it's important to stack what you can so different pieces of equipment don't cover your floor and capitalize on your walking space.'
11 gym storage ideas to suit any workout space
Working out at home does come with a whole horde of bulky, garish, heavy equipment that will take over your house if you don't keep an eye on it. But clever storage can turn any spare space into an elegant exercise area.
Whether you have a dedicated home gym or you're trying to double up and work out in your home office, you need ways to stow away equipment when it's not in use. Take a look at these super stylish gym storage ideas for some gym-spiration.
1. Soften it up with baskets and boxes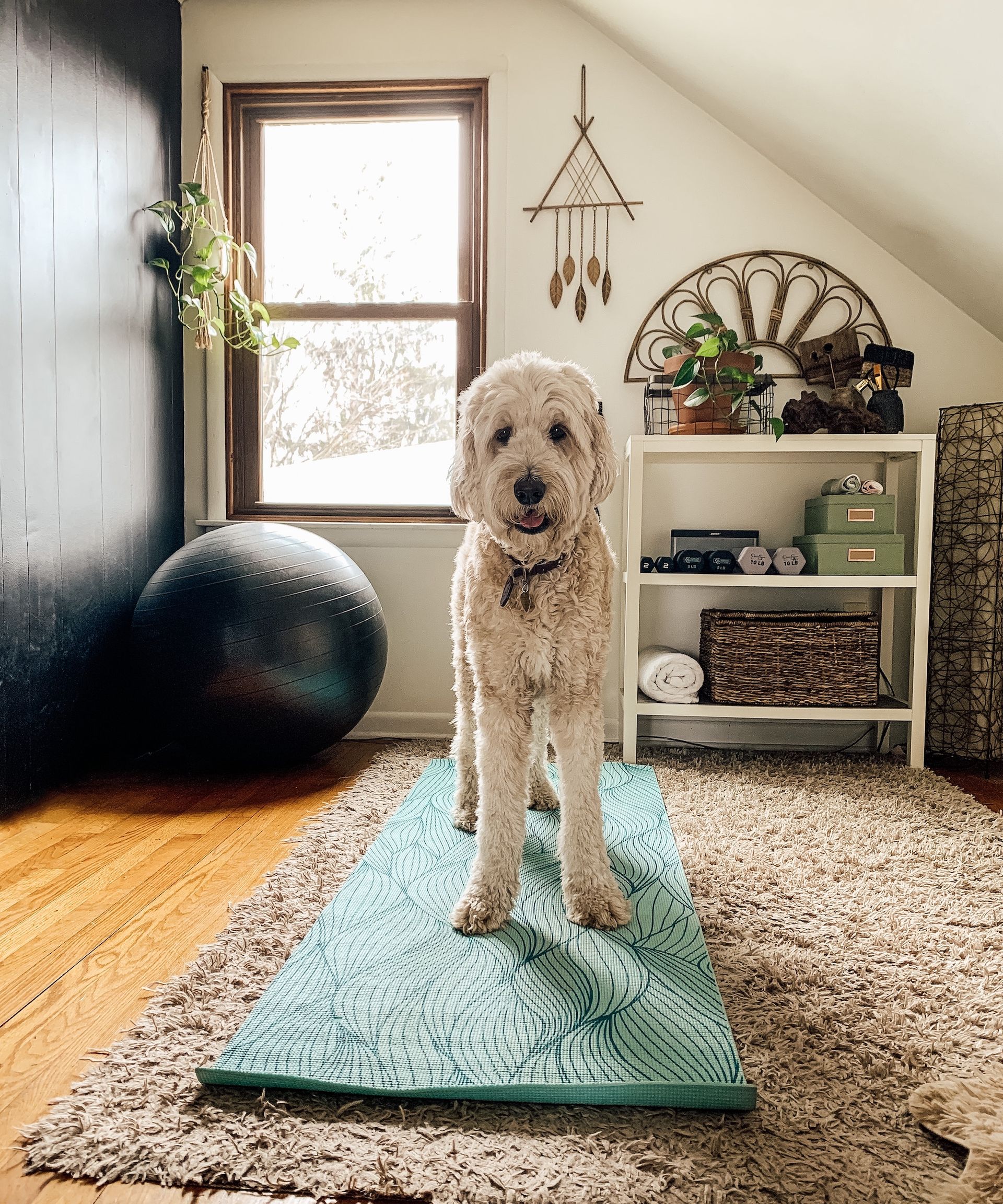 Gyms don't have to be all lockers and weight racks. Soften it up by using baskets and boxes to store your home gym equipment. By using cute storage solutions, your equipment can fit into any room in the house. If your home gym area is a beautiful, cozy space, it makes you happy to be there and more likely to work out.
We absolutely love the home gym pictured by Holly @updatemycape. The macramé plant, stylish wall hangings and minimalist shelving ideas are gorgeous and the doggie completes the look.
2. Peg it on the wall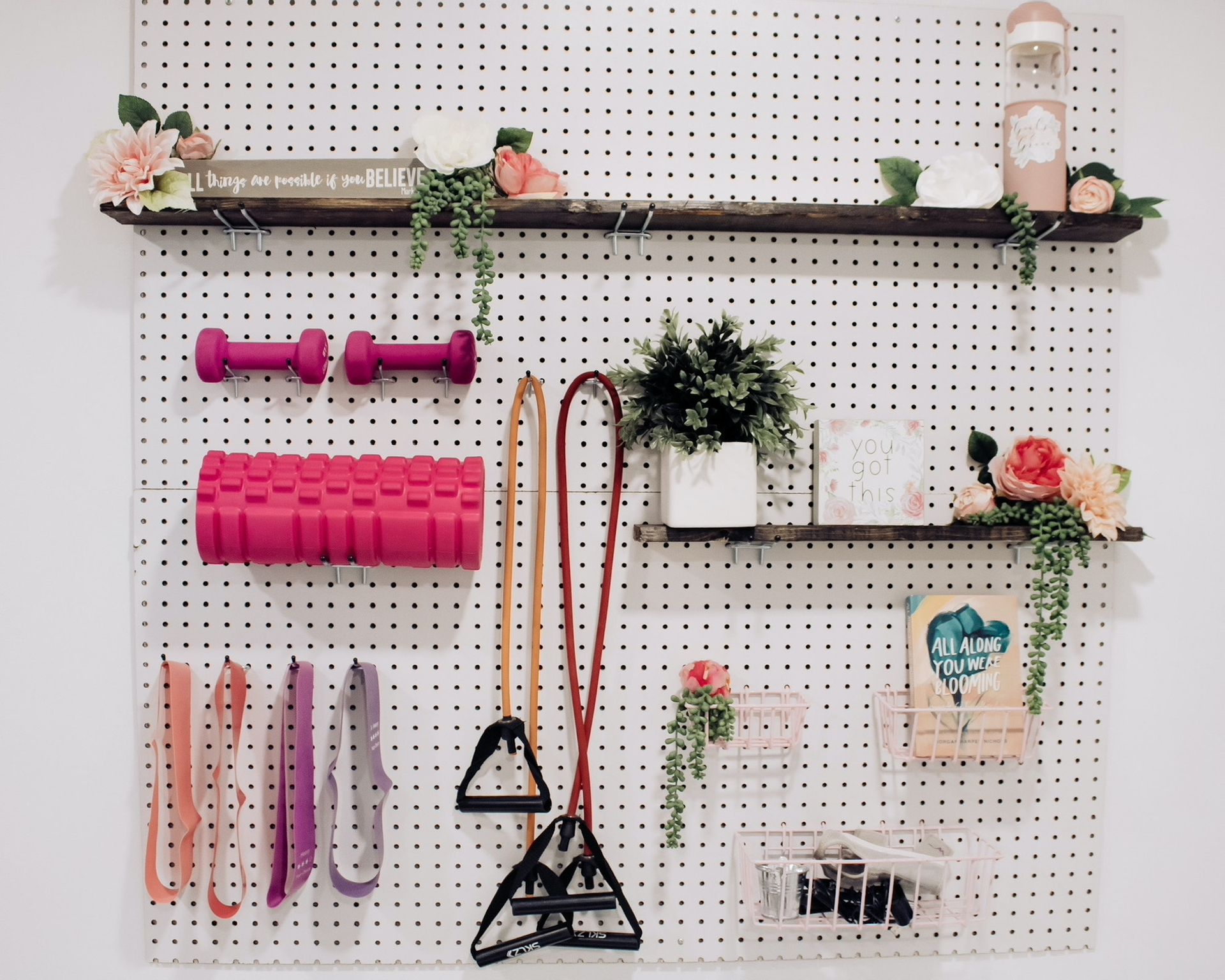 This beautiful peg wall solves all of your gym storage needs in one neat spot, especially if you're needing small home gym ideas. You can easily create hooks for resistance bands, foam rollers, yoga mats or dumbbells and add shelves for cozy plants and motivational signage to get you in the rhythm. You'll find a similar peg board at IKEA.
We especially love the pink gym gear that @_megortiz has used in her gym pictured. Try to pick a color scheme and stick to it to recreate this look.
3. Make or buy a yoga mat rack
We love a home yoga sesh, but shoving yoga mats into a pile in the corner of the room doesn't exactly compliment our living room decor. This beautiful shelf from Rustic Designs, available on Amazon, is the perfect solution. Transform your yoga mats into part of your decor by displaying them in a beautifully organized way on this rustic shelf. You can pop yoga blocks on the top shelf and hang towels on the hooks too. Add a plant or three and some cute signage and your gym equipment can become part of the furniture.
You can also make your own yoga mat rack if you're feeling creative. Check out these instructions from Gray House Studio.
4. Organize your gym in a closet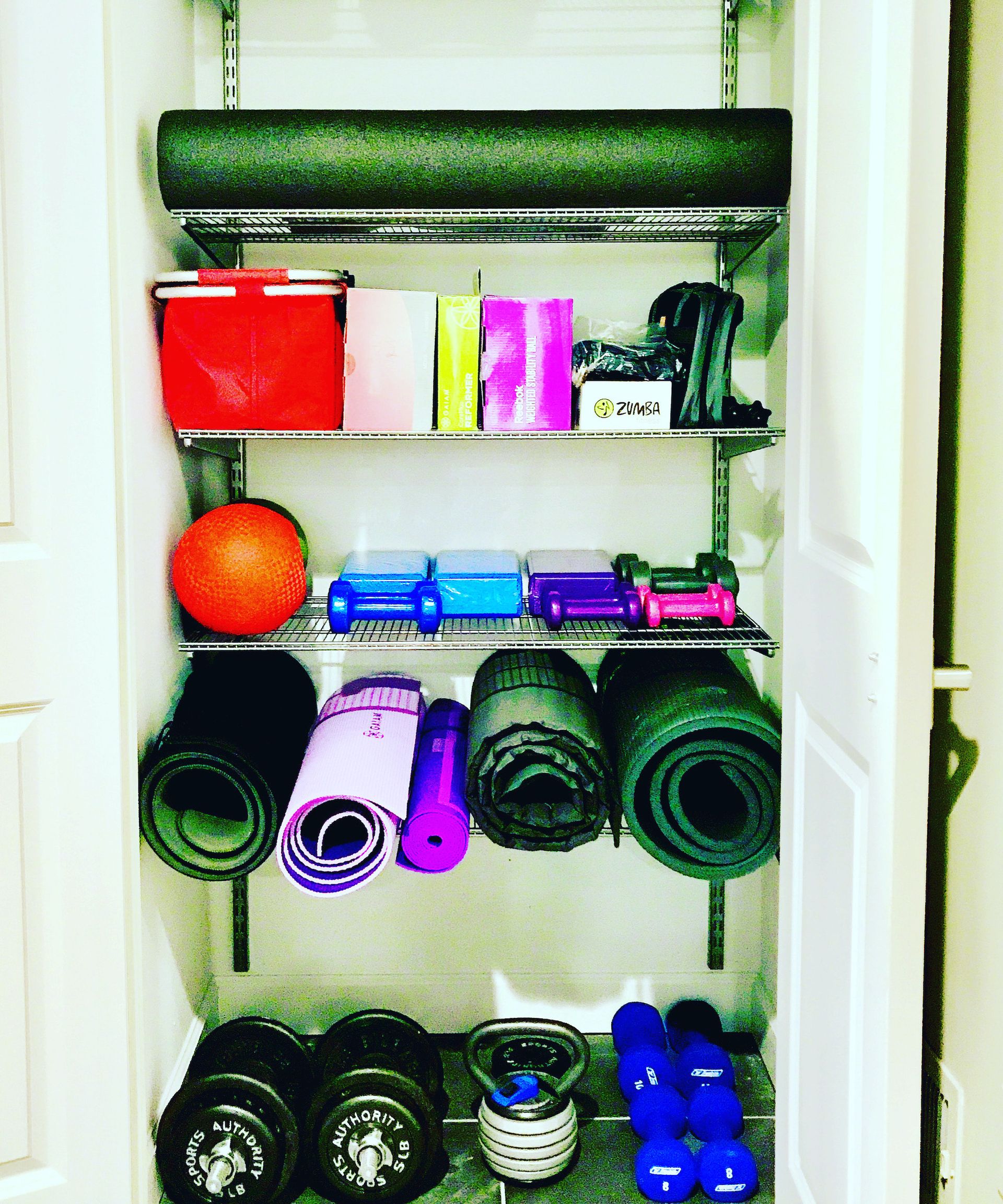 If you have some bright, garish, heavy equipment like we do, then building some robust shelving into a closet to stow it all out of sight is a great idea. You can design a specific space for everything like Amy has in this closet pictured. She is a professional organizer at Let your space BLOOM and she says, 'make it easy to find the things you need, so you have more time to do the things you love'.
We wouldn't say we love working out, but having all our equipment organized can certainly help us learn to like it.
5. Use your gym gear as decor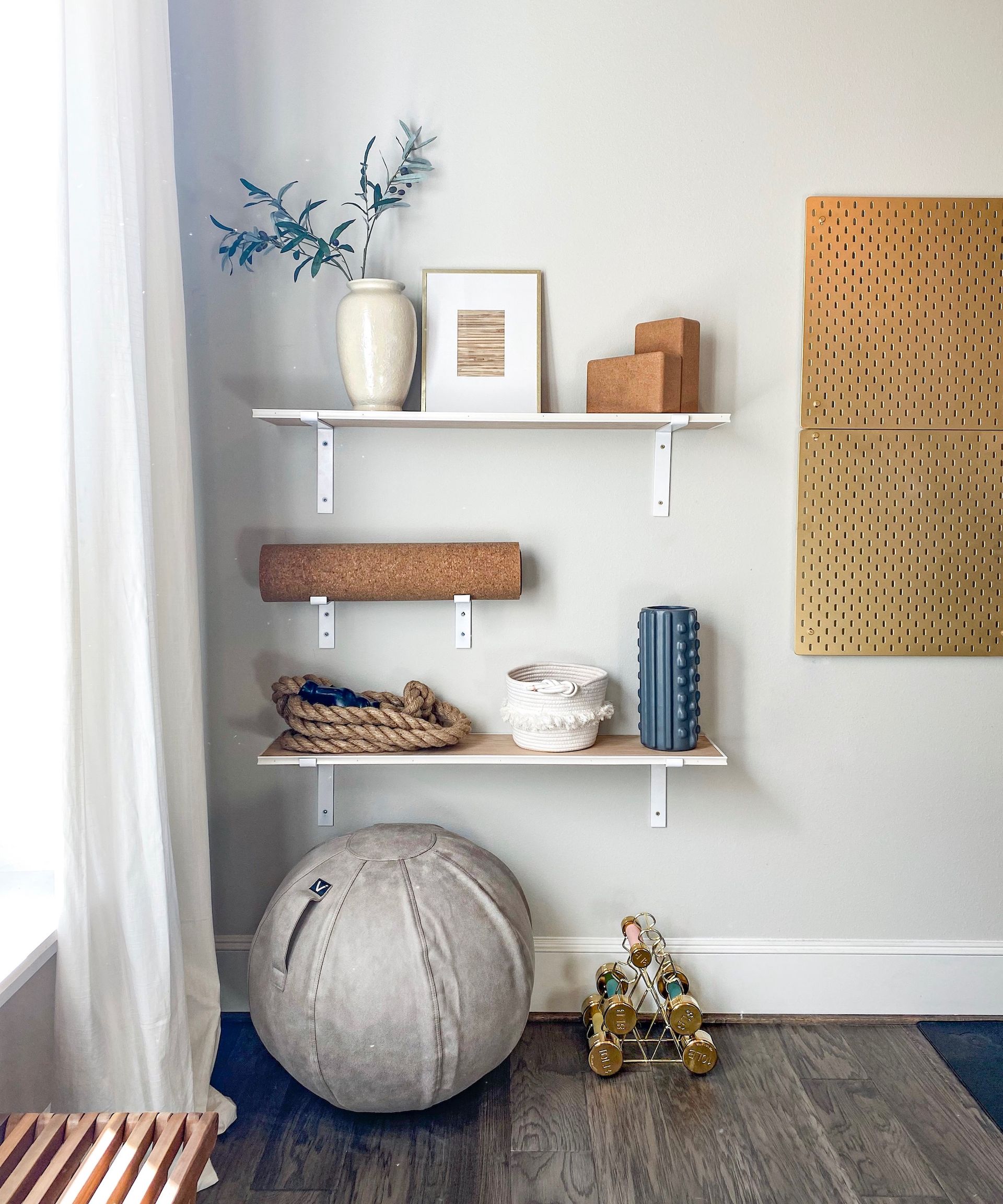 Get gorgeous gear like this cork yoga mat from Walmart and display it like art on some DIY shelving.
If you purchase beautiful equipment, it's a waste to hide it away. Add some artwork, a vase and any other object d'art that fits, like Cara from Neverskipbrunch.com has in the home gym pictured, and you've got yourself a home gym that will wow all your friends.
6. Or splash out on smart home gym equipment
Okay, so this isn't exactly storage but there is no need for much home gym equipment with smart technology bringing live workout classes to your home.
The new Mirror (pictured) literally takes up 2 feet of space and it is a beautiful piece of furniture, so there is no need to stow it away. You can do all sorts of workouts from yoga to cardio and Mirror will monitor your form and correct you if you go wrong.
Peloton has also created some super popular smart gym equipment that is very on-trend right now. The peloton bike has become the home gym equipment to have in your home. If you are lucky enough to own one of these, flaunt it! It can look great in the corner of your living room. Other great exercise bikes are available...
7. Get nostalgic with classic locker room style storage
If you're not into the smart tech and you're feeling more old school, embrace classic locker room vibes with this Novogratz two-door metal locker storage cabinet from Overstock.
It adds a fun pop of color and is the perfect, practical space to store all of your gym equipment. It has two sturdy shelves that can support up to 20 lbs, and heavier pieces of equipment, up to 60 lbs, can go on the top. There are other shapes and sizes available so you can mix and match to complete the look.
8. Make a DIY towel rack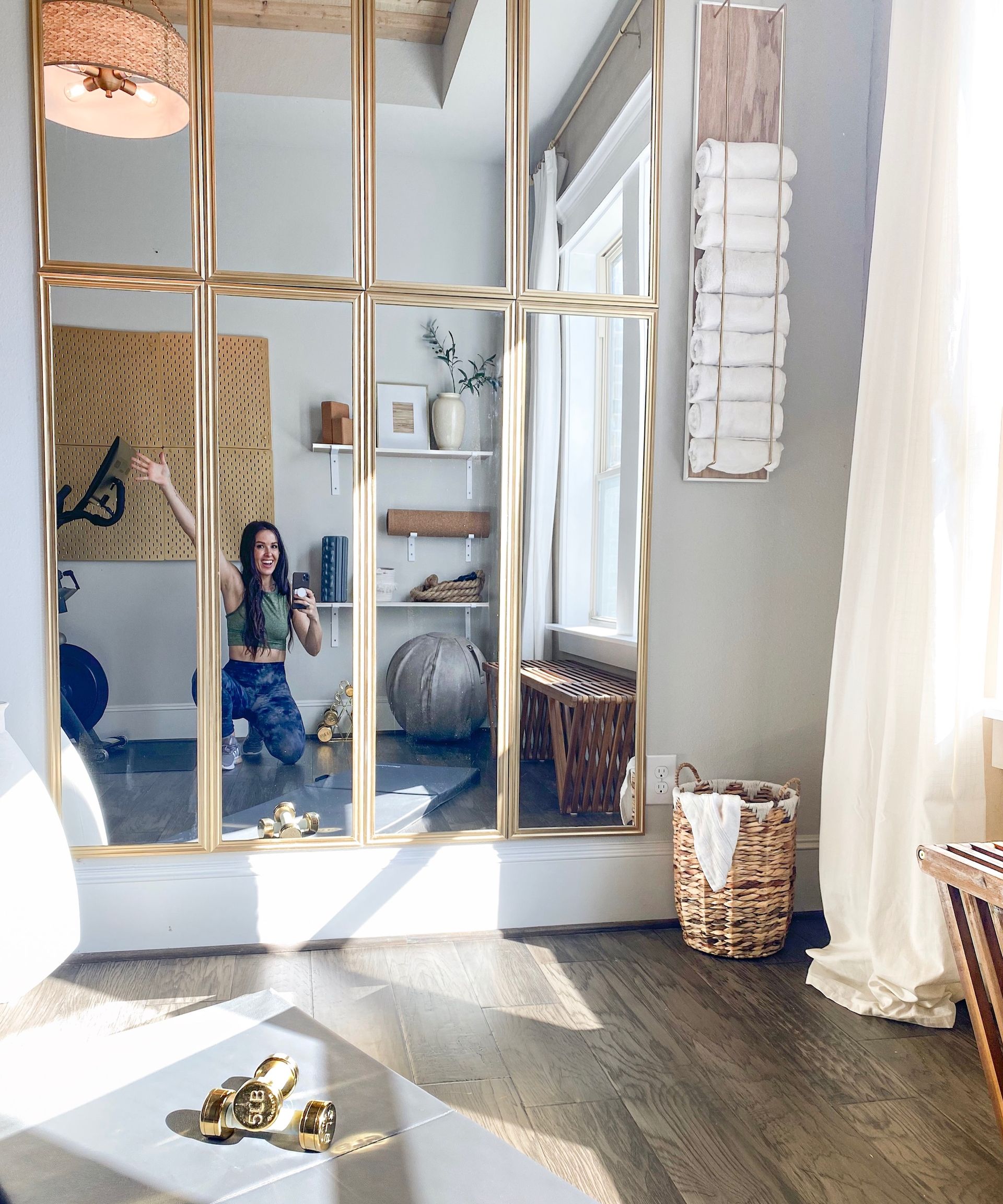 This DIY towel rack is a fabulous idea. The materials cost a mere $20 and the result is beautiful and useful. Add a basket for used towels underneath and you're on to a winner.
We also absolutely love this DIY mirror wall made with eight framed door mirrors. It's genius. For instructions on how to recreate the look visit neverskipbrunch.com.
9. Style a shed gym studio
If you really don't have space for your gym equipment in the house, why not head outside for the solution. But rather than chucking all your gym equipment in haphazardly, consider putting your entire workout space in the shed.
A shed is a great cool, quiet spot away from the house where you can crank your favorite workout beats and get your sweat on.
If you have the budget, you could have Studio Shed create a custom gym in your yard like the one pictured. However, you don't have to go all out to make use of your outdoor space.
You could keep it simple and budget-friendly with a mat and some weights that you can store on the shelves in your shed, leaving room for other items to be stored there too.
10. Store all your gym gear in one
This all-in-one home gym storage rack is built to store dumbbells, kettlebells, foam rollers, yoga mats, straps, resistance bands and probably just about any other gym equipment you can think of. It really is your one-stop gym shop. Find the super affordable storage rack by Arlmont & Co. at Wayfair.
Often shelves are not strong enough to store many weights so, if you have heavy kettlebells or dumbbells, purchasing something that is specifically designed to store gym equipment might be a good idea.
It also has wheels so you can wheel it into the living room when you're working out and wheel it out of the way when you're done.
11. DIY a mobile workout bench with storage
We love this great DIY home gym storage solution by Jaime Costiglio. It looks great and it's functional. There's so much you can do with a workout bench, from bench presses to hops and jumps. Check out how to make it on Jaime Costiglio's website. It will take a little effort to build, but you can customize it to fit whatever gym equipment you like.
If you aren't feeling very DIY, you can always purchase a bench with storage and add some storage dividers like these from Amazon to create spots for different pieces of equipment.
Make sure that you choose a bench that is strong enough to store heavy equipment and to be used as part of your workout too. You can simply roll a yoga mat out on top to protect it and you're all set.
Where should I put home gym equipment?
'Multi-functional storage solutions can be integrated into your home gym, for example in the form of benches which can act as a piece of equipment while storing your equipment,' says Matt Flanagan, CEO of e-Bikes Direct.
'Utilize wall space where possible, for example floating shelves or shelving units, as they offer an area to store your equipment safely once you've completed your workout.'