Looking for garden ornaments to cheer up your outdoor space this spring? A garden ornament can liven up a small patio just as easily as it can a large garden. What type of ornament you choose is largely down to your personal taste, but as a general rule, we'd say that quaint statues, animal ornaments and gnomes look better in smaller gardens with patios, while large spaces benefit from regal-looking full size sculptures, large mirrors, obelisks and more unusual garden ornaments. Use these ideas to add that personalised touch to your garden.
For more inspiration, visit our garden ideas page.
1. Garden gnomes will cheer up a small garden space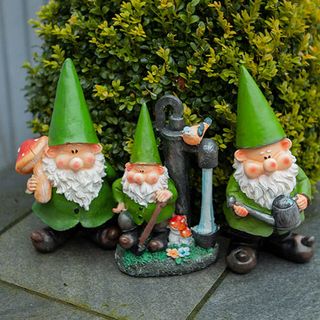 The marmite of garden ornaments, garden gnomes can look very cute in small patios, on top of garden dining tables, or tucked amid tall grass or containers. If you choose to go full Disney with your gnomes, then they can easily become the centrepiece of your garden. Don't worry if you're not into garden gnomes, we've got more ideas to come...
The Woodland Wilf Goes Foraging (above) are from You Garden.
If you want a more restrained take on the garden gnome, look for stone or ceramic designs that are unpainted, such as the Large ceramic stone effect gnome from Amazon.
2. Introduce garden angels for a romantic look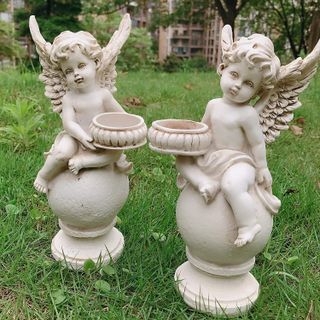 What could be more romantic than a pair on angels in your garden? Traditional style gardens that are on the larger side will look especially lovely with an angel statue. Adult angels or religious-themed sculptures tend to look more solemn; for a more playful look, cherubs are a better choice.
The Aifeer Set of 2 Cherubs from Amazon are made from resin, which makes them more affordable than real stone.
3. Go big (and zen) with a garden pagoda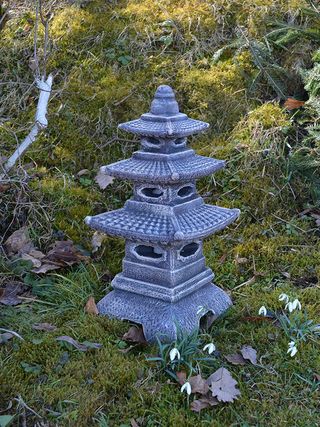 Whether you're styling a full zen garden in the Japanese style, or you just want to introduce a few Japanese-style elements into your garden, a pagoda creates a lovely focal point in overgrown and woodland-style areas.
The Japanese Stone Lantern Pagoda is made from cast stone, making it very stable and durable.
4. A garden statue doesn't have to be large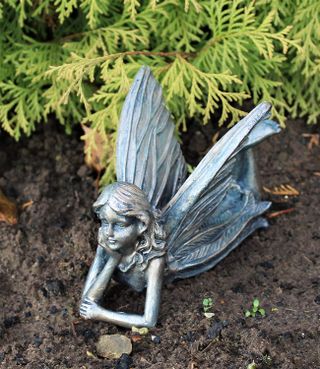 Think your garden is too small for ornaments? While a human-sized statue will indeed be too large for a smaller space, a fairy-sized one will fit in nicely no matter the size of your garden.
The Lying Fairy garden statue has a pretty bronze finish that gives it an elegant look.
5. Add a garden wall sculpture to enhance walls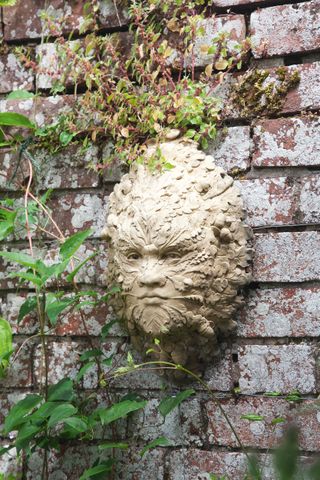 To prevent a walled garden from looking too sombre, add wall sculptures. From stone ornaments to face masks, walls are a great opportunity to personalise the garden in much the same way you would a living room. Animal garden ornaments work particularly well on walls so don't be afraid to experiment.
6. Create drama outdoors with a garden mirror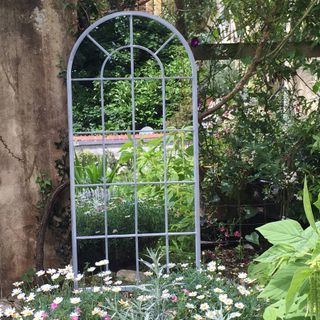 Our only tip for choosing a garden mirror is to go as large as the space will permit. Mirrors are invaluable for creating the illusion of more space, and can make your garden look much larger than it is. Go full-height for the best effect.
The Outdoor Arched Window Mirror from Not on the high street is our favourite.
7. Create a pretty accent with an ornamental bird bath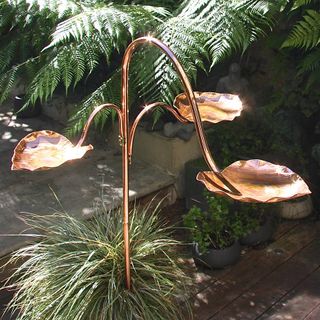 Bird baths are a great way to help local wildlife, but they're also an excellent opportunity to add a garden ornament. Look for multi-tiered and detailed designs in cast iron, bronze, or copper for the best look.
8. Make garden bunting work harder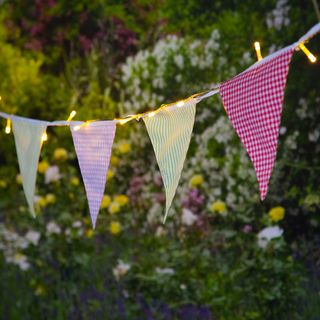 Garden bunting looks very pretty for a daytime garden party, but the problem is that it tends to then look quite sad once it's dark. Avoid this issue by getting bunting with a built-in string of LED lights.
This LED bunting is from Waitrose Garden.
9. Add traditional charm with a weathervane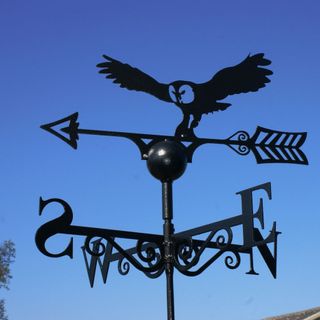 Perfect as a large garden ornament, weathervanes look stunning on rooftops, garden fences, and post boxes. These were once seen on all sorts of buildings, residential and commercial, so why not bring back the trend this summer? Choose one with an elaborate design for the most stunning effect.
The Owl weathervane from Waitrose Garden gets out vote.
10. Install a garden obelisk for climbing plants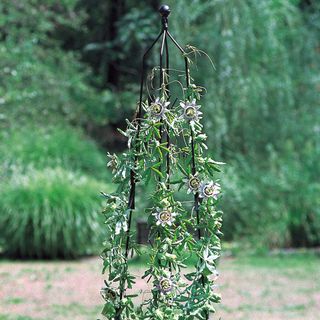 If you haven't a garden wall to train your climbing plants, gets an obelisk instead. You can get metal or wooden obelisks, but we think metal ones are much more elegant. Use to train up clematis, jasmine, and honeysuckle.
The Classic climbing column from Waitrose is one of several great designs they're currently offering.
Read more: