Easter is a time of togetherness, sharing, and abundance – as we celebrate spring awakenings and sunshine everythings'. And there's no denying that the Easter Sunday lunch (and chocolate eggs in between) is the highlight of the holiday. With this in mind, serving up the most styled Easter table decor ideas, to welcome guests with, is a must.
Be inspired to dress your table to impress with centerpieces and more stunning Easter decoration ideas, sure to transform your dining space into a stunning seasonal display. With joyful pastel shades; fresh and dried, meadow-inspired florals; layered relaxed linens and more personality-packed details, this is DIY Easter decor at its best.
1. Choose a pastel palette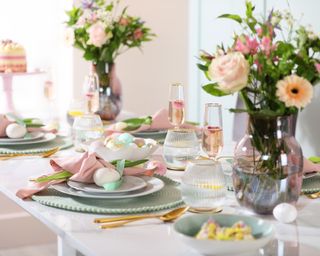 Start with a fresh white table as the base and then color coordinate the décor with pastel tableware and fresh floral bouquets.
When dressing a spring table for Easter, Rebecca Snowden, interior style advisor at Furniture And Choice recommends three key looks: A pastel palette for those wanting a fresh energetic finish; gold accents for a modern look, and if you want a memorable setting, consider adding personalized eggs to your table setting.'
'A white marble table is a luxe choice for an afternoon of elegant dining. Choose tableware in a mix of pink, light blue, or mint green to go with a colorful spring bouquet.'
'Since the table setting is in a pastel palette you can even match the menu to go with the Easter theme. Set the mood with a fluffy pink butter cake, macarons, and flower ice cubes. The mix of pastel tones creates a light and joyous effect that nails the Instagram aesthetic.' Snowden continues.
2. Add centerpieces full of texture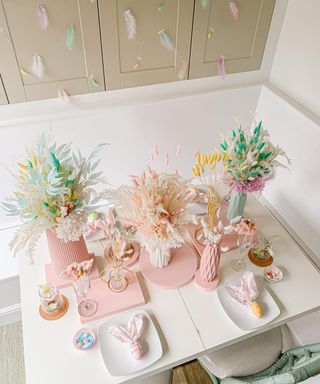 Kel Harmer, interior stylist and entrepreneur of Oh So Kel, shares how chic Easter crafts can make an awesome centerpiece.
Harmer suggests getting the whole family involved with DIY floral hula hoops or paper plate wreaths that are perfect for the kids to create.
Centerpieces can be the star of your seasonal display: 'A collection of vases and everlasting blooms on geometric pastel mats along the table creates an abundant display of pastel perfection which is so on-trend right now. Alternatively, a faux grass or floral wallpaper runner with spray-painted plastic bunnies or egg-filled vases work just as well for appealing to the kids.'
When it comes to place settings for personality: 'Napkins wrapped around decorative eggs fixed with ribbon make the perfect bunnies! Paper plate treat holders are a cute idea for the kids, or a DIY glass cloche filled with little nests works well.'
Make cute treats: 'Rosemary added to the ends of croissants makes the most adorable carrot croissants.'
'Chocolate bunny drinks cups are always going to be a winner! Simply cut off the ears and add a straw! An alternative to chocolate nests is candy floss topped with mini eggs. They look super cute in paper cases but also on the top of glasses and they look beautiful served on a tray for an extra pop of color.'
3. Papier mache bowls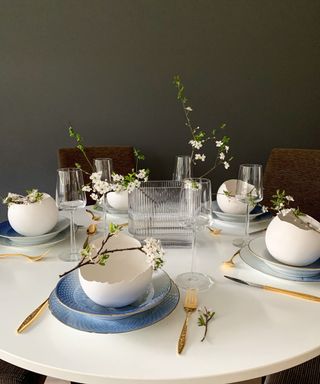 Homemade Easter decorations will simply add a wholesome finish to your space and with this in mind, Wren Kitchens says how a large showstopping vase makes a great centerpiece, and to recreate that epic dinnerware: 'To create these decadent egg shapes, use a balloon and mold some papier mache around it. This is a fun activity that even the kids can enjoy. Remember, having rough edges gives them a hatched-egg effect. Accessorizing with gold cutlery offers that luxury feel.'
4. Introduce subtle gold accents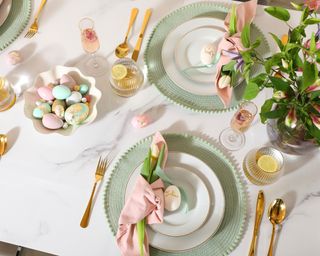 Celebrate festivities with an elegant and whimsical pastel palette in the dining room – inside or al fresco. Match gold accents with pastel tones to create a polished and modern look.
'Opting for gold cutlery brings a gorgeous touch to the décor. Gold-plated tableware such as plates or glasses is also a subtle way to introduce these chic accents. Aside from that, you can also introduce gold-leaf Easter eggs. Dye the eggs in different pastel colors, then stick gold foil on them to create a gold leaf effect.'
5. Nod to a rustic display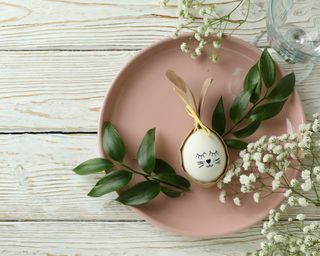 Home experts at Wren say: 'If an understated yet put-together look is more your thing, try this sweet and simple tablescape style. Contrast your rustic timber tabletop with some dusty pink plates. Top with some hollowed-out eggs and create some bunny ears out of brown paper with a ribbon tied at the top. Get the kids involved and draw some cute faces on the eggs to pull the whole look together. Adding some foliage in a complementary color will add an extra dimension to your table to really WOW your guests.'
Recreate the look with the dusty pink dinnerware collection, Lupita in Melon from Anthro.
6. Personalize Easter eggs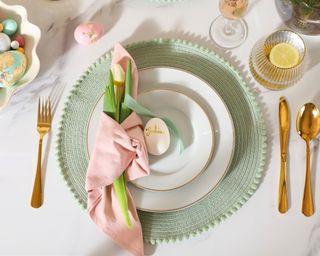 Create a memorable table setting with chic personalized details. For example, decorate with Easter egg placeholders by painting each guest's name in gold to match the décor.
'This Easter decorating idea adds a personal feel to each table setting. Complete the look with a unique napkin folding and flower bouquet. Fold the napkins in the shape of a bouquet so that you can add fresh tulips or other flowers which your guests can take home after the meal.'
Recreate the look with your own tulips or florals from your cutting garden.
7. Create a modern pastoral display with spring florals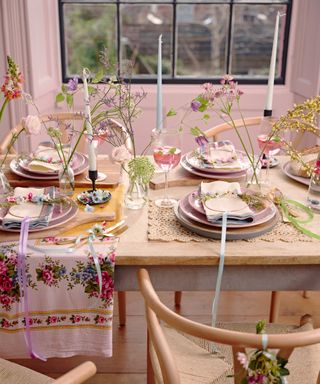 Fill your table with the fresh vitality, and the cheerful hues of spring with wild meadow flower stems staggered along the length of the table at varying heights – for added interest and fresh texture.
For a modern pastoral nod, layer relaxed linens, rustic wooden boards, and artisanal crockery in pretty pastel shades. DIY floral wire hoops make delightful place settings, finished with trailing colored ribbon. Fini
To make, simply attach a mixture of small, dried flower heads to a small wire hoop (available from any craft store) using craft glue or a glue gun. Finish with a length of ribbon - and voila, the prettiest of place settings to delight guests.
Should I dress my Easter table formally or relaxed?
For a modern take on Easter tablescape styling, incorporate layers, different textures, and personality-packed details. Think less formal and matchy-matchy, and more relaxed and tactile, with fresh or dried (or a mixture of both) floral arrangements in wild abundance; lived-in linens, and personalized place settings. Stagger heights, and choose an on-trend tonal pastel palette, or take a striking color block approach for a more maximalist look.