These deck decorating ideas mean an easy update without too much effort. Chances are, if you're sat out on your deck, you're having a lovely time. Taking a moment of calm outside with a coffee amidst the morning rush, sharing dinner with friends in the sunshine, or huddling round a fire pit, our decks are the reserve of good vibes only please. And with that, comes our desire to decorate them accordingly.
The best deck ideas will greatly depend on your specific space – where it's located in relation to your house and the sun, how you use it and how you want it to look. If you want a party space, for example, prioritize fitting in plenty of seating and room for the best grill, but if you want a quiet sanctuary to relax, make plants and flowers and comfy furniture the priority.
1. Create ambiance with festoon lights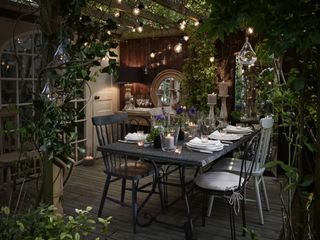 If your decked area gets a little lack lustre once the sun's gone down, add in some twinkly fun with outdoor lighting. Whether you string up festoon lights onto a structure as shown here, or you simply drape them across bushes or trees, festoon lights bring instant whimsy and joy for a mystical evening on your deck.
2. Curate clear zones on your decked area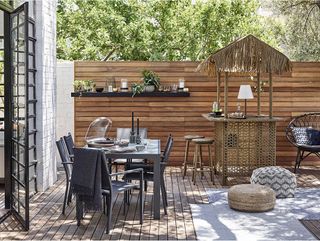 If you're lucky enough to have a large decked area, or maybe your whole garden is decking, it's important to zone your space so that each individual area has it's own clear purpose. In the above image, a Tiki bar from John Lewis & Partners designates the party area, the dining set offers a relaxed entertaining space closest to the house, while layered up outdoor rugs and pouffes create a chilled-out space for laying in the sun or playing with the kids.
Top tip: build visual layers into your scheme to help zone your space. These three zones make use of the floor, the bar reaches up high above your head and the table is the middle ground acting as a happy medium between the two.
3. Instantly update with an outdoor rug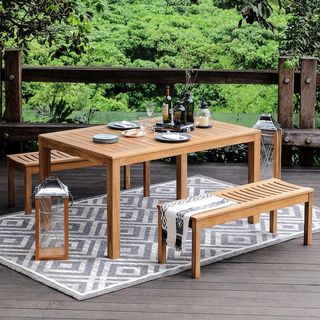 Decks are by nature angular and hard. While a clean-cut, defined space can make decorating easier, it can also lead to a space that feels quite uniform and formal. Very practical, but not massively welcoming. Use an outdoor rug to break up the wooden surface and create a clearly define space for chilling out.
This patio dining set from Lowes is simple in design and brought to life by the patterned outdoor rug beneath.
When choosing an outdoor rug for your deck, think safety first. 'Slip resistance is a big concern when you're talking about decks, so consider adding in a waterproofing solution,' says Paige Anderson, interior design architect at Nitido Design. Always check your outdoor rug has an anti-slip coating before buying for your deck.
Top tip: placing the table at an angle creates a more relaxed vibe as it prevents everything feeling perpendicular and overly structured.
4. Design an alfresco cinema space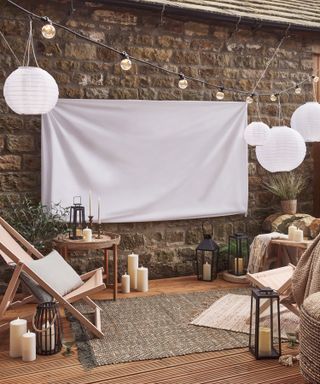 Deck decor works best when your space has a clear purpose, and that definitely applies here. An outdoor cinema really feels like the ultimate luxury, but in fact it's incredibly easy and inexpensive to create. One essential thing that you need is a plain flat wall to hang your screen.
'Start your alfresco cinema styling by putting up a DIY screen. Choose a white bedsheet or tablecloth and tie each corner up with string against a wall. Set your outdoor projector up and then it's time to decorate,' says Lucy Kirk, creative and photography manager at Lights 4 Fun.
In this lovely garden, the garden chairs, rugs and layers of outdoor faux candles create a cozy vibe that'll beckon you to snuggle up on a summer's evening.
5. Blend your decking into your seating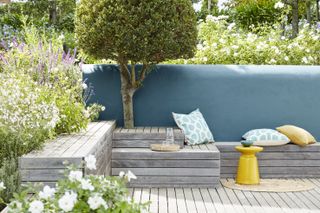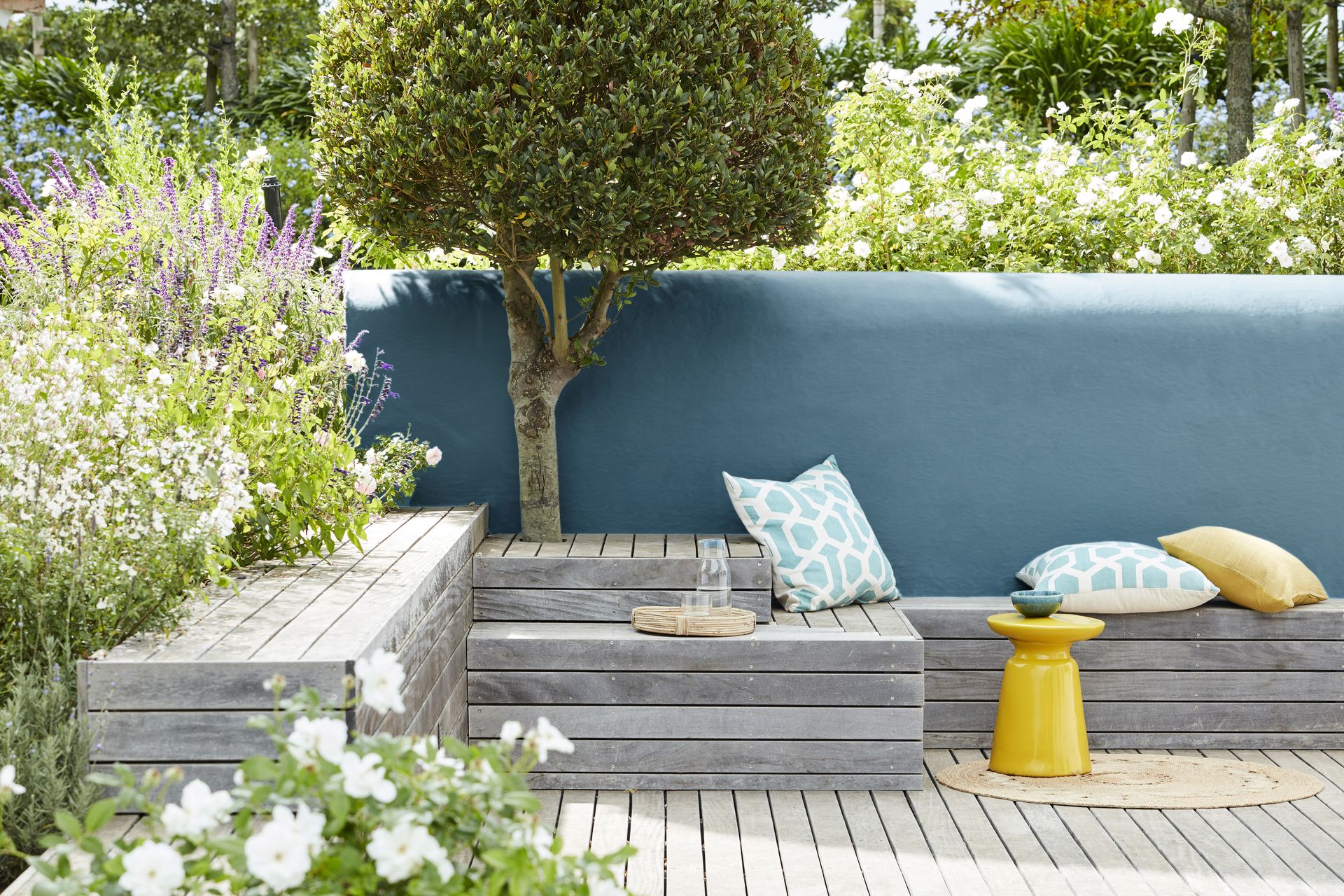 Another way to make the most of the space on your decking area is to choose built-in seating. Choose the same color and style of wood for both your flooring and seating to visually blur the boundaries between the two. This is a great way to create ample seating without having to buy loads of chairs. Cozy up the space with some colorful outdoor cushions and you're ready to invite the gang round.
6. Frame your decked area with a pergola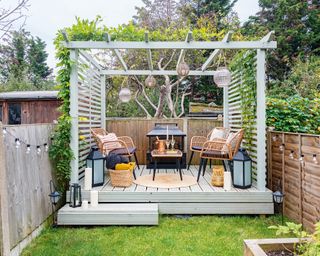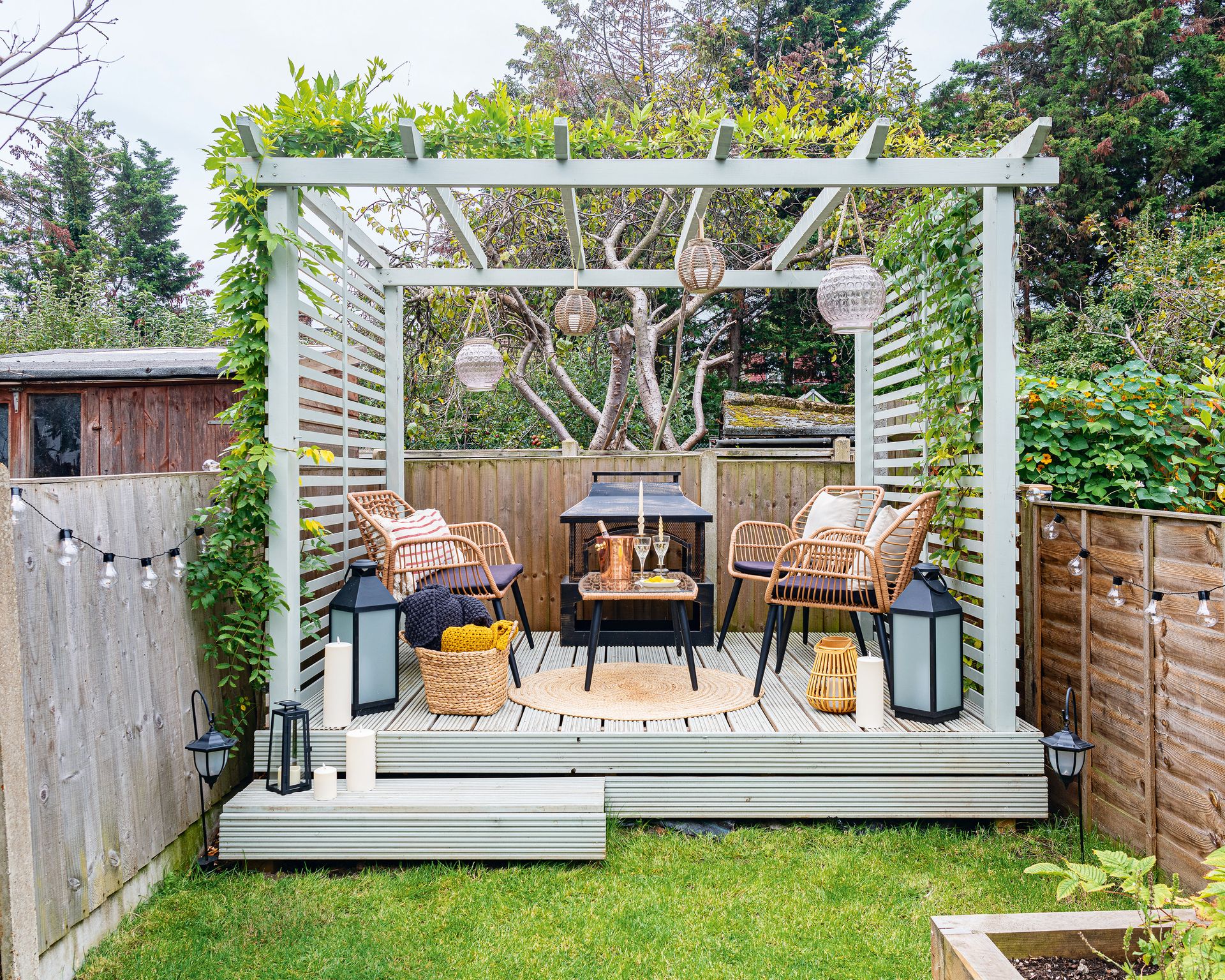 If your decked area is at the bottom of the garden, adding a pergola is the ideal way to turn the area into a feature that beckons you to spend time down there. A pergola provides the best of both worlds – all the cozy and cocooning vibes and the pendant-light-hanging-potential of a room, with the sunny, bright and airiness of being outdoors.
'If there are areas of your deck that aren't shaded, consider adding pergolas or awnings. This will help keep the space cool and comfortable throughout the day. Also, think about adding privacy to your deck space. Consider cover ideas such as walls, fences or shrubs, so you'll be able to enjoy your outdoor space in peace and comfort,' says David Mason, interior designer and owner of The Knobs Company.
7. Make stepping stones from leftover planks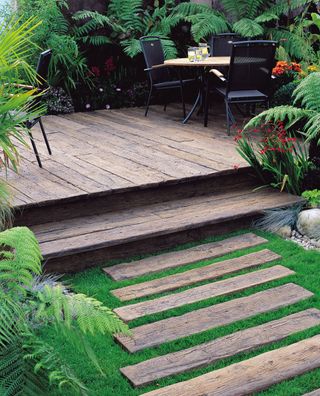 There's something so whimsical and childlike about stepping stones and the simple joy of stepping on each one, but they're really practical too – especially in winter. Chances are, you'll have a few planks left over once your deck is complete, so put them to good use by creating a little pathway across your lawn. This dark, rugged wood creates a rustic, jungle-like vibe and we are here for it.
8. Build a shelter and enjoy your deck all year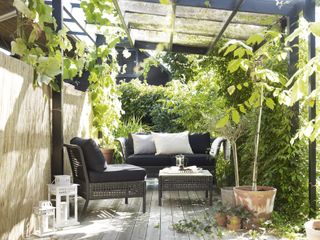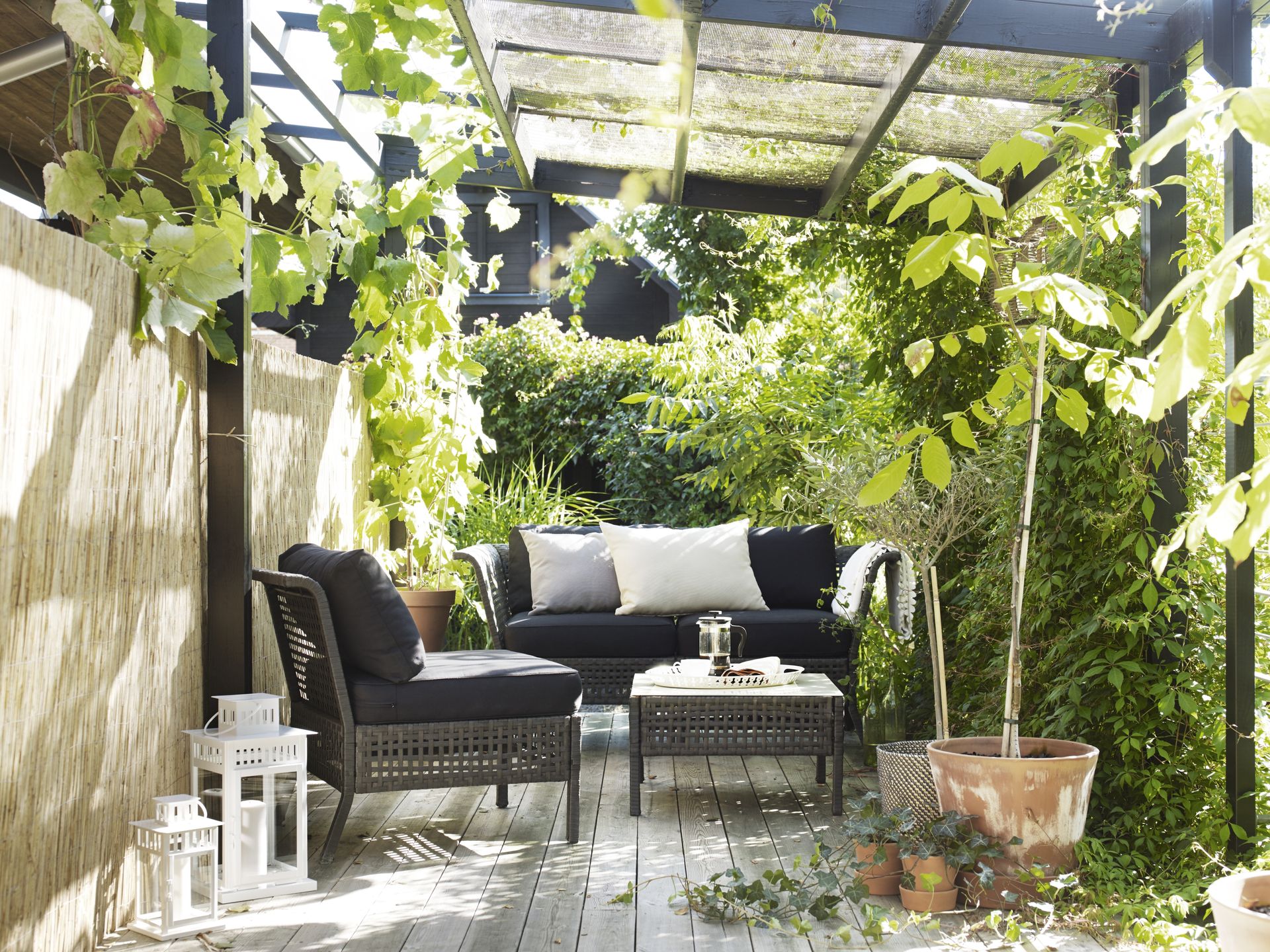 Building a new decked area isn't cheap, so maximize how much you can use your space by adding a water proof-cover. The benefits of spending more time outside are endless, and there's something quite calming about sitting outside when it's raining. So create an extra room in your home at a fraction of the cost of an extension with this clever design idea. Rattan garden furniture is a great choice for a comfy and cozy room and it's a very durable material too.
9. Place your decking diagonally for a modern twist
Break the rules and add a contemporary edge to your space by laying your deck tiles diagonally. We love how this gives this garden a fun and funky twist, and it works to visually enlargen the space too.
10. Incorporate lighting into your decking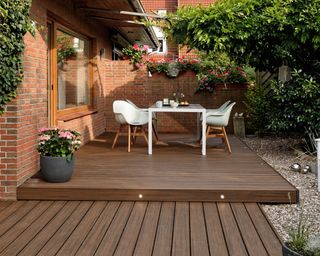 When planning your decked area, you should consider lighting from the start of the planning process. Built-in lighting is not only ideal for keeping the alfresco party going until after sun set, but it's also essential for security. Building spotlights into the side of your deck like this creates a pleasant, luminous glow, and it's easy to simply remove the end plank if the lights need replacing.
How can I make my small deck look pretty?
The easiest way to make your small deck look pretty is to introduce plants and flowers. If you're not very green fingered and have minimal space to work with, vertical planters like these from Amazon are a great way to incorporate lots of flowers into your design, whilst taking up no floor space at all. You can also embrace container gardening – a few plant pots filled with perennials will add a soft, organic feel to your space all year round. You can also string up fairy lights around your space to create instant prettiness after nightfall.
How can I make my deck more modern?
To make your deck look more modern, rethink your patio furniture. A contemporary metal furniture set in a vibrant color will instantly make your space look cool and refined. The latest furniture designs are simple in form – less is often more when choosing a modern scheme. You should also consider the patterns you choose. For your outdoor rugs, cushions and throws, swap ditsy prints for striking geometrics or keep things neutral, plain and calm.