Keen to explore all of the smartest breakfast bar ideas for a small kitchen? It's easy to assume that in a small kitchen, adding a breakfast bar would be a recipe for total disaster. But, believe it or not, the right-sized breakfast bar (positioned carefully within the space obviously) can actually make the room feel more spacious.
In my old apartment, I had a kitchen diner, which came with a built-in breakfast bar. At first, I wasn't sure how I felt about having a breakfast bar in such a tiny kitchen, but I soon realized just how beneficial the setup was and became low-key breakfast bar obsessed. And, now that I no longer have my breakfast bar, boy do I miss it.
To make fitting a breakfast bar into a small kitchen easier, we've spoken to the experts for all the small kitchen ideas to make the most of your space.
Breakfast bar ideas for a small kitchen
Understanding where to best position a breakfast bar in a small kitchen can be tricky, especially when you don't want to make the space feel any more compact than it actually is.
1. Use an island as a breakfast bar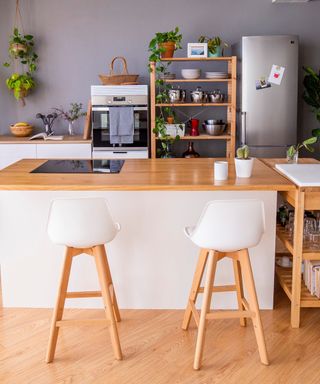 Already figured out where to put a kitchen island in a small kitchen? Then why not use your small kitchen island it as a breakfast bar, instead of taking up even more space with an additional block.
Siobhan Alvarez, lifestyle expert and founder of Fun Family Meals says: "If your small kitchen has an island, use it to your advantage. Extend one side of the island to create a bar overhang. This can serve as a casual dining area for quick meals and as an additional workspace when cooking.
But don't worry, installing an island isn't a lot of work. You can order one online, like this mini island with seating from Wayfair, and then get right to work!
2. Add a fold-down breakfast bar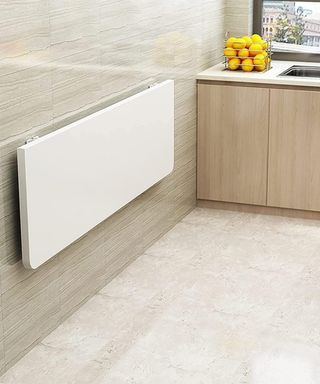 If your landlord approves it, then adding a fold-down breakfast bar to your kitchen, like this wooden folding table available on Amazon, can be a great option.
Alvarez says: "Consider installing a fold-down breakfast bar against one wall. This space-saving solution can be folded up when not in use, creating more room for daily activities. When needed, simply fold it down and add a couple of stools for a cozy breakfast spot."
Siobhan Alvarez is the founder of She Shines Media, the parent company behind the websites Mimosas & Motherhood (a family and lifestyle blog focusing on pregnancy, postpartum, and parenting through the little years); Fun Family Meals (focused on easy, affordable recipes for families); and Budget Baby Budget (focused on empowering families towards financial freedom). She is a mom of three boys.
3. Opt for a wall-mounted breakfast bar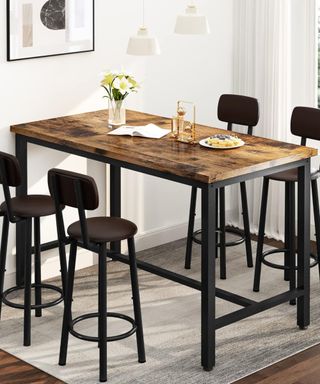 I love, love, love the concept of adding a wall-mounted breakfast bar. No need to worry about floor space, all you need is wall space.
Alvarez says: "For kitchens with limited floor space, a wall-mounted bar shelf is a fantastic choice. Install a sturdy shelf at counter height along an empty wall. Add a few bar stools, like these wooden stools available on Amazon, and you have an instant breakfast bar that doesn't take up valuable floor space."
Jim Olenbush, owner of AustinRealEstate.com agrees: "Squeezing a breakfast nook into a small kitchen can be tricky, but I've seen some really clever solutions that maximize the space. A floating wall-mounted bar is great for opening up floor space. I had a client in a tiny Austin studio do this and it worked so well."
4. Extend your window ledge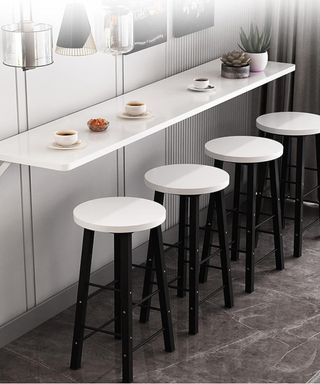 Got an apartment that has a window ledge featured in the kitchen? If so, then you could consider fashioning a breakfast bar that extends out from your window ledge.
Olenbush says: "Extend your window ledge into a little bar area with stools for a cozy window-side breakfast vibe. Saw it in this cool vintage house outside Austin and loved the vibe."
FAQs
Can you put a breakfast bar in a small kitchen?
Yes, it's perfectly fine to put a breakfast bar in a small kitchen. However, it's important to be mindful of the size and shape of the breakfast bar that you're installing and how it fits into the space. Ideally, you want to install a breakfast bar that's going to make the kitchen look and feel like a more efficient place.
Can you use a breakfast bar instead of a dining table?
Yes, you can opt to use a breakfast bar instead of having a traditional small dining table to eat at. A breakfast bar can, in a compact kitchen, help to save space and make the room feel less cramped.
---
When it comes to ideas for putting a breakfast bar in a small kitchen, there are lots of easy-to-do ideas that you can try. Now start planning the rest of your space and see the best tips for designing a small kitchen.