Looking the best interior design apps to help you become a pro at decorating your place? Are you tired of having a patchwork of paint swatches all over your walls but you just can't visualise how your space is going to look? These apps have you covered. We have sourced our top five awesome interior design apps that will make your life so much easier! Get stuck in!
If you are after more interior design ideas to help you with your makeover just head to our full gallery.
1. Ikea's place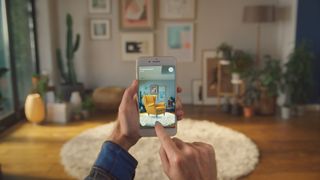 Ikea Place lets you confidently experience, experiment and share how good design transforms your space! Ikea has teamed up with Apple to create this fabulous app that runs on their ARKit technology and is available on iOS 11. The app lets you 'virtually' place furnishings in your space – from sofas and lamps to rugs and tables, all of the products in Ikea Place are 3D and true to scale so you really can see if each piece is the right size, design and functionality for your room. No more imagining when you get home - this app allows you to 'design' from the comfort of your own sofa!
2. BENJAMIN MOORE'S COLOR PORTFOLIO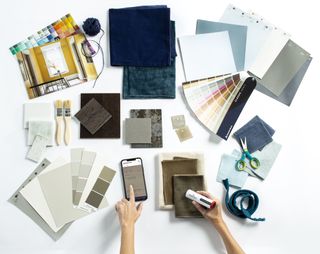 We love Benjamin Moore's fabulous paint colours, so to have the Color Portfolio app that allows you to play with the colours is a dream come true! You can scroll through their extensive collection using the virtual fan deck and then take a photo of your room and instantly 'try on' colours by tapping a surface or use an image from the inspirational gallery. There's also a video visualizer which applies color to surfaces in real-time and you can buy as an extra, the integrated portable ColorReader device that enables you to colour match paint colours to other materials like fabrics.
3. GRAHAM & BROWN'S WALLPAPER APP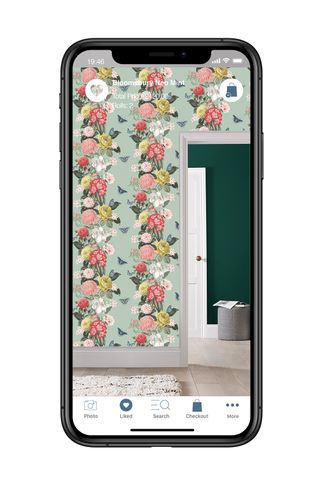 Wallpaper aficionados, Graham & Brown, have come up with a super cool app that enables you to visualise different wallpaper and paints in your home by virtually pasting their designs onto your walls. You start with their focus and frame option which allows you to mark the walls you want to virtually decorate by using your phone's camera, then you cut and paste with the swipe of a finger and finally save your favs and buy online. Easy peasy!
Need tips on how to wallpaper head to our guide.
4. AMTICO'S ROOM VISUALISER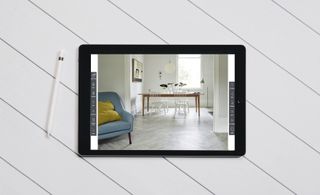 Not strictly an app that you download via the app store, but one that you can access via the Amtico website instead – and you can do that from your phone, tablet or laptop. You begin by exploring the various flooring options and you choose your product, then your pattern and apply it to the space. You can change the product colour, angle, tile and plank size and configure design by using the really useful layering pattern tool.
For more tips on living room flooring head to out guide.
5. CROWN'S MY ROOM PAINTER APP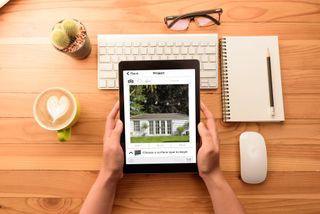 The beauty of this one-stop app from Crown, is that it works on both the interior and exterior of your home so you can see exactly what shades from Crown, Sadolin and Sandtex will suit your space. You start by uploading a photo into their visualizer tool and then explore the 3000 colour possibilities! You choose the paint surface, and it will offer complementary and tonal schemes for your colour and you can save them for comparison or to share with your friends. It also has a handy paint calculator and GPS stockist finder!
Once you have decided on a colour make sure you check out our guide to how to paint a room.